– Detailed 2018 Pioneer 700-4 Side by Side / UTV Buyer's Guide: Model Differences Explained, Specs, Accessories + More! –
The extremely popular Pioneer 700-4 has returned for 2018! If you're wanting a multi-seater side by side / UTV that can fit up to 4 people – you'll have a difficult time finding a better bargain than the Pioneer 700-4. What's the difference between the Pioneer 700-4 VS Pioneer 700? Seating options. The Pioneer 700 model lineup can only fit two people whereas the Pioneer 700-4 takes the essentially the same machine but adds their QuickFlip seating to where you can change the seats around to where you can add two more passengers which gives you an option of fitting 2, 3 or 4 in your Honda side by side. The best part about the QuickFlip seating option on Honda's Pioneer model lineup is that you can have all of these extra seats without having a side by side that is as long as a stretch limo or a school bus basically! If you check out the other 2018 side by side models from Polaris, Kawasaki, Arctic Cat, Yamaha etc you'll see exactly what I'm talking about on that "stretch limo or school bus" comment.
Today we're going to go over the cheapest or shall we say most affordable of the 2018 Pioneer side by side models from Honda that can seat up to four people while still having a hydraulic dump-bed that can be used for not only play but for work too – the Pioneer 700-4.
Why only breakdown the 2018 Pioneer 700-4 when there are other model variations to choose from? Because I'm trying to make things as easy as possible while breaking down all of the different model options and variations that you have with Honda's 2018 side by side / UTV model lineup. I will have an individual page going over each of the models detailed features and specs so whether or not you're looking for the 2018 Pioneer 700, Pioneer 700 Deluxe, Pioneer 700-4 or Pioneer 700-4 Deluxe you're covered.
Before we dive into this detailed review on the "Base Model" 2018 Pioneer 700-4, let's go over what you LOSE by going with this model instead of the 2018 Pioneer 700-4 DELUXE…
2018 Pioneer 700-4 VS Pioneer 700-4 DELUXE Features

Lost

:
All DELUXE Pioneer 700 models feature a transmission that can change between manual electric-shift mode and fully automatic mode via a toggle switch; the automatic mode can also be overridden on the fly with the steering-column-mounted paddle shifters. With the Base Model Pioneer 700, you can only put it in the fully automatic mode.
All DELUXE Pioneer 700 models feature Electric Power Steering (EPS). When you're driving off road, power steering can be a big help, especially in rocky terrain, on sidehills, or over logs and dried ruts. Honda's EPS is one of the best: there are no belts or pumps to slip, break or leak. It's a "smart" system too—you get more assistance when you need it, and less when you don't. With the Base Model Pioneer 700, you do not get this feature.
All DELUXE Pioneer 700 models have aluminum wheels instead of the standard steel wheels that come on the Base Model Pioneer 700s.
All DELUXE Pioneer 700 models have painted Matte Gray Metallic plastics.

Everything else between the Pioneer 700 DELUXE and Pioneer 700 Base Models are identical.
Why buy the Pioneer 700-4 over the Pioneer 700?
It all boils down to seating options for your passengers when it comes to picking which one of these two SxS / UTV models will work best for you. The Pioneer 700 and Pioneer 700-4 are practically identical from the front to the back except for the fact that the "4" in the Pioneer 700-4 designates that you have seating for up to four people whereas the Pioneer 700 only has seating for two people. How can you easily tell them apart? Check out the roll bar covering covering the bed of the Pioneer in the picture above against the picture directly below and you'll see the roll cage that is missing. * Pioneer 700 pictured below, you can click on image for a direct link to the Pioneer 700 Review.
If you're not familiar with the entire 2018 Honda Side by Side / UTV / SxS model lineup for 2018, here are the models to choose from:

 2018 Pioneer 700-4 Review Contents:
Quick Overview of Specs / Features
Detailed Overview of Specs / Features
Videos / Pictures / Photo Gallery
Development 
Accessories
Technical Specifications
Who says you can't improve on perfection? Some side by sides get it right from the very start. And some get it better than right. Like the Honda Pioneer 700-4 models. Honda took what was already a great utility-based side by side and made it even better last year when they added a few new changes as well as different bells and whistles for those that want them with the addition of the Deluxe variants of both the Pioneer 700 & 700-4 models. Is the Honda Pioneer 700-4 a sport UTV? Nope. Is the Pioneer 700-4 fast? Nope but it is fairly quick / peppy. Well, that could be argued both ways as the term "fast" is all relative. What may be slow to me, may be fast to you and vice versa so we'll leave that argument on the table as to whether or not we can consider the 2018 Pioneer 700-4 to be "fast".  It is however, one heck of an all-around side by side, UTV, SxS, Utility Vehicle, MUV for Multi-Utility Vehicle etc etc as there are about 1,000 different names for these things today haha.
Unsure if the performance of the Pioneer 700-4 will be enough to satisfy your "go fast" needs? This article I'm fixing to give you a link to will help break down how the Pioneer 500 vs Pioneer 700 vs Pioneer 1000 all stack up with their horsepower info and a breakdown of their Power-to-Weight Ratio too which will give you an idea on how their power differences stack up with their weight when they step on the scale —> Pioneer 1000 vs 700 vs 500 Horsepower | Power-to-Weight Ratio / Performance Comparison.
When it comes to shopping for the best side by side on the market that'll fit their needs. Most people are looking for comfort. Everybody's looking for value. Everybody's looking for features. With a Honda Pioneer 700 and 700-4, you get it all, along with something no other brand can offer: Honda quality and the renowned reliability and reputation for building the "Best on Earth" for over 6 decades now. These Pioneer 700 & 700-4 machines have been nothing but bulletproof ever since they first started arriving at dealers back in August of 2013.
2018 Pioneer 700-4 VS 2017 Pioneer 700-4 Changes? None. The 2018 Pioneer 700-4 is identical in every way, even down to the color options which are only red again for this year. However, you do have new color options for the DELUXE version of the 2018 Pioneer 700-4 but I'll be breaking all of that down on a separate page.
Recent Pioneer 700-4 changes that carry over to the 2018 Pioneer 700-4? Last year the Pioneer 700-4 received a few upgrades and changes including the front bumper and fascia which makes them look even better and a lot more aggressive in my opinion. And new as of last year, the Pioneer 700 and 700-4 Deluxe models feature a fully automatic transmission that now comes with a manual mode that can be activated via a dash-mounted toggle switch; use the steering-column-mounted paddle shifters to change gears while in manual mode, or to override shift points on the fly while in automatic mode. Deluxe Pioneer 700-4 models also include Electric Power Steering (EPS). Deluxe models also get painted plastic for a bright, durable finish, available in (Matte Gray Metallic on the 700 Deluxe and Pearl Orange and Phantom Camo on the 700-4 Deluxe), as well as colored springs and all-new aluminum wheels that look 1,000 times better than the standard steel wheels. All Pioneer 700 & 700-4 models still feature a massive 1500-pound towing capacity and 1000-pound hauling capacity, while the 700-4 models feature Honda's very popular QuickFlip® seating system – they're a 2-seater, a 3-seater and a 4-seater, all in one.
Quick

Overview of 2018 Pioneer 700-4 Features / Information:
2018 Pioneer 700-4 Performance Numbers
2018 Pioneer 700-4 Horsepower – 36.4 HP
2018 Pioneer 700-4 Top Speed: 45 MPH via Electronic Speed Limiter
2018 Pioneer 700-4 Prices / MSRP
2018 Pioneer 700-4 Price: TBA
2018 Pioneer 700-4 DELUXE Price: TBA
2018 Pioneer 700-4 Models / Options
Pioneer 700-4
Pioneer 700-4 DELUXE
2018 Pioneer 700-4 Release Dates
2018 Pioneer 700-4 Release Date: Fall of 2017
2018 Pioneer 700-4 DELUXE Release Date: Fall of 2017

I'll be updating with exactly which month soon…
2018 Pioneer 700-4 Colors
2018 Pioneer 700-4: Red
2018 Pioneer 700-4 DELUXE: Pearl Orange, Phantom Camo
2018 Pioneer 700-4 Engine, Transmission / Frame
QuickFlip seating design on the 700-4 offers the versatility and adjustability of two-, three-, or four-person seating configurations. The seating arrangement can be quickly and easily changed thanks to a folding, stowaway rear-seat design; provides full bed space and tilt function while in the two-person configuration.
With the overall dimensions of a two-person design, the Pioneer 700-4 models maintain a high level of maneuverability while still being able to seat up to four people.
Powered by Honda's proven 700cc-class liquid-cooled OHV single-cylinder four-stroke engine.
Automotive-style automatic transmission with hydraulic torque converter, three forward gears and reverse.

NO

CVT belts!
Programmed Fuel Injection (PGM-FI).
Stainless steel exhaust system provides superior corrosion resistance and minimizes noise levels.
Long-travel suspension with 7.9 inches in front and 9.1 inches in the rear provides a plush ride.
Load capacities of up to 1,000 pounds in the hydraulic dump-bed.
Capable of towing 1,500 pounds.
Full line of more than 50 Honda Genuine Accessories for the Pioneer 700-4.
The Pioneer's design incorporates proven Honda technology for legendary Honda reliability.
All 2018 Pioneer models receive safety enhancements established by ROHVA.
Driver seatbelt interlock that prevents the vehicle from going above 15 mph until the seatbelt is engaged.
Newer passenger and driver torso bars for enhanced occupant safety.
Transferable one-year limited warranty; extended coverage available up to 60 months with a Honda Protection Plan
Detailed

2017 Pioneer 700-4 Overview of Features / Specs:
POWER AND PERFORMANCE
1500-POUND TOWING CAPACITY
Sometimes you need to tow things. Like, up to 1500 pounds of things. So we gave the Pioneer 700 a robust three-quarter-ton towing capacity—strong enough to handle some of those jobs you'd normally use a tractor for.
Mud, sod, gravel – you can handle every bit of it with confidence and still stop with confidence. Our triple-disc brakes feature a patented scraper system that helps prevent debris buildup between caliper and rim. 200mm discs in the front, and a lighter, 170mm inboard-mounted disc in the rear deliver stellar stopping power.
RUGGED 675CC LIQUID-COOLED ENGINE
Power to go further, and to keep on going. That's what the 675cc four-stroke single delivers. Rubber-mounted for less cabin vibration. Fuel-injected for reliable starts and performance in inclement weather. And proven reliability for hunting down thrill after thrill.
In many ways, this isn't just a side-by-side. It's a solution. Take the cargo bed – the 1000-pound capacity is among the tops in the industry, and it's made of a strong, durable construction. That means more cargo in fewer trips, saving you time. Now that's smart.
HANDLING AND CONTROL
AT/MT MODE AND PADDLE SHIFTERS (only on Deluxe)
With the Honda Pioneer 700 Deluxe and 700-4 Deluxe, you can let the automatic transmission shift for you, or you can take charge and choose which gear you want for yourself via the steering column mounted paddle shifters – you can even shift from auto to manual (AT to MT) on the fly! (* Only available on Pioneer 700 Deluxe, Pioneer 700-4 Deluxe models.)
ELECTRIC POWER STEERING / EPS (only on Deluxe)
When you're driving off road, power steering can be a big help, especially in rocky terrain, on sidehills, or over logs and dried ruts. Honda's EPS is one of the best: there are no belts or pumps to slip, break or leak. It's a "smart" system too—you get more assistance when you need it, and less when you don't. (* Available on Pioneer 700 Deluxe, Pioneer 700-4 Deluxe.)
ADJUSTABLE PRELOAD REAR SHOCKS
You don't want to compromise on handling, particularly when hauling heavy loads – and with our preload rear shocks, you don't have to. The fully-independent rear suspension on the Pioneer 700-4 features a dual-rate spring and boasts 9.1-inches of travel. So even when loaded to the max, you're assured predictable handling performance.
HONDA AUTOMATIC TRANSMISSION
A vehicle this versatile demands a transmission that's ready for anything. With a heavy-duty torque converter and three hydraulic clutches, you get smooth shifts, a steady stream of power, and engine braking. Meanwhile, the two-stage shift map further optimizes power and torque delivery, even at higher RPM ranges. NO CVT belts!
INDEPENDENT DOUBLE-WISHBONE FRONT SUSPENSION
Just like our rear suspension, the independent double-wishbone front suspension features dual-rate springs for smooth riding, superior handling and all-day comfort. And with 7.9-inches of travel, you can navigate the kind of rocky, rutted and uneven territory other side-by-sides can't.
ALUMINUM WHEELS (only on Deluxe models)
Tired of the "plain-jane" look with steel wheels that so many side by side models come with? You don't have to worry about that with the Pioneer 700 Deluxe as that's one of the added features you get for your money. They are the same in diameter and are wrapped in the same rubber as the Pioneer 700 Base Model.
VERSATILITY
In the cabin, a convenient glovebox holds your essentials and keeps them dry. The water-resistant door helps prevent the elements from getting inside, while the in-dash design provides good storage space, without compromising on passenger legroom.
With the cargo bed's large capacity and durable construction, we've made hauling heavy loads easy. So it makes sense that we'd make dumping the load easy, too. Thanks to the smartly-designed hydraulic assist strut, you can tilt the bed and dump the cargo, even with one person.
Whether you're up for work before sunrise or heading home late after a day on the trails, the Pioneer 700's headlights will light your way. 37.5 watts and single filament, they have an excellent balance and light distribution, so you don't have to deal with dark zones or uneven light patterns.
Versatility is the defining feature of the Pioneer 700-4 and new Pioneer 700-4 Deluxe, and nothing illustrates that better than our industry-exclusive QuickFlip seating system. Switch between 2-person mode with full cargo and tilt bed functionality, to 3-person mode, to 4. Seats lay flat in the bed, and pop up in an instant whenever you need them.
Every component on the Pioneer 700 is engineered to perform at the highest level. The alternator is no different – with 450-watts, it has plenty of power for everyday use and has enough left over for accessories that help you work easier, like winches, light bars and more. Always consult accessory instructions for specific power requirements.
PAINTED PLASTICS (only on Deluxe models)
The Pioneer 700 Deluxe comes with scratch-resistant automotive-quality painted plastic, to keep your Pioneer looking good.
COMFORT
One of the most-used components of the Pioneer 700 is the bench seat itself. So we gave it a durable covering that can withstand the frequent entry and exit of passengers, and the elements.

SAFETY
DRIVER/PASSENGER PROTECTION
Staying safe is essential, both at work and when having fun. That's why the Pioneer 700 is equipped with an Occupant Protection Structure, using large-diameter tubing and meeting OSHA's rollover protection standard. And in the cabin, integrated handrails, recessed top tubes and automotive-style three-point seatbelts with emergency locking retractors help keep passengers securely in place.
Knowing you're driving a side-by-side built with safety in mind makes the adventure that much more fun. Our hard doors feature a double latching system designed after our autos. They work together with our roll-up side nets, helping to keep the elements outside and you secure inside.
Honda Pioneer 700-4 Videos
---
2018 Pioneer 700-4 Development
The 2017 Pioneer 700-4 – Designed by Honda Research and Development in Ohio, and built at Honda South Carolina (using domestically and globally sourced parts), have plenty to offer off-road enthusiasts who like to use their machines to work hard and play hard while also bringing folks along for the ride.
Creation of the Pioneer models began with an all-new chassis formed around Honda's proven 700cc-class liquid-cooled OHV single-cylinder four-stroke engine coupled to a unique automotive-style automatic transmission. This brand-new chassis incorporates a long-travel suspension system for a smooth ride over tough terrain, and the distinctive, all-new bodywork comes standard with integrated doors and headrests. The ability to carry hefty loads over many different kinds of challenging terrain also ranked high in design priority, as well as the ability to tow big loads. And perhaps best of all, these two machines deliver fantastic value, slotting into the popular, rapidly expanding multi-purpose category of side-by-sides with the two-person Pioneer 700 at $10,299, while the Pioneer 700-4 starts at $11,899 – about the same neighborhood where some competitor two-seat machines live. Bottom line: once again, Honda is offering innovative new models packed with Honda's fabled quality, fit and finish at a superior value.
One of the big attractions of the Pioneer 700-4 is its convertible seating arrangement; it can be quickly and easily converted from two-seat to three-seat or four-seat configurations and back to an open load-carrying bed without the use of tools – an industry first. Each of the two rear seats simply tilts up out of the bed structure with the release of a latch and locks into place, converting to three-person or four-person capabilities depending on the needs at hand. The rear passengers can also easily access the three-point seat belts, which are located up on the Roll Over Protection Structure (ROPS) where they stay out of the way when not in use. And when the seats are folded in the down position, the bed maintains its full tilting functionality.
The tough and durable heavy-duty steel frame used by both Pioneer models features a wheelbase just slightly longer than the Big Red's – 76.8 inches versus 75.7 inches – yet overall length has been reduced just a pinch and overall width is narrower by nearly three inches to make the Pioneer models more compact with more agile handling. This new configuration also gives the Pioneer a tight 14.8 feet turning radius and there's plenty of ground clearance available – 10.3 inches. However, perhaps the most telling specification focuses on suspension travel: both new models deliver comfortable and well-controlled 7.9 inches of travel via double-wishbone independent front suspension system, while the double-wishbone independent rear suspension system (IRS) provides a full 9.1 inches of travel for excellent off-road capabilities. The twin rear shocks are adjustable for spring preload, so it's easy to adjust the rear suspension for added comfort during recreational use, then quickly ramp up the spring preload when it's time to carry heavy loads. With this 2.0-inch gain in travel at both ends, these new Pioneer models deliver an appreciably plush ride whether it's on the trail or at the jobsite. In addition, both versions of the Pioneer 700 also feature new front tires sized 25 x 8-12. These new tires help give the Pioneer improved steering feel and more agile steering response.
Another very significant innovation involves a new engine mount system developed specifically to help tune out vibration and produce a noticeably smoother ride. Thanks to a newly developed engine-mounting subframe and accompanying vibration-isolating bushings, every contact point for the driver and passenger – steering wheel, handholds, floor, seat bottom and seat back – now transmit noticeably less engine vibration. The result is markedly improved comfort and a newly elevated, high-quality feel.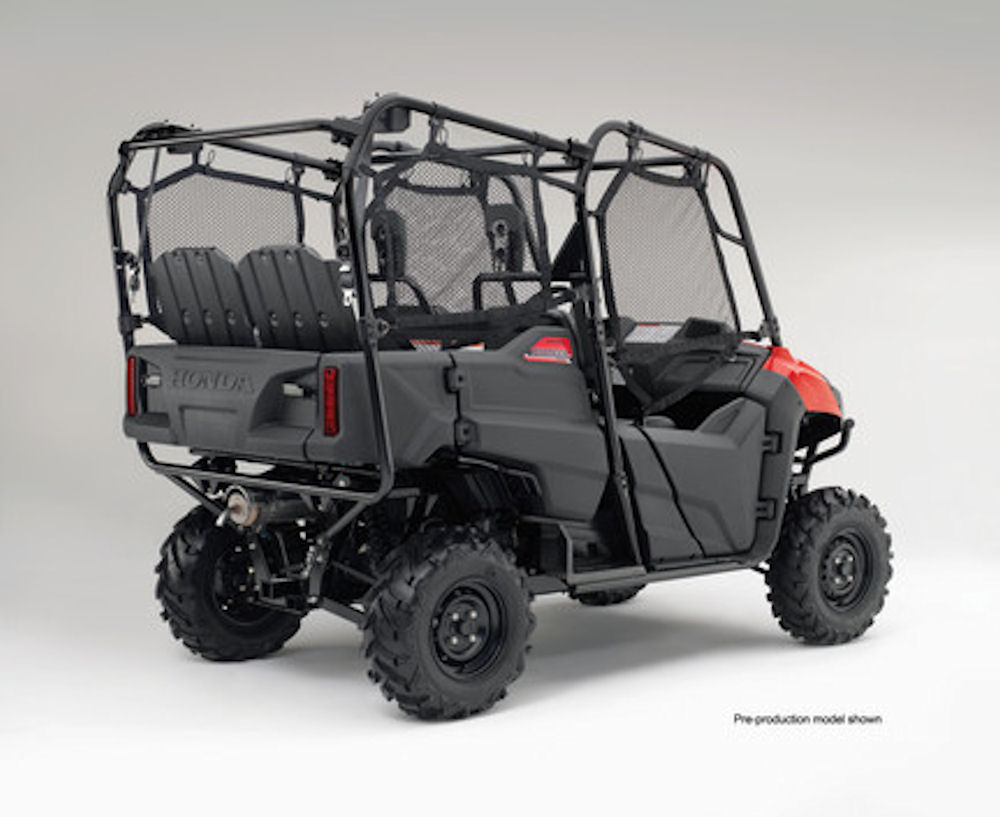 Both Pioneer models are powered by Honda's proven 675cc liquid-cooled OHV single-cylinder four-stroke four-valve engine with Programmed Fuel Injection (PGM-FI) for spot-on fuel metering under a wide variety of operating conditions. This muscular yet smooth-operating powerplant delivers strong acceleration and good top speed, and it's coupled to an automotive-style Honda automatic transmission that features a hydraulic
torque converter, three hydraulic clutches and an Electronic Control Module (ECM) to automatically select one of three forward gears and one reverse gear. The ECM monitors throttle opening, vehicle speed, engine rpm, gear selector position, brake application and engine oil temperature for optimum performance. Also, on downhill slopes the transmission provides positive engine braking that supplements the hydraulic disc brakes for slowing power, technology that is superior to side-by-sides with electronic engine braking systems that can result in inconsistent performance in real-world conditions.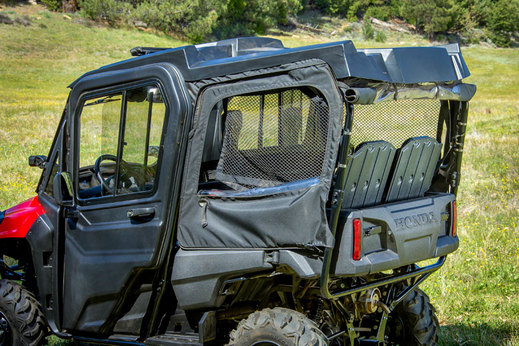 New to the Pioneer models starting in 2016 was a dual shift-mapping program that automatically selects between two transmission shifting modes – either Cruise or Sport mode – for optimum shift timing depending on the driver's pattern of throttle operation. During aggressive use, the Sport mode kicks in and holds the transmission in gear longer before shifting to deliver more aggressive performance. During more casual operation, the Cruise mode allows the transmission to shift up sooner for more casual performance and extended range from the Pioneer's 8.2 gallon fuel tank. All in all, the driver enjoys optimum performance – automatically.
To convert all that power into terrain-grabbing traction, both Pioneer models feature full-time true 2WD for improved traction. Thanks to a new rear-wheel drive setup that now incorporates a non-differential rear end – one related to the setup used on Honda ATVs equipped with IRS – the Pioneer delivers superior drive characteristics. When the going gets especially tough, a handy gearshift selector makes it easy to positively engage the 4WD mode, and there's also the option to engage the front differential lock for maximum pull.
In keeping with the design of all Honda side-by-sides and ATVs, the Pioneer forgoes a belt-style transmission for the more positive automotive-style automatic transmission and durable shaft-drive design.
When it's time to load up the Pioneer and get to work – whether it's supplies and tools on the job or an entire camping setup for a multi-day backwoods trip – both the Pioneer 700 and Pioneer 700-4 are more than up to the task.
The versatile tilt-bed is rated for an outsized 1000-pound hauling capacity, plus the Pioneer offers an impressive 1500-pound towing capacity. Multiple D-rings on the bed and wall of the cargo area provide convenient tie-down points for securing cargo while underway – a welcome convenience.
Both versions of the Pioneer abound with Honda's distinctive attention to detail: Redesigned 37.5 watt headlights provide a more even distribution of light for driving after dark; an improved air intake system is more resistant to ingestion of dust and water; a higher AC generator output – from 410 watts on Big Red to 450 watts – provides power for added accessories; increased fuel capacity adds greater driving range; a larger-capacity, sealed glove box provides more room to pack items, and much more. There's also a full line of Honda Genuine and Signature Accessories – over 50 different items – allowing owners to configure their Pioneer to meet their specific needs.
It all adds up to an innovative Pioneer duo that meets the widely varied needs of off-road recreational users, hunters, outdoor-oriented families, hard-working job sites, and everything in between. The 2018 Pioneer 700 and Pioneer 700-4 deliver a whole new level of side-by-side capabilities along with incomparable Honda quality and value.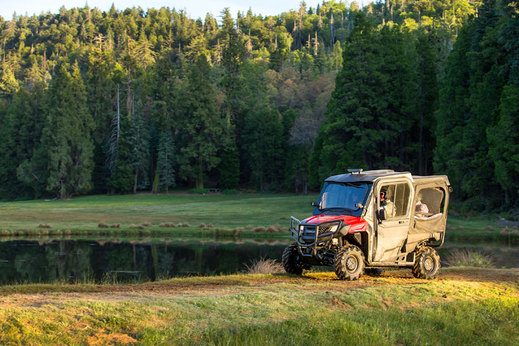 ---
– 2018 Pioneer 700-4 Accessories Parts Review –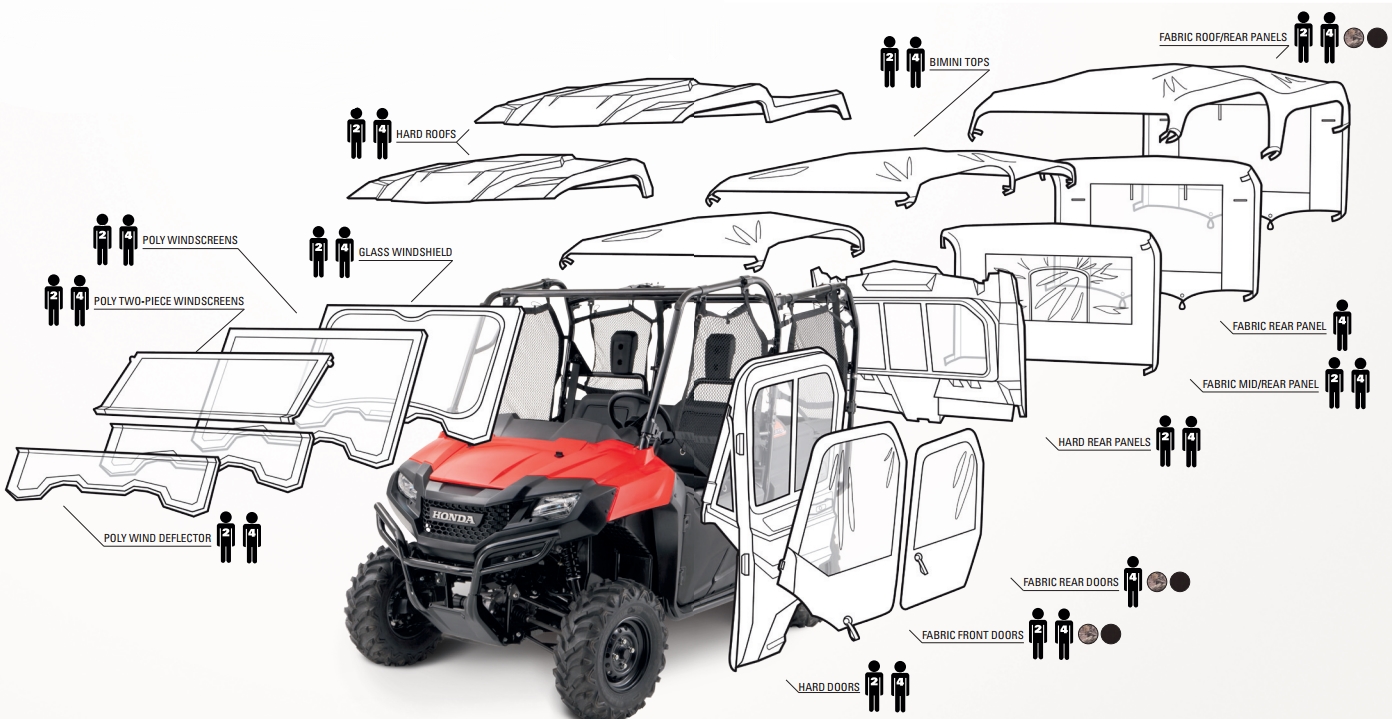 Looking for Honda's Parts & Accessories that are available for your 2017 Pioneer 700-4? Check out the accessory list below that shows everything available from Honda that will fit all 2014 Pioneer 700-4, 2015 Pioneer 700-4, 2017 Pioneer 700-4 and 2018 Pioneer 700-4 models too. I've also included some links to where you can find discount prices to possibly help you save a little money if you're planning to buy some of the OEM Honda Accessories for your Pioneer 700.
Pioneer 700-4 Accessory Packages
Pioneer 700-4 Trail Package Accessories (

BLUE

 = Clickable Links)
Pioneer 700-4 Outdoor Package Accessories (

BLUE

 = Clickable Links)
Pioneer 700-4 Work Package Accessories (

BLUE 

= Clickable Links)
---
Individual Pioneer 700-4 Accessories
2018 Pioneer 700-4 Cargo / Storage Accessories
* BLUE  = Clickable Links
BED EXTENDER
U-shaped design maximizes cargo capacity. Strong, durable construction handles almost any job.*Flips forward in the bed allowing tailgate to close when not in use *Gloss – black, powder – coat paint adds a stylish, durable finish *Quick, easy to install.
Part #: 08L74-HL3-A41
MSRP: $249.95
CAB FRAME CARGO BAG
Attaches to cab frame with hook-and loop straps and locking buckles to keep bag secure, items at hand.Seven convenient, zippered compartmentsZipper pulls for easy access*Made of durable polyester *Honda logos show pride of ownership.
Part #: 0SL57-HL3-101
MSRP: $69.95
POLY BED LINER
Sturdy liner helps protect the Pioneer's bed and rear seat area from scratches, dents and dings. Manufactured from ultrarugged polyethylene – extremely durableMolded side slots enables use of partitionsAllows for easy unloading of dirt or other materialsQuick installation and removal.
Part #: 0SP43-HL3-101
MSRP: $229.95
REAR CAB NET
Practical accessory looks cool on the Pioneer, helps occupants stay cooler. Allows maximum airflow through the cabOff-road performance styling*Quick and easy to install, no special tools required.
Part #: 0SR95-HL3-200B
MSRP: $99.95
RUBBER BED MAT
Tight, contoured fit, helps keep mat from slipping and sliding. *Manufactured from rugged nonslip, specially vulcanized rubber compound *Pioneer logo shows pride of ownership.
Part #: 0SP42-HL3-201
MSRP: $94.95
UNDER DASH STORAGE POCKET
Convenient under dash box provides additional storage. *Easy install/removal with plastic push pins. *No tools required.
Part #: 08L73-HL3-A41
MSRP: $299.95
2018 Pioneer 700-4 Doors / Panels Accessories
* BLUE  = Clickable Links
FABRIC FRONT DOORS
Precision-manufactured aluminum door frames are lightweight and attractive, and integrate easily with standard half doors.Durable Sur Last ® material is water-repellent adn provides superb UV and abrasion resistance as well as mold/mildew resistance *Double zipped vinyl windows roll down increasing airflow thru the cab *Polished vinyl windows are resistant to cracking in extreme cold *Includes right and left doorsQuick install and removal.
Part #: 0SR90-HL3-211A
MSRP: $524.95

FABRIC FRONT DOORS (CAMO)
Precision-manufactured aluminum door frames are lightweight and attractive and integrate easily with standard half doors.One-piece design is made of durable 600-denier fabric for superior performanceUV fade-resistance *DWR (durable water treatment) for max water repellency *Exclusive Honda Phantom Camo® design matches unit camo color.
Part #: 0SR90-HL3-221A
MSRP: $554.95
FABRIC REAR DOORS
Precision-manufactured aluminum door frames are lightweight and attractive, and integrate easily with standard half doors.Durable Sur Last ® material is water-repellent adn provides superb UV and abrasion resistance as well as mold/mildew resistance *Double zipped vinyl windows roll down increasing airflow thru the cab *Polished vinyl windows are resistant to cracking in extreme cold *Includes right and left doorsQuick install and removal.
Part #: 0SR90-HL3-211B
MSRP: $524.95
FABRIC REAR DOORS (CAMO)
Precision-manufactured aluminum door frames are lightweight and attractive and integrate easily with standard half doors.One-piece design is made of durable 600-denier fabric for superior performanceUV fade-resistance *DWR (durable water treatment) for max water repellency *Exclusive Honda Phantom Camo® design matches unit camo color.
Part #: 0SR90-HL3-211C
MSRP: $399.95
FABRIC REAR PANEL
Occupants enjoy superior protection from wind and weather. Durable SurLast® material is water-repellent and provides superb UV and abrasion resistance as well as mold/mildew resistance *Rear panel rolls up to increase airflow through cabPolished vinyl window resists cracking in extreme cold.
Part #: 0SR95-HL3-211B
MSRP: $109.95
FABRIC REAR PANEL
Well-made, attractive panels help keep out inclement weather and enhance comfort of occupants.Durable SurLast® material is water-repellent and provides superb UV and abrason resistance as well as mold/mildew resistance.Zippered vinyl window rolls down to increase airflow through cab.*Polished vinyl window is resistant to cracking in extreme cold.
Part #: 0SR95-HL3-211A
MSRP: $119.95
HARD FRONT DOORS
Heavy-duty doors are manufactured from ultra-rugged polyethylene -extremely durable.Automotive-style locking push-button handles and latches add security, convenience *Tempered glass, sliding windows help increase airflowStyled to integrate with vehicle designWorks in a veriety configurationsAccepts Honda Accessory Side Mirrors *Includes right and left doors *Quick installation and removal.
Part #: 0SU95-HL3-104
MSRP: $1,599.95
HARD REAR PANEL (EXTENDED ROOF)
Integrates with Honda Accessory Hard Roof on Pioneer 4P.Manufactured from ultrarugged polyethylene – extremely durableModular design integrates seamlessly with other Honda Accessory cab components *Tempered glass, vented sliding window for increased air flow.
Part #: 0SU95-HL3-104B
MSRP: $599.95
HARD REAR PANEL (SHORT ROOF)
Integrates with Honda Accessory Hard Roof on Pioneer 4P.Manufactured from ultrarugged polyethylene – extremely durableModular design integrates seamlessly with other Honda Accessory cab components *Tempered glass, vented sliding window for increased air flow.
Part #: 0SU95-HL3-102B
MSRP: $599.95
SIDE MIRROR KIT (DOOR MOUNT)
Increased driver visibility. Utilizes Honda Tool-Less clamp system for quick installation, quick removal. Adjustable positioning, includes right and left mirrors. Not compatible with Honda Fabric Door or Hard Door Accessories.
Part #: 0SV05-HL5-100
MSRP: $119.95
2018 Pioneer 700-4 Electrical Accessories
* BLUE = Clickable Links
38MM LIGHT BAR/AUXILIARY LIGHT CLAMP
Required when mounting Honda Accessory Light Bar/Auxiliary Light to lower bumper tubes.
Part #: 0SV31-HL3-201A
MSRP: $29.95
41MM LIGHT BAR/AUXILIARY LIGHT CLAMP
Required when mounting Honda Accessory Light Bar/Auxiliary Light to cab frame.
Part #: 0SV31-HL3-302A
MSRP: $29.95
44MM LIGHT BAR/AUXILIARY LIGHT CLAMP
Required when mounting Honda Accessory Light Bar/Auxiliary Light to upper bumper tubes.
Part #: 0SV31-HL3-301B
MSRP: $29.95
ACCESSORY SUB HARNESS
Required for installation of Honda Accessory Horn Kit and/or Back Up Alarm.
Part #: 08Z02-HL3-A00
MSRP: $5.95
AUXILIARY LIGHTS
Pair of 4" auxiliary lights feature 3-watt Cree LED's, providing exceptional performance with minimal battery draw.Produce a combined 2,400 lumens in a flood pattern *Rugged aluminum powder-coated housingDurable polycarbonate lensIP68 rated –waterproof, submersible *Requires Honda Accessory Switch Plate/Volt Meter/ Wire Harness *Includes mounting hardware to Honda Accessory windshieldAdditional Honda Accessory clamps available for mounting to Pioneer 1000 bumper (lower tubes -38mm; upper tubes -44mm) or cab frame (41mm).
Part #: 0SV31-HL3-201
MSRP: $299.95

BACK UP ALARM
Automatically activates a loud beep whenever Pioneer is put into reverse. Requires Honda Accessory Back-Up Wire Harness.
Part #: 08V70-HL3-A01
MSRP: $89.95
HEATER
Custom-fit heater helps keep occupants comfortable in cold weather. High-efficiency 153-CFM blower delivers maximum warmth. 4 adjustable vents (2 dash, 2 floor). 2-speed fan switch. Custom fit to your Pioneer. Kit includes all mounting brackets and hardware. Requires installation of accessory Switch Plate/ Volt Meter/ Wire Harness.
Part #: 0SE01-HL3-102
MSRP: $549.95
HORN KIT
Easy to install horn assembly. Requires Honda Accessory Horn Wire Harness.
Part #: 08P72-HL3-A00
MSRP: $79.95
LIGHT BAR
Stylish 14″ light bar features 3-watt Cree LED lights, providing exceptional performance with minimal battery draw. Produces 3,600 lumens in a spot pattern *Rugged aluminum, powder-coated housing *Durable polycarbonate lens *IP68 rated -waterproof, submersible *Requires Honda Accessory Switch Plate/Volt Meter/Wire HarnessIncludes mounting hardware to Honda Accessory Hard Roofs*Additional Honda Accessory clamps available for mounting to Pioneer 1000 bumper (lower tubes -38mm; upper tubes -44mm) or cab frame (41mm).
Part #: 0SV31-HL3-301
MSRP: $369.95
SWITCH PLATE/VOLT METER/WIRE HARNESS
All-in-one system consolidates your Honda Accessory electrical needs into a single source.Switch plate mounts conveniently on dash, accommodates 4 Honda Accessories.Precision Volt Meter monitors power usage, includes customizable HI/LO settings.Plug-and-play wire harness designed specifically for your Pioneer, for quick, easy installation.*Included fuse box mounts conveniently under the hood.
Part #: 0SA30-HL3-100
MSRP: $299.95
2018 Pioneer 700-4 Interior Accessories
* BLUE = Clickable Links
FRONT SEAT/HEADREST COVERS (CAMO)
Fit over standard front seat/seatback and headrests.*Quick and easy to install, no special tools required.
Part #: 0SP32-HL3-201
MSRP: $149.95
REAR SEAT COVERS (CAMO)
Fits over standard front seat/seatback and headrests.*Quick and easy to install, no special tools required *Exclusive Honda Phantom® Camo design matches unit camo color.
Part #: 0SP32-HL3-201B
MSRP: $119.95
REARVIEW MIRROR
Panoramic mirror with excellent visibility.Secure and rigid mount.Uses Honda Tool-Less clamp system.*Quick installation and removal.
Part #: 0SV05-HL5-201
MSRP: $89.95

RUBBER FLOOR MATS
Tight, contoured fit helps keep mat in place. Manufactured from rugged, non-slip, specially vulcanized rubber compoundPioneer logo shows pride of ownership.
Part #: 0SP63-HL3-101
MSRP: $69.95
2018 Pioneer 700-4 Protection Accessories
* BLUE  = Clickable Links
ALUMINUM A-ARM GUARDS (REAR)
Set of two lightweight, brushed aluminum plates provides added protection for rear drive shafts.*Added protection from trail hazards, such as rocks and logs *Quick and easy to install.
Part #: 08P74-HL3-A00
MSRP: $149.95
ALUMINUM A-ARM GUARDS(FRONT)
Set of two lightweight, brushed aluminum plates provides added protection for front drive shafts.*Added protection from trail hazards, such as rocks and logs *Quick and easy to install.
Part #: 08P73-HL3-A00
MSRP: $149.95
FRONT BUMPER
Strong, steel construction adds heavy-duty protection for vehicle front end. *Durable, gloss – black, powder – coat paint *Factory mount points *Quick and easy to install.
Part #: 08P76-HL3-A00
MSRP: $399.95
REAR BUMPER
Strong, steel construction adds heavy-duty protection for vehicle rear end. *Durable, gloss – black, powder – coat paint *Factory mount points *Quick and easy to install.
Part #: 08P75-HL3-A00
MSRP: $224.95
2018 Pioneer 700-4 Tops / Roofs Accessories
* BLUE  = Clickable Links
BIMINI TOP
Durable top shuns the sun and helps protect occupants from harsh exposure.*Sur Last® material is water-repellent and provides superb UV and abrasion resistance as well as mold/mildew resistance *Designed to fit over entire cab area *Quick and easy to install.
Part #: 0SR85-HL3-323A
MSRP: $149.95
BIMINI TOP
Durable top shuns the sun and helps protect occupants from harsh Exposure. *Surlast® material is water-repellent and provides superb UV and abrasion resistance as well as mold/mildew resistance. *Designed to fit over front forward cab area. *Quick and easy to install.
Part #: 0SR85-HL3-322B
MSRP: $99.95
FABRIC ROOF/REAR PANEL
For superior performance in harsh conditions.One-piece roof is constructed of durable SurLast® material for maximum water repellence and excellent UV resistance as well as abrasion resistance *Mold/mildew – resistant *Fiber rods create a tight, custom fit to the roof while promoting water run offRear panel rolls up increasing airflow through the cab *Polished vinyl window resists cracking even at temperatures as low as -30º F *Requires Honda Accessory Full Poly Windscreen, 08R73-HL3-A00 or 0SR73-HL3-200 or 2-Piece Poly Windscreen, 08R72-HL3-A00 or 0SR72-HL3-100.
Part #: 0SR85-HL3-223A
MSRP: $424.95
FABRIC ROOF/REAR PANEL (CAMO)
For superior performance in harsh conditions.One-piece design is made of durable 600- denier fabric for superior performance. *UV fade – resistanceDWR (durable water repellent) for maximum water repellency. Fiber rods create a tight, custom fit to the roof while promoting water run off.Exclusive Honda Phantom® Camo design matches unit camo color. *Requires Honda Accessory Full Poly Windscreen, 08R73-HL3-A00 or 0SR73-HL3-200 or 2-Piece Poly Windscreen, 08R72-HL3-A00 or 0SR72-HL3-100.
Part #: 0SR85-HL3-222C
MSRP: $449.95
FABRIC ROOF/REAR PANEL (REAR SECTION)
Designed to work with Hard Roof (short). *One-piece design delivers superior performance in harsh conditions. *Constructed of durable Surlast® material for maximum water repellence and excellent UV resistance as well as abrasion and mold and mildew resistance. *Fiber rods create a tight, custom fit to the roof while promoting water runoff. *Rear panel rolls up to increase airflow through cab. *Polished vinyl window resists cracking in extreme cold. *Combines with Hard Roof. *Requires Honda Accessory Hard Roof (short) 4P.
Part #: 0SR85-HL3-223B
MSRP: $229.95
HARD ROOF
Compatible with Honda Pioneer 700 Accessory windscreens, Hard Roof covers front and rear seating areas of 4P Pioneer.Manufactured from ultrarugged polyethylene – extremely durable.Superior weather Protection.Styled to integrate with vehicle design.Utilizes Honda Tool-Less clamp system.Includes mount points for Honda Accessory Light Bar.Quick installation and removal.
Part #: 0SR85-HL3-100
MSRP: $399.95
HARD ROOF (SHORT)
Designed to fit over front forward cab area on 4P Pioneer, Hard Roof is compatible with all Honda Accessory windscreens. (Shown with Fabric Roof/Rear Panel rear section.) Manufactured from ultra-rugged polyethylene- extremely durable *Superior weather protection *Styled to integrate with vehicle designIncludes mount points for Honda Accessory Light Bar *Quick-release attachment, installs in minutes without tools.
Part #: 0SR85-HL3-101B
MSRP: $299.95
2018 Pioneer 700-4 Winch / Towing / Plowing Accessories
* BLUE = Clickable Links
DRAW BAR
Allows installation of 1-7/8" or 2" draw bar.
Part #: 08L90-HL1-100A
MSRP: $44.95
HITCH BALL
1-7/8" hitch ball – includes nut and lock washer.
Part #: 08L90-HL1-100C
MSRP: $14.95
PLOW BLADE
Specially coated blade is durable and corrosion – resistant and made to get the job done.*Shock and impact-resistant *Adjustable gravel skids to control plowing level *Smooth blade – angle adjustment *Requires Honda Accessory Plow Push Tube Set and Honda Accessory Plow Mount Kit *Requires lifting device such as Honda Accessory Winch/Winch Mount Kit.
Part #: 08L75-HL3-A01
MSRP: $369.95
PLOW MOUNT
Specially coated blade is durable and corrosion – resistant and made to get the job done.*Shock and impact-resistant *Adjustable grave skids to control plowing level *Smooth blade – angle adjustment *Requires Honda Accessory Plow Push Tube Set and Honda Accessory Plow Mount Kit *Requires lifting device such as Honda Accessory Winch/Winch Mount Kit.
Part #: 08L70-HL3-A00
MSRP: $149.95
PLOW PUSH TUBE
• Durable construction, engineered to perform season after season.• Large base provides effective plowing surface.• Superior corrosion resistance.• Quick connection.• Requires Honda Accessory straight plow blade and plow mount kit.
Part #: 08L76-HL3-A41
MSRP: $479.95

RECEIVER HITCH PLUG
Heavy-duty, weather-resistant plastic insert helps keep dirt and water out of hitch receptacle.
Part #: 08L90-HL1-100B
MSRP: $14.95
WINCH
4,500 lb. (2,041 kg) of pulling force.Rugged and reliable all-metal geartrain.Fully sealed drivetrain to keep the elements out.Disc brake provides the ultimate in winch control.Requires Honda Accessory Winch Mount Kit.Limited Lifetime Warranty.
Part #: 08L71-HL3-A41
MSRP: $439.95
WINCH MOUNT BRACKET
Custom designed for your Honda. Includes winch assembly, wired remote, mounting hardware and wiring for easy installation.
Part #: 08L70-HL3-A41
MSRP: $269.95
2018 Pioneer 700-4 Windshield / Windscreen Accessories
* BLUE = Clickable Links
2-PIECE POLY WINDSCREEN (HARD COAT)
Two-piece pivoting windscreen allows for increased air flow while hard coating provides optimal scratch resistance. Optical grade polycarbonate construction enhances visual clarityNon-cracking, non-yellowing material for excellent impact resistanceModular design works in a variety vehicle configurationsUses Honda Tool-Less clamp system*Quick installation and removal.
Part #: 08R72-HL3-A00
MSRP: $529.95
2-PIECE POLY WINDSCREEN (OPTICAL)
Two-piece pivoting windscreen allows for increased airflow while optical-grade polycarbonate enhances visual clarity.Non-cracking, non-yellowing material for excellent impact resistanceModular design for a variety of vehicle configurations.Custom, screen-printed graphics compliment vehicle styling.Uses Honda Tool-Less clamp system.*Quick installation and removal.
Part #: 0SR72-HL3-100
MSRP: $429.95
FULL POLY WINDSCREEN (HARD COAT)
Premium hard coating protects windscreen against scratches, promotes longer life.Optical -grade polycarbonate construction enhances visual clarity.Non-cracking, non-yellowing material for excellent impact Resistance.Modular design for a variety of vehicle configurations.Utilizes Honda Tool-Less clamp system.*Quick installation and removal.
Part #: 08R73-HL3-A00
MSRP: $449.95
FULL POLY WINDSCREEN (OPTICAL)
Optical-grade polycarbonate.Noncracking, non-yellowing material for excellent impact resistance *Modular design for a variety vehicle configurations *Custom, screen-printed graphics compliment vehicle stylingUtilizes Honda Tool-Less clamp system *Quick installation and removal.
Part #: 0SR73-HL3-200
MSRP: $324.95
GLASS WINDSHIELD
Top-quality ASI laminated safety glass offers protection from wind, dust and trail debris while providing a more comfortable driving experience.*Uses Honda Tool-Less clamp system *Quick installation and quick removal *Shown with Honda Accessory Wiper Kit.
Part #: 0SU95-HL3-105
MSRP: $599.95
WIND DEFLECTOR
Protect from dust, dirt and debris without sacrificing airflow.Optical-grade polycarbonate construction enhances visual clarity *Non-cracking, non-yellowing material for excellent impact resistanceModular design works in a variety-vehicle configurations Custom, screen-printed graphics compliment vehicle styling *Uses Honda Tool-Less clamp systemQuick installation and removal.
Part #: 08R71-HL3-A00
MSRP: $184.95
WINDSHIELD WIPER KIT
Add a measure of convenience with wipers that integrate seamlessly with Honda Accessory Glass Windshield. *Requires installation of accessory Switch Plate/Volt Meter/Wire Harness.
Part #: 0SE10-HL3-500
MSRP: $199.95
2018 Pioneer 700-4 Misc Accessories
* BLUE = Clickable Links
FLAG WITH MOUNT
Honda branded Flag Kit. Uses Honda Tool-Less Clamp for easy, secure installation.
Part #: 0SR95-HL3-F10
MSRP: $79.95
FULL STORAGE COVER
Weather-resistant synthetic material and taped seams help keep Pioneer protected and dry. *Side zippers allow cab access without removing the covers *Honda and Pioneer logos show pride of ownership *Includes handy storage pouch.
Part #: 0SP34-HL3-100
MSRP: $199.95
REAR DRINK HOLDER
Convenient drink holder.
Part #: 08U70-HL3-A40
MSRP: $7.95
2018 Pioneer 700-4 Specifications (SXS700M4J)

| | |
| --- | --- |
| ENGINE | |
| Type | 675cc liquid-cooled OHV longitudinally mounted single-cylinder four-stroke |
| Bore x Stroke | 102.0mm x 82.6mm |
| Compression Ratio | 9.2:1 |
| Induction | Fuel injection (PGM-FI), 40mm throttle body |
| Ignition | Full-transistorized |
| Starter | Electric |
| Clutch | Automatic |
| DRIVETRAIN | |
| Transmission | Automotive-style w/ hydraulic torque converter, three forward gears + reverse; three drive modes include 2WD, 4WD and 4WD w/ differential lock |
| Final Drive | Direct front and rear driveshafts |
| CHASSIS | |
| Front Suspension | Independent double wishbone; 7.9 in. travel |
| Rear Suspension | Independent double wishbone; 9.1 in. travel |
| Front Brake | Dual hydraulic 200mm discs |
| Rear Brake | Single hydraulic 170mm disc |
| Front Tire | 25 x 8 – 12 |
| Rear Tire | 25 x 10 – 12 |
| GEOMETRY / MEASUREMENTS | |
| Length | Pioneer 700-4 – 114.8 inches / Pioneer 700 – 114.7 inches |
| Width | 59.7 inches |
| Height | Pioneer 700-4 – 78.5 inches / Pioneer 700 – 77.6 inches |
| Ground Clearance | 10.7 inches |
| Wheelbase | 76.8 inches |
| Turning Radius | 14.8 feet |
| Towing Capacity | 1,500 pounds |
| Payload Capacity | 1,000 pounds |
| Fuel Capacity | 7.9 gallons (including 1.2 gal. reserve) |
| Curb Weight | Pioneer 700-4 Deluxe – 1,426 lbs / Pioneer 700-4 – 1,411 lbs / Pioneer 700 Deluxe – 1,283 lbs / Pioneer 700 – 1,268 lbs |