– Announcement | NEW 2020 Honda Motorcycles & CRF Dirt Bikes Released: Reviews, Prices, Specs + More… –
It's that time of the year again guys – our first 2020 Honda motorcycle announcement is here! This page is only going to cover the highlights and have some pictures of these 2020 Honda motorcycles and like I always do, I will have a separate review page for each of the 2020 motorcycles with their specs etc. I will be updating this page over the next few hours with more information so check back for more shortly. As usual if you've followed the blog over the years, Honda doesn't spill all their beans at one time when it comes to new product announcements whether it be for 2020 Motorcycles or 2020 ATV models, 2020 SxS / UTV / Side by Side models etc. They take their time and span it out over many months so that's why this is labeled as "update #1". I will be posting many updates, sneak peeks, speculations, conspiracy theories etc over the coming weeks and months and we'll see how many more I can't get right this year. Don't forget to follow the blog to keep an eye out for updates in September on the 2020 Honda Supersport bikes, Cruisers, Touring and entry model motorcycles and then in November for 2020 Honda Sport Bikes, Scooters, Dual Sport and Cruisers. With the September motorcycle announcement from Honda we will see a new 2020 Adventure motorcycle released…
In its first on-road announcement for the 2020 model year, Honda today rolled out three returning machines that all exude fun and accessibility. Lightweight and stylish, the Monkey, Grom and CB300R distill the joy of riding like only small-displacement machines can, enticing new riders to explore the world of motorcycling and veterans to revisit the reasons they started. The most lighthearted of the trio, the Monkey has a new-old style that appeals to everyone from millennials to history buffs, while the Grom—the industry's best-selling sport bike—continues to be a miniMOTO phenomenon. More performance-oriented but still big on style, the CB300R is a small-bore iteration of the naked-bike movement.
"For Americans, motorcycles are all about fun, and it would be hard to find three bikes that better represent that particular emotion," said Chris Cox, American Honda's Manager of Experiential Marketing/Press. "The Monkey, Grom and CB300R appeals to riders from multiple generations and with varying experience levels, and all three squeeze modern features into diminutive, entertaining packages. It's no wonder they continue to be very popular with customers."
2020 Honda Motorcycles
Honda's Monkey has a history nearly six decades old, a fact that no doubt contributed to the enthusiastic reception that this current iteration—unveiled to U.S. customers less than a year ago—has enjoyed. Already fostering its own motorcycling subculture, the Monkey is back for 2020, and its faithfulness to the 1961 Z100 (originally designed for an amusement-park attraction) prompts many a trip down memory lane. But actual trips are a pleasure as well, thanks to the Monkey's modern attributes: a fuel-injected SOHC 125cc single-cylinder engine delivering robust and enjoyable power, an inverted fork, a circular LCD digital meter, all-LED lighting, available inertial measurement unit (IMU)-based ABS.
Most importantly, the 2020 Monkey is back in a new color which I predicted a little while back here. I get lucky every now and then haha.
2020 Monkey Colors

Monkey ABS: Pearl Nebula Red
Monkey: Pearl Glittering Blue, Pearl Nebula Red

2020 Monkey Prices

Monkey ABS: $4,199
Monkey: $3,999

2020 Monkey 125 Release Date: October 2019
2020 Monkey 125 Changes: Yes, explained here.
The fun, pocketsize model that inspired a cultural revolution returns for 2020, but it still has a serious sporty side, with a SOHC four-stroke engine, fuel injection, four-speed transmission with manual clutch, LCD dash, stacked LED headlight layout and available ABS. It all adds up to excellent throttle response, remarkable fuel efficiency, nimble handling and a road-hugging but compliant ride, but the Grom's most noteworthy feature is inarguably the diminutive size that promises approachability to new riders and fun to more experienced customers.
2020 Grom Colors

Grom ABS: Cherry Red
Grom: Cherry Red; Blue Raspberry; Incredible Green; Halloween Orange

2020 Grom Price

Grom ABS: $3,599
Grom: $3,399

2020 Grom 125 Release Date: June 2019
2020 Grom 125 Changes: None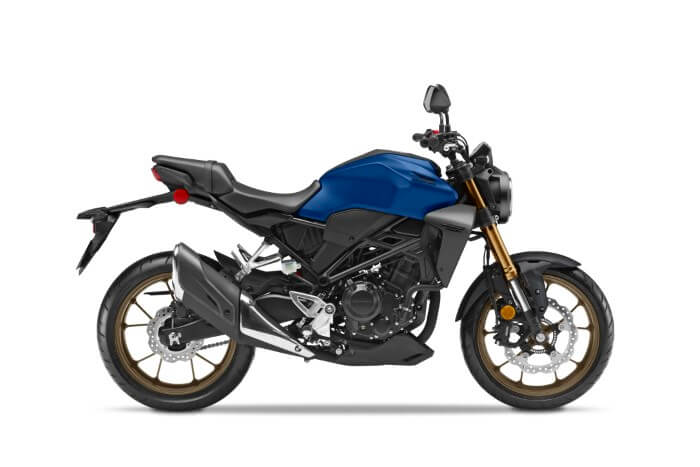 Featuring Honda's Neo-Sports Café naked-bike design in its most lightweight representation, the CB300R returns for 2020 in a new Pearl Blue color, and promises performance and lifestyle in equal parts. The compact, fuel-injected 286cc DOHC four-valve, liquid-cooled, single-cylinder engine has a straight-shot intake path and a free-revving exhaust system. The tapered-wall aluminum swingarm and aluminum wheels minimize unsprung weight, enabling responsive, precise handling. Excellent braking performance is achieved via a 296mm floating front brake disc paired with a radial-mount Nissin four-piston caliper, a 220mm rear disc matched to a single-piston caliper, and standard two-channel ABS with an IMU. The minimalist style centralizes weight for optimum chassis feel, performance, and balance, and that deliberate reduction shows off the machine's hard-edged attitude with its exposed, blacked-out hardware and dramatic cutaway tail. A full-function LCD instrument display provides simple readouts, and full LED lighting (including a dual-bar headlight signature and Honda's thinnest taillight) round out the look.
The 2020 CB300R is only available with ABS. There is not a non ABS model as with previous model years and models in general.
Color: Matte Pearl Blue
Price: CB300R ABS: $4,949
2020 CB300R Release Date: June 2019
2020 CB300R Changes: Yes (shown above)
2020 Honda CRF Dirt Bikes
From the fire-breathing, high-flying CRF450RWE all the way down to the friendly, cute CRF50F, Honda's off-road motorcycle lineup is the most all-encompassing and versatile on the powersports market, a fact that was driven home when American Honda today made its first new-model announcement of the 2020 model year. With eight and four machines respectively, Honda's CRF Performance and CRF Trail families offer something for everyone, whether they be pro-level racers looking to give Ken Roczen and Cole Seely a run for their money, youngsters preparing for their first two-wheel forays, or anyone in between.
The newest iterations of Honda's proven full-size motocross models—the CRF250R and CRF450R, as well as the elite CRF450RWE—all receive important upgrades to raise performance levels even higher, while the CRF150R mini is back again in 2020. The CRF450RX and CRF250RX closed-course off-road racers benefit from the same improvements as their track-focused siblings, while the CRF450X off-roader and CRF450L dual-sport machine return for the new model year with updated graphics. At the other end of the spectrum, the approachable, fun 2020 CRF250F, CRF125F, CRF110F and CRF50F await recreational riders with trail-focused performance and proven reliability.
"For generations, Honda has demonstrated its commitment to the dirt bike market, and that's never been truer than now," said Chris Cox, American Honda's Manager of Experiential Marketing/Press. "Our 2020 lineup of off-road models, including the CRF Performance and CRF Trail families, comprises machines that are top-of-class for motocross, off-road competition, trail riding and, in the case of the CRF450L, even using streets to extend off-road adventures. With such a capable and diverse collection of motorcycles, you can once again expect to see a lot of red on tracks and trails from coast to coast."
2020 Honda CRF PERFORMANCE LINE / Race Dirt Bikes
Last year saw Honda significantly expand its CRF Performance family to include machines for riding applications including motocross, closed-course off-road, pure off-road, and even dual sport. For 2020, a number of models in the lineup get important upgrades to keep Red Riders running at the front of the pack.
For 2020, Honda's flagship CRF450R—the same platform raced by Team Honda HRC's Ken Roczen and Cole Seely—puts more engine-management choices at the fingertips of racers, with the addition of Honda Selectable Torque Control (HSTC). Developed through HRC's worldwide racing effort, the system maximizes rear-tire hookup to keep all of the Unicam® engine's horsepower driving the bike and rider forward, improving racing success regardless of track conditions. In keeping with racing-body regulations, the system measures rate of rpm increase and adjusts delivery accordingly, and a handlebar-mounted switch enables selection from three levels of delivery (most in class). In addition, the CRF450R's front-rear balance is refined and handling is improved thanks to internal suspension updates, and a new battery position that lowers the machine's center of gravity. Improved rear-brake pad performance and durability, and the exclusive specification of Dunlop Geomax® MX3S tires round out a machine that's ready to take riders to the next level.
2020 CRF450R Price / MSRP: $9,399
2020 CRF450R Release Date: July 2019
2020 CRF450R Changes: Yes (shown above)
2020 Honda CRF450RWE (Works Edition)
Following a successful debut year in which it quickly caught the eye of performance-hungry enthusiasts who demand the absolute best, the CRF450RWE ("Works Edition") gets even better for 2020, with updates based on the machines in the Team Honda HRC factory race shop. Already a dominant force when it comes to lap times, this exclusive model now features a full titanium Yoshimura exhaust system, as a lightweight Ti header (the first of its kind on a Honda motocross model) joins the titanium Yosh muffler, all specifically designed to work with the model's hand-polished ports. Honda Selectable Torque Control (HSTC), developed through HRC's worldwide racing effort, now comes standard, enabling three levels of intervention via a handlebar-mounted switch, and a new battery position lowers the machine's center of gravity. Rounding out the changes are internal suspension updates, improved rear brake-pad performance and durability, new dual-compound Renthal grips and graphic updates.
2020 CRF450RWE Price: $ 11,999
2020 CRF450RWE Release Date: August 2019
2020 CRF450RWE Changes: Yes (shown above)
2020 Honda CRF450RX
2020 CRF450RX Price: $9,699
2020 CRF450RX Release Date: October 2019
2020 CRF450RX Changes: Yes (shown above)
2020 Honda CRF450X
2020 CRF450X Price: $9,799
2020 CRF450X Release Date: September 2019
2020 CRF450X Changes: Yes (shown above)
2020 Honda CRF450L (Dual-Sport)
2020 CRF450L Price: $10,399
2020 CRF450L Release Date: October 2019
2020 CRF450L Changes: Yes (shown above)
2020 Honda CRF250R
2020 CRF250R Price: $7,999
2020 CRF250R Release Date: July 2019
2020 CRF250R Changes: Yes (shown above)
2020 Honda CRF250RX
2020 CRF250RX Price: $8,299
2020 CRF250RX Release Date: October 2019
2020 CRF250RX Changes: Yes (shown above)
2020 Honda CRF150R / CRF150R Big Wheel
2020 CRF150R Prices

CRF150R: $5,099
CRF150R Big Wheel: $5,299

2020 CRF150R Release Date: August 2019
2020 CRF150R Changes: None
2020 Honda CRF Trail / Dirt Bike Lineup
Motorcycling is armed with legions of riders who got their start on Honda trail bikes, and with the 2020 lineup of CRF Trail models, that trend is sure to continue long into the future.
2020 Honda CRF250F
2020 CRF250F Price: $4,599
2020 CRF250F Release Date: August 2019
2020 CRF250F Changes: None
2020 Honda CRF125F / CRF125F Big Wheel
2020 CRF125F Prices

CRF125F: $3,099
CRF125F Big Wheel: $3,499

2020 CRF125F Release Date: July 2019
2020 CRF125F Changes: None
2020 Honda CRF110F
2020 CRF110F Price: $2,399
2020 CRF110F Release Date: July 2019
2020 CRF110F Changes: None
2020 Honda CRF50F
The modern version of the classic, beloved, Z50, the pocketsize CRF50F delivers kids' first riding thrills (and lifelong memories!) via a 49cc air-cooled engine with an automatic clutch. Ten-inch wheels enable a low seat height and facilitate spirited, nimble handling, helping pack more fun per cubic centimeter into this kids bike than any motorcycle around.
2020 CRF50F Price: $1,549
2020 CRF50F Release Date: July 2019
2020 CRF50F Changes: None