2015 Honda Sport Bike / Motorcycle Horsepower Chart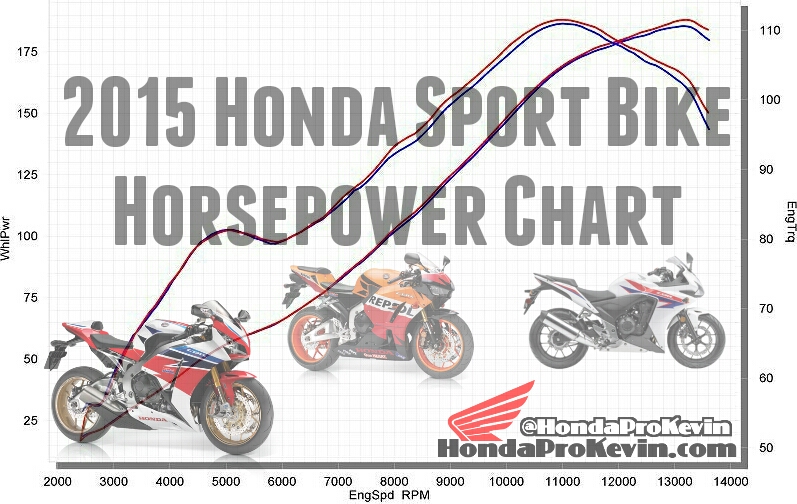 One of the questions I get asked the most on a daily basis is "How much horsepower does this CBR have?" etc. The majority of motorcycle manufacturers don't advertise their horsepower ratings / numbers. They do however put the horsepower rating on certain documents that are sent to the dealer.
When reading the numbers below, keep in mind this is what Honda stamps on each models MSO / MCO. What is an MSO / MCO? Please see bottom of page for explanation.
2015 CB300F – 30.4 Horsepower
---
2015 CBR300R  – 30.4 Horsepower
---
2015 CB500F – 49.6 Horsepower
---
2015 CBR500R – 49.6 Horsepower
---
2015 CBR650F – 86 Horsepower
---
2015 CBR600RR – 113 Horsepower
---
2015 CB1000R – 125 Horsepower
---
2015 CBR1000RR – 168 Horsepower
---
Going back to what I mentioned up top about the MSO / MCO for each motorcycle. MSO = Manufacturers Statement of Origin / MCO = Manufacturers Certificate of Origin. This is what Honda sends to the dealer for each model with the VIN listed as well as other pertinent information on that specific unit. This is the only place where Honda mentions the horsepower rating as well for each and every single motorcycle, ATV, SXS, scooter etc. This document is what will turn into your title when you purchase that unit.
Keep in mind thsee horsepower ratings will be different from what you may see if you're looking for 2015 Honda CBR dyno numbers. You have different styles of dyno machines that will read differently and there are a lot of factors that go into those details but that is another 10 page novel on its own haha. Not only do you have different variables in dyno styles but then you also have the difference between measuring horsepower at the crank / flywheel versus true WHP (Wheel horsepower).
Want to see other 2015 Honda motorcycle horsepower numbers? Click "Like" below and let me know you'd like to see more of these posts and I'll gather up some more info on other bikes in Honda's model lineup.
---

---