2016 CRF1000L / Africa Twin Review on Available Specs & Features (Updated with New Pictures – Bottom of page)
Well, today was the day! Honda made the official announcement on a few new models into their 2016 motorcycle model lineup. The model stirring up the most attention is the – 2016 Africa Twin / CRF1000L.
⇒⇒⇒ EDIT / UPDATE October 16th 2015: Latest 2016 Africa Twin CRF1000L Information and Detailed Overview on every single thing you would want to know! Click Here
---
EDIT / UPDATE August 28th 2015:
New information will be releasing on September 1, 2015. CLICK HERE for more details…
---
July 24th Update – 2016 Africa Twin CRF1000L Pricing / Horsepower / Detailed Specs / New Leaked Video + More! <——- Click Here
---
( New 2016 Africa Twin Spy Photos in action – Click Here )
---
Why is this big news? Here is the USA we have not been blessed with any adventure bikes from Honda like the rest of the world with models like the VFR1200X / VFR800X. Honda has decided the market isn't large enough to deal with bringing them to our shores. Instead, we get the CRF250L & XR650L. Don't get me wrong, they are great bikes but to some the CRF250L is too small and doesn't push enough horsepower. Then we have the dinosaur also known as the XR650L. This bike hasn't been changed or updated in decades and it shows. It's still an extremely capable bike, no doubt about it but some want more technology for their money and that's not even mentioning the seat height tall enough to where you have to be a giant to feel comfortable.
---
---
I won't mention the CB500X or NC700X as those are "adventure style" motorcycles and not a true machine that is capable off the showroom floor to tackle a serious off-road terrain. With other manufacturers like BMW, KTM, Yamaha etc building big bore adventure motorcycles it leaves Honda completely out of those customers thought process when buying and rightfully so as nothing on our showroom floor can compete.
This bike is going to be a game changer with some of the features that will be an industry first in this market segment. I'm excited to see Honda at the point again to where they can use their old advertising slogan of "Follow the Leader"… Honda is back!
After the economy tanking and so many manufacturers afraid to spend $$ in R&D, the motorcycle market grew stale because of nothing but "Bold New Graphics" etc as changes for a new model year. It's awesome to be back where we used to be and excitement grew year after year wonder what cool new bike was coming next.
Now, let's talk about the bike that has more than likely brought you to this page. The 2016 CRF1000L also known as Africa Twin. We don't have many detailed specs on the Africa Twin just yet so some things like horsepower etc will be speculation until the concrete details are released to us dealers and the public.
2016 Africa Twin / CRF1000L horsepower & torque numbers are going to be a big deal on this bike. With competition so tight between BMW, KTM, Yamaha etc – it's a given that the average public will want similar HP ratings even though 99% of us can't push these bikes to their true limits like a professional can. In 1988 when the original Africa Twin XRV650, they were rated at 57 horsepower (8,000 RPM). When Honda bumped the engine size displacement to 750 (XRV750), the Africa Twin rose to 61 horsepower (7,500RPM). At the moment, we are anticipating the 2016 CRF1000L to come in around the 100 – 110 horsepower mark. Honda has never been one to advertise horsepower ratings on motorcycles but they do stamp it on the MSO. Long story short, we may not know until the CRF1000L releases and are sitting on the showroom floor so we can see the MSO. What is a MSO? It is the manufacturers statement of original and also referred to as manufacturers certificate of origin. Knock on wood, hopefully we don't have to wait until that time though as the release date is still a pretty long ways out.
The scheduled Release Date for the CRF1000L / Africa Twin is scheduled for te beginning of 2016. Typically, Honda is pretty good with sticking to these dates and not running into many delays. Pending no big delays or problems with production, I'd say they will be on showroom floors in time for Spring sales as that is every manufacturers goal because that is peak season for bike sales. Higher level Honda Powersports dealers do get bikes a few weeks earlier than the rest as it is part of the perks available to dealers that are higher up the list in terms of level. Keep this in mind as you get on a dealers pre-order deposit list for the Africa Twin / CRF1000L. I have already started our pre-order deposit list for our first shipment on the Africa Twin, if I can be of any help you can reach me by email Kevin@HondaProKevin.com or at Honda of Chattanooga. I won't do any "sales pitches" in this article so that will be the last I mention of it haha.
Honda is saying that the 2016 Africa Twin is going to stay true to the roots of the old school XRV650 / XRV750 Africa Twin dating back to 1988. Why is that of importance? Those started what we all know today as the adventure motorcycle market segment. With Honda making it a point to bring up the original Africa Twin, it's clear they are building this bike to be a true adventure model and not an "adventure style" bike like I mentioned above.
One big difference to note from the original Africa Twin to the 2016 model is that instead of a V-Twin engine, this generation will receive an all new powerplant that is of the parallel configuration instead of a V. What do you think? Would you rather see a V-Twin instead of the 1000 cc Parallel-Twin? Honda has been on a big kick lately with using more Parallel-Twin engines than ever before on new models. There has got to be a reason, whether it be efficiency or less vibrations etc. There has to be something driving them in that direction with all of the new Parallel-Twin models that have been released in the last 2-3 years.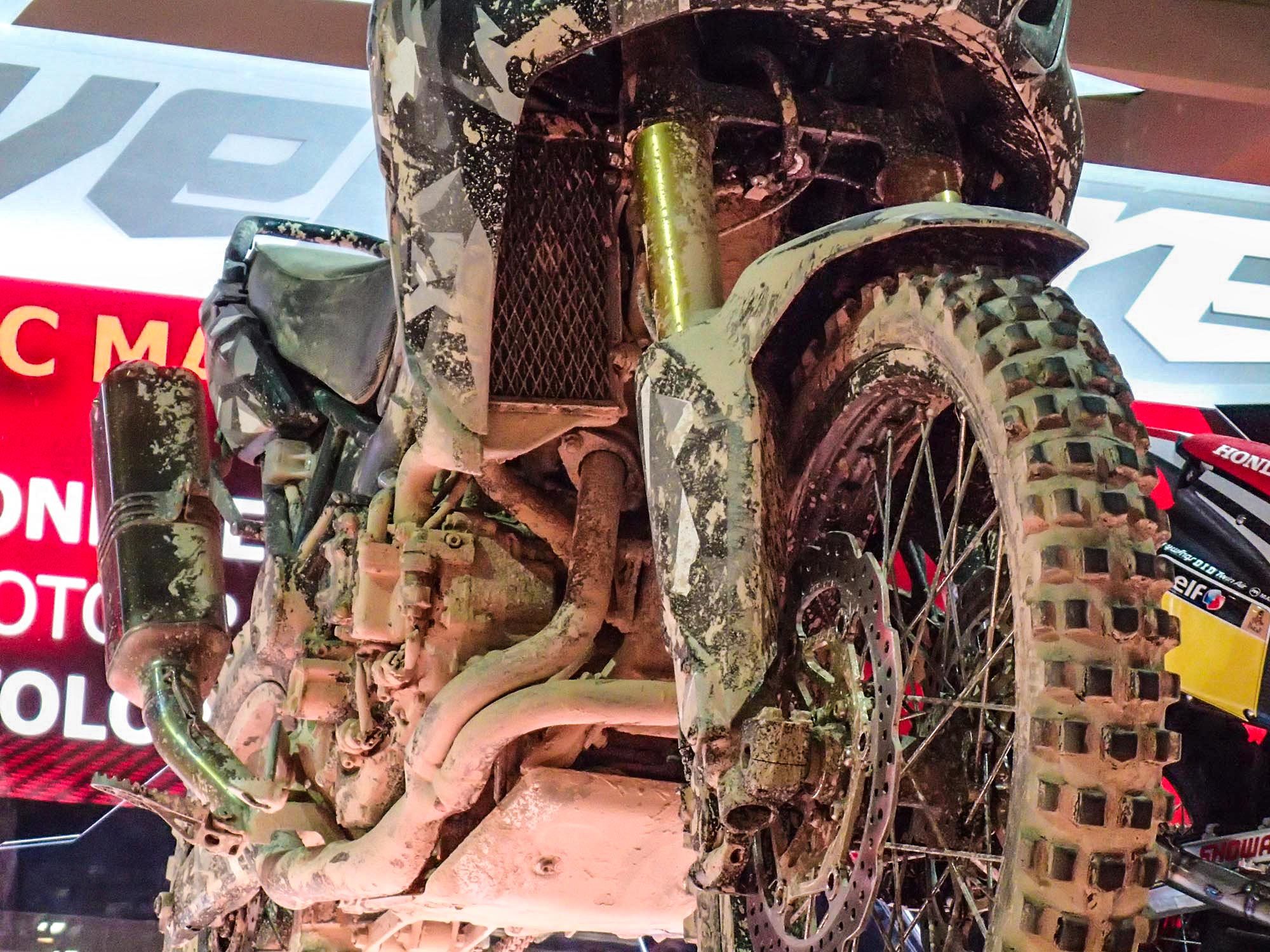 Transmission options for the 2016 Africa Twin / CRF1000L… This is something that will be a game changer as Honda will be the first to use a DCT (Dual-Clutch Transmission / Automatic with option to manual click-through gears with a +/- button) setup on an adventure motorcycle . At first I was hesitant to the DCT transmission when first released back on the 2009 Honda DN-01. After being able to put some miles on multiple DCT models over the years, if I were in the market and had to decide between a manual transmission or DCT – It would be a difficult task. The DCT transmission is awesome and quite enjoyable, you just have to keep an open mind and give it a try as it will work beautifully with the Africa Twin. Of course, many people still enjoy just a regular manual transmission and clutch. If you haven't done any reading up or research on the DCT transmission from Honda, I suggest you do so. It is crazy to see the technology that Honda has crammed into such a small package all while being affordable. Just a few years ago, Dual-Clutch Transmissions were only used in high-end super cars…
Will the 2016 Africa Twin / CRF1000L be more like the BMW, Yamaha, etc and the likes of the other manufacturers in terms of it being adapted to enjoy off-road action or designed from the frame up with true adventure riding in mind? When looking at the patent drawings released, little thing stick out to make us think Honda is really putting some thought into this machine and its off-road capabilities. Most of the adventure models in today's model lineup from all manufacturers they don't give you that feeling of sitting on a dirt bike. A true dirt bike is very narrow in the knee / fuel tank area and with good reason.
Honda has designed the airbox to be extremely thin, similar to a motocross / dirt bike. On a dirt bike, you're seating position allows you to slide forward and put your weight on the front tire to aide in being able to truly rail a turn. You can see in the patent drawings that Honda put effort to move the air box location to where they can keep the fuel tank as slim as possible – like a dirt bike. Another upside to the air box placement is when thinking of maintenance and ease of accessibility.
With the current pictures available, the 2016 Africa Twin looks like it will give you more of a true dirt bike "feel" while riding whereas similar offerings from other manufacturers have you sitting further back behind a wide fuel tank. That's more of a seating position you see on street bikes when that is not what you want off road, it doesn't make life any easier on while hitting the trails. You'll typically want to be able to grip the tank with your knees while standing.
All in all, I think Honda has a homerun on the 2016 Africa Twin / CRF1000L. Pending it isn't priced to the moon and out of that affordability range for most. / MSRP / Price info on the CRF1000L / Africa Twin will be available very soon. Honda has stated that information will be available in our 3rd quarter this year.
Check out this 2016 Honda Africa Twin CRF1000L Video (below). The video isn't anything special as it's raw footage from a promotional ad / commercial that Honda is filming to release in the near future. It does provide some insight though as to things Honda hasn't officially released to us.
It sounds like the Africa Twin is going to have a nice exhaust tone to it and not the typical whisper quiet setup like Honda typically does. It could change though as they may not have everything finalized with the production models versus the work horse prototype models. On the left handlebar there seems to be more than just the standard DCT buttons.
This means Honda is more than likely going to offer some form of traction control and ABS on the 2016 Africa Twin with a switch that will allow it to be turned on / off. If Honda expects the Africa Twin to go toe-to-toe with the competition in this market segment, those features are a "must have" to most. Honda has really been pushing their ABS / C-ABS technology over the last few years. It was originally only available on their big touring models but has worked its way down the model line to where it is available on even the cheapest of the cheapest models with the entry level 300 cc bikes. I can't see why they wouldn't throw it on the Africa Twin as an option. It'll be interesting to see if they only offer it on the DCT version of the Africa Twin similar to how they do it on the CTX700 / CTX700N / NC700X models. On those models you can't get ABS unless you go with the DCT option. Traction Control has been another feature they have toyed around with more and more as of late with models like the CTX1300 Deluxe / VFR1200 / VFR800 (pictured above).
Honda will be releasing 2016 Africa Twin / CRF1000L price info, specs, pictures, videos in the very near future. Keep an eye on here for updates and also follow me on social media for instant updates on other new 2016 Honda motorcycle models and more.
---
→ October 10th, Africa Twin Update ←
Here's a few new 2016 CRF1000L Africa Twin Pictures…
---
* August | Updated 2016 Africa Twin CRF1000L Spy Photos – Click Here
---
* This below was the older original post before more information, pictures, specs were released…
Ahhh, the wonderful world of the internet! Nothing is private or secretive these days which can be a good and or bad thing. In this case though I'd say it is a good thing or "problem" unless you're Honda.
Honda was originally being very secretive and not releasing full and detailed pictures of the 2016 Africa Twin CRF1000L. The only official pictures released were the pictures posted at the top of this article. They were darkened and shadows added etc to try and hide the fine details on the exterior of the Africa Twin.
We should all write "thank you" letters to the Australian patent office haha. Thanks to them, renderings have been released and are available to the public with a little bit of digging involved. The only downfall though is that these are gray-sale pictures / renderings so we don't have any colors in there but I won't complain as these are better than having nothing at all.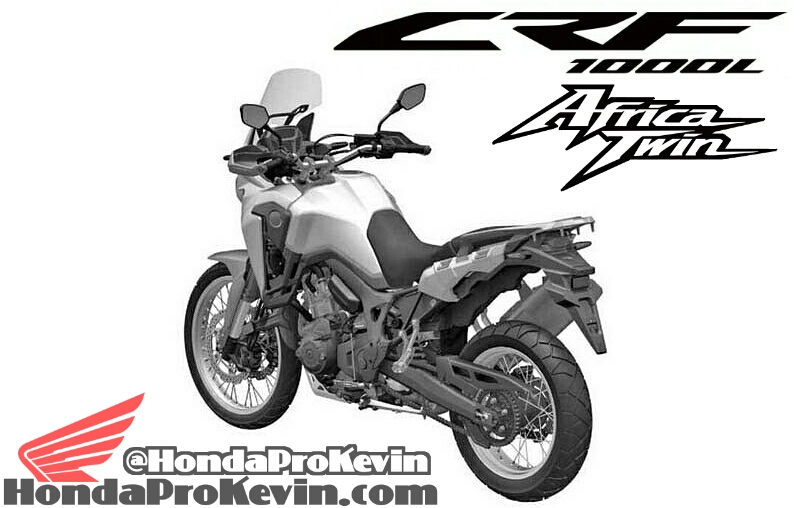 When these pictures were originally released a lot of people started doubting them. Many are saying that these are "photoshopped" pictures and aren't real pictures of the 2016 Africa Twin. To those doubters, please see the picture below. Look at the shadowed picture of the 2016 Africa Twin CRF1000L below (screenshot from www.PowerSports.Honda.com). You can clearly see that the rendering matches up perfectly with the blank spot that Honda has for the Africa Twin. If you had any doubt before I hope that this helps.
We are still in the dark on a lot of the 2016 Honda Africa Twin CRF1000L's detailed specs and features but we will be getting those details very soon. If they aren't leaked prior to when the official info is supposed to be released, Honda is telling us dealers in Q3 they will give us that info and tell us everything we want and more. Keep an eye here at HondaProKevin.com and "Like" HondaProKevin on Facebook for updates on the 2016 CRF1000L Africa Twin.
---
What do you think about the 2016 Africa Twin CRF1000L? Do you think it'll be a big contender in the market and can compete against the likes of KTM, BMW, Ducati, Yamaha etc? Post up what you think below…
Want to see more 2016 Honda Motorcycle / UTV / Side by Side Model News & Announcements? Follow me on Twitter & Facebook.
---

---