The 2015 Repsol CBR1000RR SP is a gorgeous bike. Well, it's a B-E-A-UTIFUL bike and a piece of art no doubt about it but… We want more!
---
---
With Honda stepping it up on the Limited / Special Edition SP models are you excited to see what Honda does on the 2016 CBR1000RR? Will this finally be the year we've all been waiting for? Is Honda going to release the all new model similar to the RC213V-S that us mere mortals can afford? Something closer to "reality" that doesn't a carry an $184,000 MSRP, since most of us will only carry a loan that large for our mortgages?
Personally, I've got my fingers crossed… Stay tuned for updates on the 2016 CBR Sport Bike model lineup as Honda will be releasing the 2016 CBR600RR / 2016 CBR1000RR model info, specs, etc to us dealers soon. * Edit / Update: With the latest 2016 motorcycle model lineup announcement on September 1, 2015 – Honda informed us that the next model update / announcement will come in November of 2015. I've broken a lot of new model updates and news before any other sites in43the past on my old dealer blog before launching this personal site so I can post up my own opinions etc and it not be tied to a dealer per say. Long story short, rest assured once concrete information is available I will post it up and keep you guys updated on the 2016 CBR600RR & 2016 CBR1000RR. In the meantime, I'll be doing my "rain dance" or whatever you want to call it to the sport bike gods that Honda will finally make me upgrade my current CBR… haha.
With the BAD R1 / R1M for 2015 that Yamaha released we know Honda has to have something up their sleeves. Rumors are floating around Suzuki has a new GSXR1000 in the works as their current model is reaching dinosaur status like the CBR1000RR when you're an individual that likes to shop on spec sheets alone. We do have to keep in mind there's a lot more than spec sheets but we'll beat that drum another day. Ducati stepped up the Panigale again with the new 1299 and continues to evolve that bike time and time again. We have Kawasaki that has a very potent package on the 2015 ZX10R.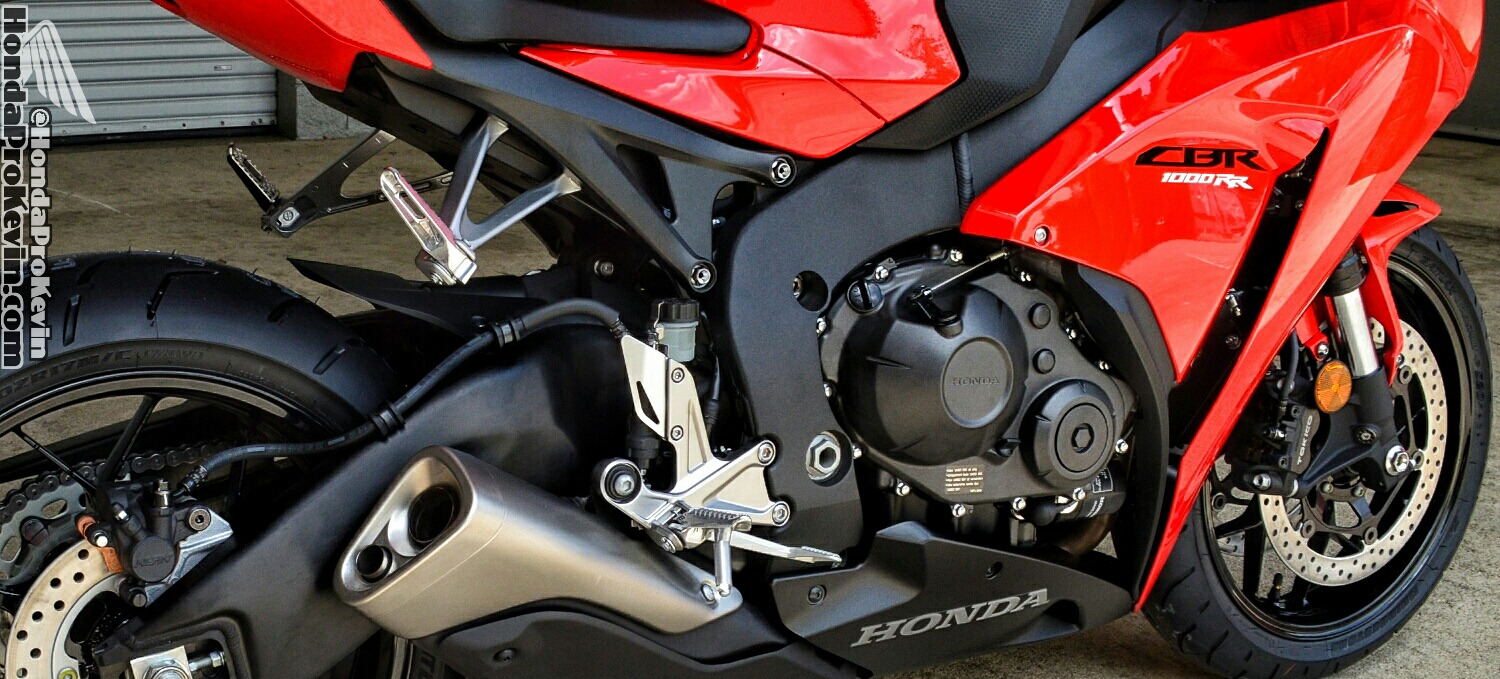 When you flip back through the CBR1000RR / Fireblade family tree we are definitely past due for an upgrade but sport bike sales were at another level when they used to get revamped every couple of years with lighter materials and more power etc. If you're not 100% familiar with the timeline, the 2004-2005 CBR1000RR was the first generation. The 2006 CBR1000RR saw minor changes and upgrades while 2007 stayed the same. The 2008 CBR1000RR was an all new beast from the frame / engine up. The 2009-2011 CBR1000RR stayed the same aside from ring and crankshaft tweaks. Then in 2012 on the CBR1000RR, Honda tweaked the plastics slightly while also throwing big-piston front forks. Honda also FINALLY ditched the 1980 design 3-spoke wheels and tossed some current styled 12-spoke wheels and a digital gauge cluster / instrumentation too. Now, the 2015 CBR1000RR we're running is the same machine as the 2012 model year aside from the CBR1000RR SP model with Brembos, Ohlins, etc. Aside from forks, suspension and wheels – essentially the 2015 CBR1000RR is the same machine as the 2008 CBR1000RR.
---
* UPDATE: October 1st, 2015. Honda just announced a new CBR sportbike called "Honda Light Weight Super Sports Concept". Check out this awesome looking new CBR here. Personally, I love how aggressive it is and hope this design transfers over to the CBR1000RR & CBR600RR for its changes on its next generation. Whether it be 2016 or 2017.
---
Even though sport bike sales are far from where they used to be, I don't see Honda sitting this battle out for much longer and staying on the side-lines. Only time will tell… Until then, let's enjoy the beautiful piece of machinery below (RC213V-S) that the majority of us probably can't afford haha.
What do you want to see out of the 2016 CBR1000RR? What upgrades / changes would you have to have to make you buy a 1000RR in 2016? Traction control? Wheelie control? Different horsepower maps to choose from? Ohlins suspension? Brembo brakes? Post up what you'd like to see…
Please click "Like" and or Share below if you enjoyed checking out any of my CBR1000RR pictures, videos, content etc. Thanks guys.