[ad name="MSS – MC Tire Sale 70% Off – 468×60″]
New 2016 Honda Motorcycle Announcement / Model Lineup Update | NC700X & CB500X Changes!
Today, October 27th 2015 Honda has made the official announcement / unveiling for the Newly Redesigned 2016 CB500X & NC700X Adventure style motorcycles. I made a posting a couple weeks ago here that Honda would be doing this announcement for the 2016 NC700X & CB500X at the 2015 Tokyo Motor Show. This follows the newly changed 2016 Honda CBR500R announcement and it's unveiling at the AIMExpo.
---
*** Updating with more information as you read this. Check back in a few minutes and click refresh on this page to update the new content. ***
---
What do you guys think about the changes to the 2016 CB500X and NC700X? Comment below and post up what you guys think after checking them out.
Here's the press release directly from Honda:
Having recently released information about the 2016 NC700X and CB500X, Honda is unveiling this week both 2016 machines in conjunction with the Tokyo Motor Show. Great choices for customers seeking full adventure-touring capability in a middleweight package, the NC700X and CB500X have been significantly upgraded for the new model year, with both aesthetic and technical improvements.
"As was made clear with today's unveiling in Japan, the NC700X and CB500X benefit from significant upgrades for 2016," said Lee Edmunds, Manager of Motorcycle Marketing Communications at American Honda. "Both of these models have been popular with American customers since their respective introductions, and with exciting new looks plus performance-oriented changes, they're better than ever. The NC700X and CB500X join our two larger-displacement adventure machines—the VFR1200X and CRF1000L Africa Twin—in Honda's comprehensive adventure lineup, which we look forward to debuting in the U.S. at the November 20-22 International Motorcycle Show in Long Beach, California."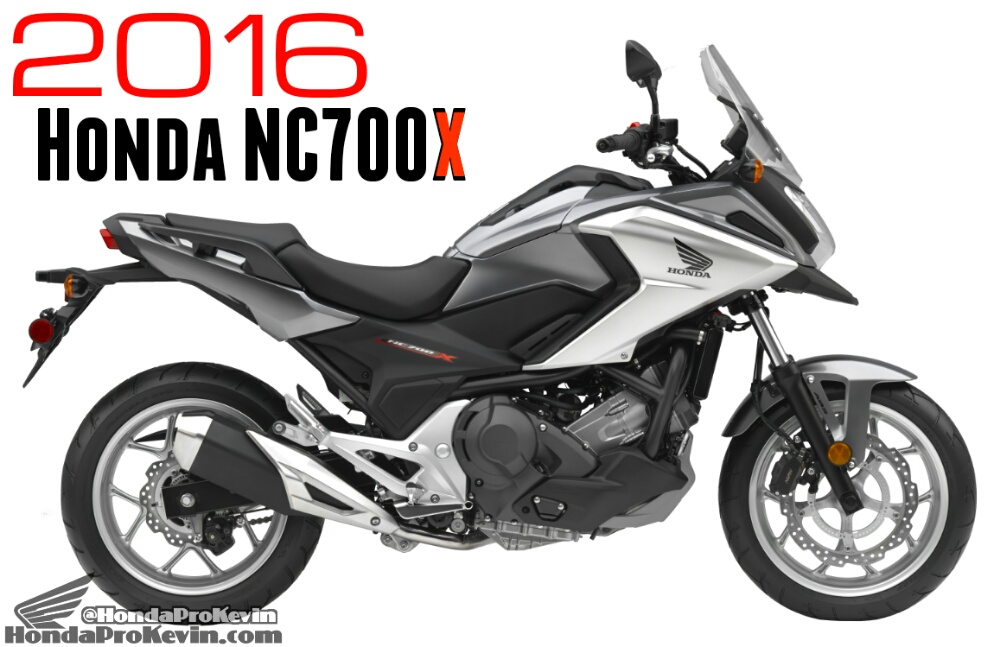 2016 Honda NC700X
( 2016 NC700X Pictures + More – Click Here )
Already a hit with adventure riders, Honda's NC700X provides fun, practicality and reliability in every facet of riding, and it gets new, aggressive styling for 2016. Housing a 670cc liquid-cooled parallel-twin engine, the machine produces tons of torque and enough power to satisfy veteran riders, but it's also good-natured enough for novices. The NC700X is offered in versions with a standard gearbox and a fully automatic Dual Clutch Transmission (DCT), the latter now with three different sport-mode settings. With deft handling, it's adept at maneuvering through everything from city traffic to canyon roads, while the comfortable, upright seating position and a 5.8-gallon utility compartment—enlarged by .25 gallons for 2016 and big enough for a full-face helmet—make long-distance trips a pleasure. Other updates for the new model year include a revised windscreen and meter, as well as an LED taillight, a utility rail to simplify fitting a tank bag, a new pentagon-shaped muffler with an improved exhaust sound. Also new are the "L"-shaped air valves on the wheels for added clearance, and a smoother-functioning "wave"-style key.
2016 Honda NC700X Colors / Options
2016 NC700X Color: 
2016 NC700X Price / MSRP:
NC700X: TBD
NC700X ABS: TBD
2016 NC700X Release Date: April 2016
---
2016 Honda CB500X
( 2016 CB500X Detailed Review of Specs / Pictures + More – Click Here )
Honda's smallest-displacement adventure-touring model is just as serious as its big siblings, as evidenced by the CB500X's upright seating position and wide handlebar, plus a 471cc liquid-cooled parallel-twin DOHC engine that's versatile and fuel-efficient. For 2016, the nimble machine benefits from sharper, tougher styling, plus a taller windscreen, LED lighting front and rear, and a stylish new muffler design. Other upgrades include externally adjustable fork preload, an adjustable front-brake lever, improved gear-change feel, a hinged fuel cap, a "wave"-style key and an improved shock setting. An array of Honda Genuine Accessories make it possible for customers to adapt the CB500X to suit their individual tastes.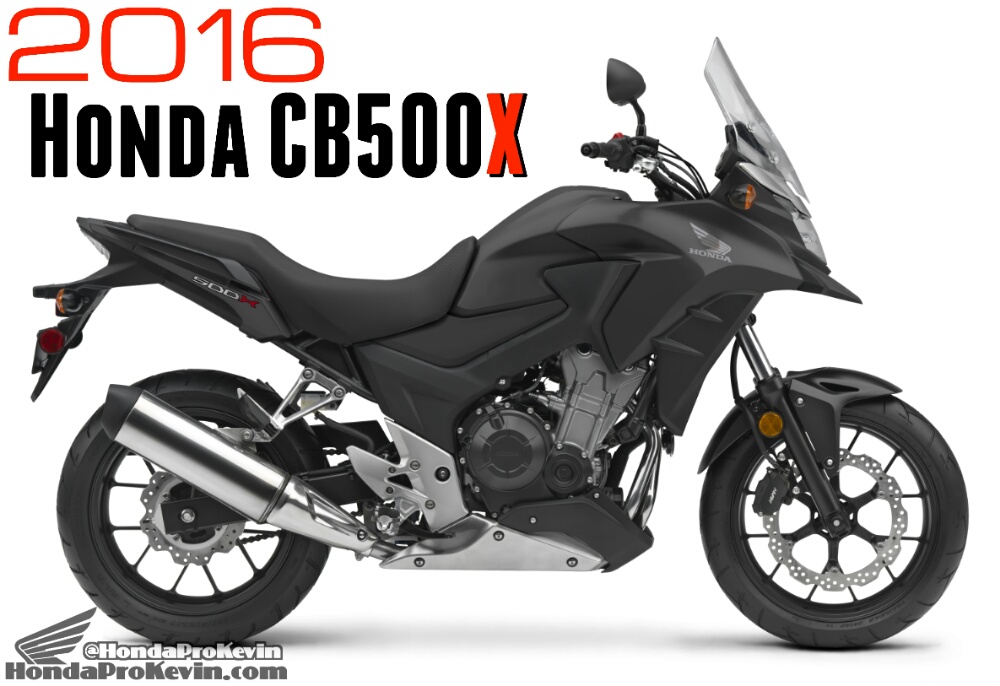 2016 CB500X Colors / Options
CB500X: Matte Black Metallic
CB500X ABS: Matte Brown Metallic
2016 CB500X MSRP / Price
CB500X: $6,499
CB500X ABS: $6,799
2016 CB500X Release Date: February 2016
Please Click "Like" and or Share if you found any of the information, pictures etc helpful on your hunt for new motorcycle info. Thanks guys.