– New 2016 Honda Motorcycle Model Announcement | VFR1200X Adventure Bike (CrossTourer) –
Honda just recently made the official announcement that the 2016 VFR1200X will in fact be releasing here in the USA as a new adventure model to add to the growing 2016 adventure motorcycle model lineup from Honda. The VFR1200X has been in production overseas for quite a few years now dubbed as the Honda CrossTourer but it has received some uparades and changes. It's been a model like the VFR800X overseas that many people wish that Honda would bring over to our shores.
This new model announcement caught us all off-guard as Honda didn't let any of us know in advance nor did they wait until the 2015 Tokyo Motor Show to do an official unveiling. Any new model coming over to the USA is good news though as that means Honda has hopes that the motorcycle is continuing to grow and bounce back after the economy crashing in 2008 which out a huge hurtin' on the entire industry. All of the manufacturers whether it be Honda, Suzuki, Kawasaki, Yamaha etc pulled back the reigns big time. The last couple years have seen a huge resurgence of confidence from all of the manufacturers with them pumping out new models and throwing tons of technological advances into bikes like the good ole days.
What's so special about the 2016 VFR1200X? Why should you be excited about this new motorcycle hitting Honda dealers showroom floors next year? If you want an adventure motorcycle that doesn't skimp on on-road creature comforts and being able to put mile after mile on the odometer without a hiccup then this is the bike for you. If you want something that is more off-road orientated then maybe the new 2016 Africa Twin will be more to your likings. The super smooth V4 engine in the VFR1200X makes it the largest displacement engine adventure motorcycle in the model lineup. As you'll see below in the overview of features and specs this VFR1200X shares the engine from the VFR1200F which is an absolute beast and puts our some killer horsepower and torque figures. Of course there's even more, it'll take quite some time to cover all of the details on the new VFR1200X below so I hope you've got a few minutes to kill to learn the ins and outs on this awesome piece of engineering from Honda…
---
February 2016 VFR1200X Update:
Honda just announced the 2016 VFR1200X (CrossTourer overseas) pricing for the USA.
2016 VFR1200X Price / MSRP: $15,599
2016 VFR1200X DCT Price / MSRP: $15,999
---
Overview Contents:
1. | VFR1200X Introduction
2. | Model Overview

2.1 | VFR1200X Engine
2.2 | VFR1200X Transmission
2.3 | VFR1200X Frame / Suspension
2.4 | VFR1200X Styling
2.5 | VFR1200X Gauges / Display
2.6 | VFR1200X Price / Release Date

3. | VFR1200X Accessories
1. Introduction
The VFR1200X, launched in 2012 as the CrossTourer overseas, is Honda's range-topping adventure sports touring motorcycle. The original design team, led by Large Project Leader Yosuke Hasegawa, wanted to create a motorcycle that gave the rider a sense of challenge and adventure; a perfect travel companion, while also offering a premium and unique design complemented by cutting edge technologies; A motorcycle that could conquer a long distance journey on fast major roads and motorways, or embark on an adventure to a remote destination in the mountains etc.
The VFR1200X delivers all the fun and excitement of a sports tourer with the comfortable upright riding position and maneuverability of an adventure motorcycle. This is underpinned by Honda's V4 expertise and dual clutch transmission with new functionalities.
Equipped with a 1,237cc V4 engine, advanced chassis and electronic package – Combined ABS, Traction Control System (TCS) and the option of Honda's Dual Clutch Transmission (DCT) gearbox – the VFR1200X firmly planted a flag at the high-performance end of the adventure segment.
As a go-anywhere, do-anything tool it has few peers – but its real difference lies in the addictive power and soundtrack produced by its soulful V4 engine, something unique in this class.
2. Model Overview
2.1 | VFR1200X Engine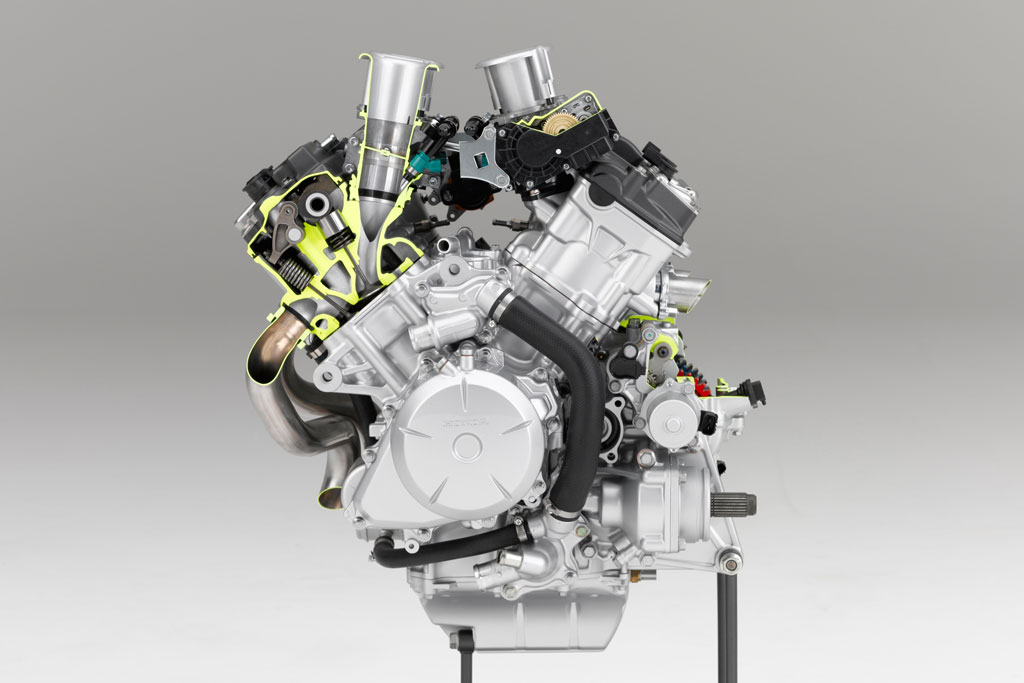 The VFR1200X V4 engine continues Honda's proud heritage with V4 technology, with its uniquely smooth and flexible delivery of both horsepower and torque with immediate response while also being very controllable too.
Based on the engine of the VFR1200F, the VFR1200X engine has been modified to better suit the intended use of an adventure motorcycle. To further enhance the thrust at low and medium engine rpm, the design of the camshafts and distribution times have been revised. The result is a rewarding drive, even from very low revs. Also contributing to the high level of control and ease of use that provides advanced system V4 is the ride-by-wire (electronic throttle), which accurately conveys the driver's commands allowing easy monitoring and responding with the right features required; no more no less. Honda in return neutered a little bit of the horsepower from the VFR1200F as it came in at 172 horsepower but the VFR1200X is still nothing to balk at when it comes to the power department.  The V4 engine in the new 2016 VFR1200X has a horsepower rating that comes in at a respectable 129 HP at 7,750 RPM and 93 lb-ft torque at 6,500 RPM. PGM-FI fuel injection employs 44mm throttle bores and the VFR offers up very precise throttle control thanks to fly-by-wire technology. Throttle control is key when you have this much horsepower and torque on tap thanks to the monstrous engine Honda crammed in this new motorcycle for the 2016 adventure bike lineup in the USA. The throttle-by-wire system, and an engaging, characterful sound – due partly to carefully-sized chambers in the exhaust make this bike not only an enjoyable bike to ride but quite the weapon with a rider that has the skill to take advantage of this package Honda has put together.
The V4 configuration is slim and compact, reducing frontal area and aiding mass centralization for excellent handling. It also features a very closely set pair of rear cylinders, making the engine narrower at the back. Further contributing to the 1,237cc, 16-valve engine's compact dimensions is Honda's Unicam technology, also used on the CRF range of motocross machines. This SOHC configuration helps reduce the size and weight of the cylinder heads, and optimized combustion chamber shape. The result is a comfortable, close and manageable motorcycle.
A combination of a 76° angle between the two banks of cylinders and a crankshaft with 28° phasing between the crankpins virtually eliminates vibration. Since there's no need for a power-sapping balancer shaft the result is higher output, and uneven firing intervals give an intimate connection to the engine.
The Honda Selectable Torque Control constantly monitors front and rear wheel speed; when it senses a certain difference in speed between front and rear wheels, engine torque is momentarily reduced by a combination of ignition cut and modulation of the throttle butterflies through the throttle-by-wire system. As the difference in speed between front and rear wheels reduces, the system transitions into modulating only the throttle butterflies. This ensures a seamless, unobtrusive control. The system features 3 modes of operation for the rider to choose depending on road conditions. It can also be switched off.
The VFR1200X is equipped with Honda's Traction Control System (TCS). This system monitors rear wheel speed, looking for fluctuations that could suggest an imminent loss of traction and, subsequently, machine control. If the system believes wheel-spin is imminent, engine power is momentarily reduced, maintaining traction. The system can be switched off in accordance with the rider's preferences.
2.2 | VFR1200X Transmission Options
Take your pick between:
Conventional 6-speed Manual Transmission
DCT / Dual-Clutch Transmission (Automatic) with six speeds, push-button shifting, with your choice of shift modes.
VFR1200X DCT | Automatic Motorcycle Transmission Overview:
Available as an option on the VFR1200X, Honda's DCT gearbox offers a unique combination of direct riding feel and ease of use. A world first for motorcycles when launched on the VFR1200F in 2010, it delivers consistent, seamless gear changes, and very quickly becomes second nature in use.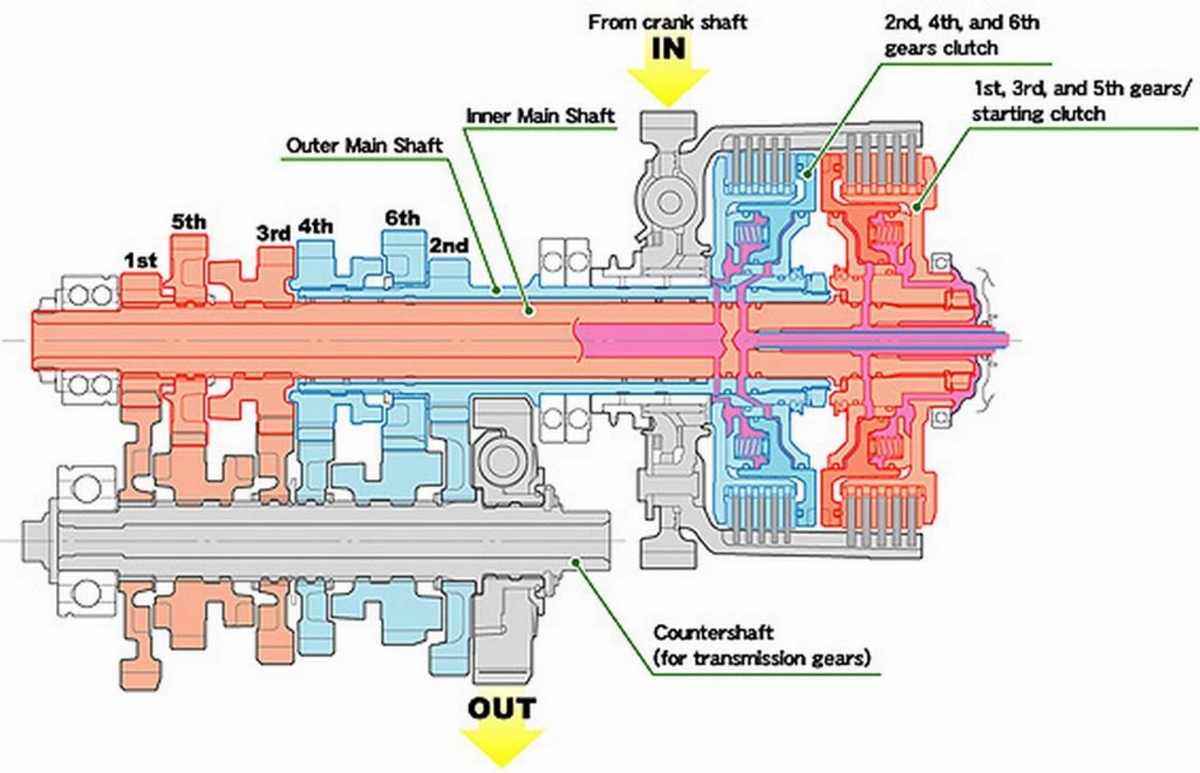 The system uses two clutches: one for start-up and 1st, 3rd and 5th gears: the other for 2nd, 4th and 6th, with the mainshaft for each clutch located inside the other for compact packaging. Each clutch is independently controlled by its own electro-hydraulic circuit. When a gear change occurs, the system pre-selects the target gear using the clutch not currently in use. The first clutch is then electronically disengaged as, simultaneously, the second clutch engages.
The result is a consistent, fast and seamless gear change. Furthermore, as the twin clutches transfer drive from one gear to the next with minimal interruption of the drive to the rear wheel, any gear change shock or pitching of the machine is minimised, making the change feel direct as well as smooth. The Crosstourer's ride-by-wire technology allows the system to electronically "blip" the throttle on downshift for even smoother, faster gear changes.
With extra benefits such as durability (as the gears cannot be damaged by missing a gear), impossibility of stalling, low stress urban riding, and reduced rider fatigue, DCT has seen increasing acceptance in overseas markets: 55% of Crosstourer VFR1200X customers chose the DCT option across Europe in the first nine months of 2014.
Three modes of operation are available with the VFR1200X DCT transmission:
MT (manual) mode gives full manual control, allowing the rider to shift with the handlebar trigger control buttons.
Automatic "D" mode is the economy mode (moderate fuel consumption) for driving in the city and highway, interstate, freeway etc riding as it achieves optimum fuel efficiency.
Automatic "S" mode is sportier and the ECU lets the engine rev a little higher before shifting up, giving greater performance. It also shifts down sooner when decelerating for extra engine braking.
In either "D" or "S" mode DCT offers immediate manual intervention if required – the rider simply selects the required gear using the up and down shift triggers. At an appropriate time DCT seamlessly reverts back to automatic mode, depending on throttle angle, vehicle speed and gear position.
Furthermore, in "D" mode, the DCT system detects variations in rider input typical to certain environments, from busy urban streets to mountain switchbacks, and adapts its gear change schedule accordingly to create an extra level of riding compatibility.
Recent upgrades to the DCT software and operating logic ensured an even more intuitive system; downshifts in D and S mode happened earlier for a more responsive feel and extra engine braking, making corner entry natural. Kick down was also smoother thanks to remapping of the ECU. This transmission has been designed and developed to be durable and very quiet, even at high speed.  The ECU monitors several key parameters and can choose between two type map programs; one for normal conditions, minimizing gear changes for smooth, progressive operation, and a second for use with high load gear changing more frequently to increase acceleration and engine braking. Both D mode and S mode allows immediate manual intervention if required.
Want to shift Honda's DCT automatic transmission with your foot like you would a conventional manual transmission? Honda does offer a foot shift-lever accessory that you can install to shift through the DCT transmission.
I've seen a lot of riders balk at the idea of an automatic transmission for their motorcycle but 9 out of 10 times they haven't given the DCT transmission a chance. They haven't taken one down the road and experienced it first-hand. At first, I had the same mindset. "Who wants an automatic motorcycle?". That'd be incredibly boring I thought to myself. I compared it to riding a scooter in my head but that was until I finally gave Honda's DCT automatic transmission a chance and set my original opinions to the side. I won't try to "sell" you on the idea of owning an automatic motorcycle but before you mark the DCT option off the table for your VFR1200X of any other motorcycle Honda offers with the DCT I suggest you take one for a test drive. Give it a true shot. Is it for everyone? Nope. Most definitely not. Many will be surprised though as I have seen it happen time and time again over the years after seeing guys with 30+ years of riding experience under their belt come back and stating they wish they wouldn't have waited so long to try it out.
2.3 | VFR1200X Frame / Suspension
The VFR1200X has relaxed riding ergonomics. Seat height comes in at 33.5 inches but thanks to the narrow profile it's an easy motorcycle to straddle, with good ground reach.
The diamond aluminium twin-spar frame is a hollow unit that employs quartered construction – this enables very precise control over the all-important weight/rigidity balance of each part of the frame. Rake is set at 28° with trail of 107mm and 62.8 inch wheelbase. The VFR1200X curb / wet weight comes in at 611 lbs and 633 lbs for the DCT version.
Designed to excel on hugely varied road surfaces the front and rear suspension offer generous amounts of controlled, bump-absorbing travel. The 43mm inverted fork offers reassuring control with precise steering and stability, even during hard cornering and heavy braking.
The Pro-Link rear suspension combines excellent traction with refined ride quality. Both the fork and gas-charged shock are adjustable for rebound damping and spring preload, allowing riders to alter characteristics to suit their riding style and intended usage. In addition, the tilting off-set pivot provides greater driving comfort and permanent traction regardless of the conditions and characteristics of the road.
The Combined Antilock Braking System incorporates both the easy control of a Combined Braking System and the extra reassurance of an Anti-lock Braking System. Combined ABS works between the dual front 310mm discs/three-piston calipers and rear 276mm disc/twin-piston caliper. It delivers balanced braking for more stable deceleration and the extra reassurance of an Antilock Brake System. If either wheel is about to lock up and slide, C-ABS momentarily reduces the hydraulic pressure being applied to the relevant brake and distributes the force optimally between both wheels, ensuring powerful and secure braking in all conditions for extra reassurance and offers more confidence in braking power should you run into unexpected or extreme situations. The result is a level of security much higher for the driver and passenger.
2.4 | Styling
Styling on the VFR1200X suggests great strength allied with a refined sportiness. Recurring design themes like sharp edges accentuate its rugged adventure style; a lack of bulk at the front of the bike gives a feeling of lightness.
The headlight configuration consists of a stacked headlight arrangement, with the main beam headlight positioned above the high beam unit. The headlights and effective windscreen are positioned towards the middle of the machine to help centralise mass while also offering great wind protection. Channels in the fairing at the front of the bike reduce frontal area, while ducting cooling air into the radiators.
The rear of the machine is highly functional with an integrated luggage carrier and grab rail, to which the optional saddlebags attach directly. The LED indicators, used for the first time on a large capacity Honda motorcycle, ensure optimum visibility.
The VFR1200X features off-road inspired hand-guards to provide welcome wind and weather protection for the rider. On the 2016 VFR1200X you also get the added practicality of an adjustable windscreen. The mechanism is simple and user-friendly, allowing the rider to adjust the screen height to any desired level with a single gloved hand. The adjustable windscreen has been shaped using computational fluid dynamics analysis for an idealised shape and just enough wind protection. The design lets the rider feel the breeze while keeping fatigue to a minimum.
Key to the appeal of the VFR1200X is the off-road inspired upright riding position, perfect for riding in busy city streets and twisting rural roads alike. The Crosstourer's carefully considered ergonomics package offers both rider and passenger a high degree of freedom. Natural support of the rider's body weight between footpegs, seat and handlebar make the machine comfortable, even on extended rides. The riding position also offers excellent visibility for enhanced riding experience and increased hazard perception. Coupled with the generous steering lock, centralised mass and wide, tapered handlebars, gives great control at lower speeds.
Adding to its adventure appeal the frame, fork legs, single-sided swing arm, tail section and front fender are blacked out, complimenting the Pearl Black color we get for the USA.
2.5 | Gauges / Display
The advanced multi-function box instruments is aesthetically appealing and easy to read at a glance. Located just below the line of sight of the driver to keep his eyes forward as much as possible, the screen frame is dominated by a large digital speedometer. This is flanked by clocks that indicate the remaining fuel and engine temperature. Through the top of the screen is a bar-type tachometer, moving from left to right when the engine rpm increase. It also provides information of an odometer, two sets, remaining fuel, fuel consumption (current and average), mileage to empty the tank, gear position indicator, a clock, Selectable mode Torque Control system and the selected mode the Dual Clutch Transmission (if applicable). The brightness of the instrument panel is also adjustable.
LED self-canceling signals / indicators. LED technology provides better visibility and durability. These indicators are switched off intelligently after overtaking after the monitor turns or a combination of time, distance and wheel speed.
2.6 | Price / Release Date 
2016 VFR1200X MSRP / Price: TBD
2016 VFR1200X Release Date: May 2016
3. | VFR1200X Accessories
At this time, the entire official 2016 VFR1200X accessory list for the USA hasn't been announced yet but we'll cover some of the accessories available for the CrossTourer overseas as some of them should make their way to our shores too.
5-stage heated grips with indicator, replacing the previous 3-stage design.
Waterproof rear top box does away with the zip expander and, 60mm deeper, can take a full-face helmet.
Low seat option reduces the seat height by 20mm to 830mm.
Other Honda Genuine Accessories for the Crosstourer include:
Pannier set (saddlebags for us American folk). Specially designed and fully integrated 35L (RH) and 39L (LH) square panniers. The left pannier can contain most helmets; the set fits directly to the motorcycle and matches the top box.
Main stand. Allows more secure parking and also facilitates cleaning and rear wheel maintenance.
Cowl ornament kit. Tubular anodised aluminium kit developed to emphasise the bike's rugged appearance. Also serves as a front LED fog lamp stay.
Front LED fog lamp kit. Pair of LED fog lights which mount on the cowl ornament kit. Combines a very bright beam with minimal power consumption and a long lifetime. Control button integrates nicely in the motorcycle's fairing.
Touring screen, 145mm higher than standard screen.
Side deflector kit. Set of left and right deflectors that protect the rider and pillion from the elements and reduce turbulence. Made from black polyurethane.
12V DC socket kit, positioned under the seat.
Outdoor cycle cover – protects the bike from the elements.
Averto Alarm Kit. A compact alarm unit with 118dB siren and back-up battery. Low consumption sleep mode to protect the battery from draining. Features a movement and shock detector with 8 sensitivity modes.
---
Honda has created a motorcycle that give the rider a sense of challenge and adventure while offering a premium design with cutting edge technologies. This is a motorcycle that could conquer a long distance journey on major interstates or embark on an adventure to a remote destination in the mountains. The VFR1200X delivers this by combining all of the creature comfort sport touring features you want to make life easy on the open highway. Mixed with features found on off-road motorcycles like the long-travel suspension that smooths over the rough terrain or uneven road surfaces when you venture off the beaten path.
This crossover between two motorcycle genres makes the VFR1200X a unique and versatile package.  The VFR1200X sets a new standard in full-size sport adventure touring motorcycles. It offers a unique combination of V4 engine performance with advances technology for stability and handling – when riding solo or with a passenger on all types of road surface and for all lengths of journey's. If you're in the market for a motorcycle that can pull double-duty with a mixture of on-road comfort and off-road capable, you owe it to yourself to check out the 2016 VFR1200X.
What are your thought on the 2016 VFR1200X (CrossTourer) coming to the USA? Any features or changes you wish Honda would have done before they brought it over to our shores?
Please Click "Like" and or Share if you found any of the information helpful etc. Thanks guys.
Quick Overview of Features | 2016 VFR1200X
Horsepower / Torque Rating
VFR1200X horsepower numbers come in at a strong 129 HP at 7,750 RPM and torque of 93 lb-ft torque comes in at 6,500 RPM.
Spoked Wheels
With a 17-inch rear and a 19-inch front, the VFR1200X's wheels are built to handle the rigors of gnarly pavement or dirt/gravel roads.
43mm Inverted Fork
Who knows where you'll be riding, but the VFR1200X's suspension is up to the job. The 43mm KYB fork is adjustable for spring preload as well as rebound damping, and is plenty stiff for steering precision.
One-Hand Adjustable Windscreen
It couldn't be easier to adjust the new VFR1200X's windscreen. One hand and a couple of seconds is all you'll need. The range adjusts over three inches from high to low.
Accessory Socket
Need to charge your phone, run a GPS, or any other electrical accessory? This handy outlet makes it a cinch.
Selectable Torque Control
Honda's Selectable Torque Control system (HSTC) is designed to help riders adapt to multiple traction conditions. With the push of a button the VFR1200X's (HSTC) lets you choose from three levels of engine-torque The system can also be turned off according to rider preference. Available on both manual-transmission and Automatic DCT versions of the VFR1200X.
Aluminum Frame
The VFR1200X's twin-spar aluminum frame members are fine-tuned to offer very precise control over weight and rigidity, and form the foundation of the bike's stellar handling.
1237cc V4 Engine
Drawing on 30 years of V4 technology and racing success, Honda designers gave the VFR1200X what is one of our most advanced streetbike engines yet: a fuel-injected, liquid-cooled 1237cc, 76-degree V-4 brimming with low-end torque.
Transmission Choices
You can choose between a conventional six-speed manual transmission or our latest, third-generation Honda Automatic DCT transmission. With the DCT, you upshift or downshift with a pair of paddle-style buttons, or you can let the gearbox shift for itself.
Pro-Link Rear Suspension
The KYB shock on the VFR1200X's rear suspension is adjustable for rebound damping and features a convenient no-tool preload adjuster making it easy to fine-tune the ride for varying loads.
Shaft Final Drive
Tough, durable, silent, clean, and low-maintenance, the VFR1200X's shaft final drive is exactly what you want in a bike designed to turn out some serious miles.
Single-Sided Swingarm
The final-drive assembly runs right through the single-sided aluminum swingarm housing, making rear-wheel removal a snap.