Detailed 2017 CBR650F Buyer's Guide | Breakdown of ALL Changes, HP & TQ, Electronics, Frame & Suspension + More!
What time is it? It's CBR time! Honda just announced what changes we'll see for the 2017 CBR650F as part of their big showing at the 2016 EICMA show.
* This review is not for the USA spec model as Honda didn't build a 2017 CBR650F for the USA.
2017 CBR650F Changes VS 2016 CBR650F: Honda's four-cylinder CBR-F middleweight gains 4 horsepower (3kW) in peak power and a raucous induction roar with tweaks to the intake tract, plus a Showa Dual Bending Valve front fork and revised Nissin brake calipers. Redrawn bodywork highlights the engine and gives it a slightly more aggressive 'look' to it as it was lacking in comparison to the styling Honda has thrown at the 2017 CBR1000RR, CBR500R and CBR250RR for example. Honda also played around with the gear-ratio too that I'll cover more in depth below.

Check out the CBR650F's naked cousin, the CB650F:
2017 Honda CBR650F Review – Click Here

Are these changes to the 2017 CBR650F massive and a game-changer? Nope. It's not a complete model change-up to where everything little thing was tweaked like we saw for 2017 on the CBR1000RR. The CBR650F has lived a short lifespan so far and Honda would almost be crazy to sink the money in R&D to completely revamp this model when it's only going into its 3rd production year. These slight changes do make the bike even better than before and that's a bonus as Honda could've left it alone. You can check out my CBR650F Ride Review here if you're curious on my opinions of the bike. I'm anxious to get my hands on one of these and see how the slight tweaks go over in the grand scheme of things. Enough rambling though, let's get to what you're here for…
2017 CBR650F Review Contents:
1. Introduction
2. Model overview
3. Key features
4. Photo Gallery / Pictures
5. Technical specifications
1. 2017 CBR650F Introduction
A four-cylinder middleweight provides accessible and enjoyable engine performance tied to minimal mass and, for many riders, is a great place from which to begin – or resume – a motorcycling career. Affordable to both purchase and run, they're small on costs but big on excitement – a great combination. Honda has always had a strong tradition of creating such motorcycles – genuine middleweights that pack real pound-for-pound punch.
Designed by a young team of engineers, the faired CBR650F continues this tradition. On its introduction in 2014 alongside the naked CB650F*, it combined day-to-day practicality and ease of use with a strong dose of CBR-specification sporting intent and style. For 2017, the new CBR650F turns up the volume on every level: it's still an easy machine to live with, but looks sharper, handles better, makes more power and delivers an amplified soundtrack that complements the sharper visual edge.
Mr Sadataka Okabe, Large Project Leader (LPL) 17YM CBR650F:
"The CBR650F has found its place with owners who want sports style and performance without the compromise and expense. Our aim with the new machine was to add extra rider excitement and enjoyment while sacrificing none of the usability. The engine still makes great torque from low rpm, but now hits harder, with more power up top. The latest SDBV fork enhances the chassis and the styling is much more aggressive – more CBR and also something quite unique, with the engine really on show."
2. Model Overview
More peak power from revised intake funnels and a new free-breathing exhaust gives the CBR650F a satisfying rush to its 11,000rpm redline, while shorter gear ratios ensure harder acceleration through the mid-range. And with the power upgrade, a new raucous growl emanates from down low and grows to a fast-spinning howl as revs rise.
Its chassis too has been honed with a Showa Dual Bending Valve front fork and revised Nissin front brake calipers. Sharply angled, the CBR650F's new fairing highlights the engine and accentuates the aggressive, ready-for-action stance, with an overall look and feel redolent of the 2017 CBR1000RR Fireblade. The headlight and taillight are now LED.
2017 CBR650F Price / MSRP: TBA
2017 CBR650F Release Date (USA): TBA
3. Key Features
3.1 Engine
For 2017, the CBR650F's engine has an extra 4 horsepower (3kW) up top, with a 90 HP (67kW) @ 11,000rpm peak power output. The increase ­– which is noticeable from 5,000rpm ­– is due to new intake and exhaust flow management: shorter air intake funnels feed four 32mm throttle bores from a down-flow airbox (which itself draws through larger intake ducts) and in turn the right side-swept 4-1 exhaust now employs a dual-pass internal structure (rather than triple-pass) in the muffler, reducing back pressure. It also features a larger final exit aperture.
With shorter gear ratios from second through to fifth, the new CBR650F gets away from the line faster than the previous model and from a 37 mph (60km/h) second gear roll-on will pull out 3 bike lengths over 1/4 mile (400m).
Slightly increased peak torque of 47 lb/ft TQ (64Nm) arrives at 8,000rpm, and the engine's tractability allows it to pull smoothly from idle at 1,500 in sixth gear. Adding an extra layer of aural satisfaction, a throaty induction growl at low-to-mid rpm swaps over to an addictive high-rpm howl reminding the CBR650F rider of Honda's four-cylinder racing pedigree.
The 649cc engine uses a compact internal architecture, stacked six-speed gearbox and starter/clutch layout with the cylinders canted forward 30°. The DOHC 16-valve cylinder head employs direct cam actuation; bore and stroke is set at 67mm x 46mm with compression ratio of 11.4:1.
Asymmetric piston skirts minimize bore contact and reduce friction. Ferrous spines on the outer surface of the cylinder sleeves reduce oil consumption (and friction) with improved heat transfer and a silent SV cam chain reduces frictional losses by using a Vanadium coating on its pins. Internal water channeling from cylinder head to cylinders does away with most of the exterior hoses.
The 2017 CBR650F comes in with a fuel consumption rating of 49 MPG(21km/l) which gives a range of over 217 miles (350km) from the 4.57 gal (17.3L) fuel tank. The CBR650F engine is EURO 4 compliant.
3.2 Chassis
The CBR650F's steel diamond frame uses twin 64mm x 30mm elliptical spars with a rigidity balance specifically tuned (stiffer around the headstock and more 'flexible' in the spar sections) to deliver balanced handling characteristics with high levels of rider feedback. Rake is set at 25.5° with trail of 101mm and wheelbase of 57 in. Curb weight for the 2017 CBR650F comes in at 469 lbs.
A brand new 41mm Showa Dual Bending Valve (SDBV) front fork improves ride comfort and handling, delivering proportional rebound damping with firmer compression damping as the 120mm stroke is used up. Octagonal fork caps are finished in attractive Alumite. Adjustable for 7-stage spring preload, the single-tube monoshock operates directly on the curved gravity die-cast aluminum swingarm.
Cast aluminum six-spoke wheels wear 120/70-17 and 180/55-17 front and rear radial Tires and feature L shaped air valves for easier maintenance. Revised two-piston Nissin front calipers work 320mm wavy discs, with a single-piston rear/240mm disc. Two-channel ABS comes 'standard' on European-spec CBR650F models but in the USA it is optional so you can get with or without ABS in 2017.
The new front fairing not only adds Super Sport style, but also channels airflow from the high pressure area at the front to the interior airbox intake duct. It also shows off the engine to the maximum – it was designed to be on display after all – and highlights the aggressive Mass Forward stance of the machine.
Minimal sidepanels sharpen up the rear and the clear-lensed LED taillight complements the crisp LED headlight. The seat's narrow middle profile helps ground reach and it sits on rubber mounts that are carefully shaped (with specific hardness) to minimize vibration. Seat height is 31.9 inches (810mm).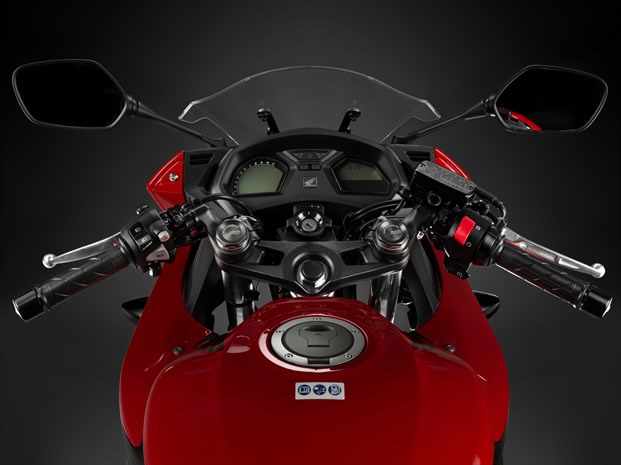 The dash comprises twin large digital screens. On the left are the rev-counter and speedometer; on the right are a fuel gauge, clock, odometer and the warning lights. Both sides are lit by a white back light. The key is a compact 'wave' design.
Underscored with a blacked-out frame, swingarm and wheels ­(plus bronzed engine covers) the CBR650F will be available in the following color options:
Millennium Red
Pearl Metalloid White
Matte Gunpowder Black Metallic
Sword Silver Metallic
* USA colors for the 2017 CBR650F have not been announced yet at this time
4. 2017 CBR650F Photo Gallery / Pictures
5. 2017 CBR650F Technical Specifications
| | |
| --- | --- |
| ENGINE | |
| Type | 4-cylinder, liquid-cooled, 4-stroke, DOHC, 4-valves |
| Engine Displacement (cm³) | 649cc |
| Bore ´ Stroke (mm) | 67.0 x 46.0 |
| Compression Ratio | 11.4:1 |
| Max. Power Output | 90 HP (67kW) @ 11,000rpm |
| Max. Torque | 47 lb/ft TQ (64Nm) @ 8,000rpm |
| Oil Capacity | 3.5L |
| FUEL SYSTEM | |
| Carburation | PGM-FI electronic fuel injection |
| Fuel Tank Capacity | 4.57 gal (17.3L) |
| Fuel Consumption | 21km/litre |
| ELECTRICAL SYSTEM | |
| Starter | Electric |
| Battery Capacity | 12V/8.6AH |
| ACG Output | 343W |
| DRIVETRAIN | |
| Clutch Type | Wet, multiplate disc |
| Transmission Type | 6-speed |
| Final Drive | Chain |
| FRAME | |
| Type | Steel diamond |
| CHASSIS | |
| Dimensions (LxWxH) | 2110 x 755 x 1145mm |
| Wheelbase | 57 in (1450mm) |
| Caster Angle | 25.5 |
| Trail | 101mm |
| Seat Height | 31.9 in (810mm) |
| Ground Clearance | 150mm |
| Curb Weight | 469 lbs (213kg) |
| Turning radius | |
| SUSPENSION | |
| Type Front | 41mm SDBV telescopic fork |
| Type Rear | Monoshock damper with adjustable preload |
| WHEELS | |
| Rim Size Front | Hollow section 6-spoke cast aluminum |
| Rim Size Rear | Hollow section 6-spoke cast aluminum |
| Tires Front | 120/70ZR17 M/C (58W) |
| Tires Rear | 180/55ZR17 M/C (73W) |
| BRAKES | |
| ABS System Type | 2 channel; hydraulic dual disc 320mm front, hydraulic disc 240mm rear |
| INSTRUMENTS & ELECTRICS | |
| Instruments | |
| Headlight | LED |
| Taillight | LED |
All specifications are provisional and subject to change without notice.