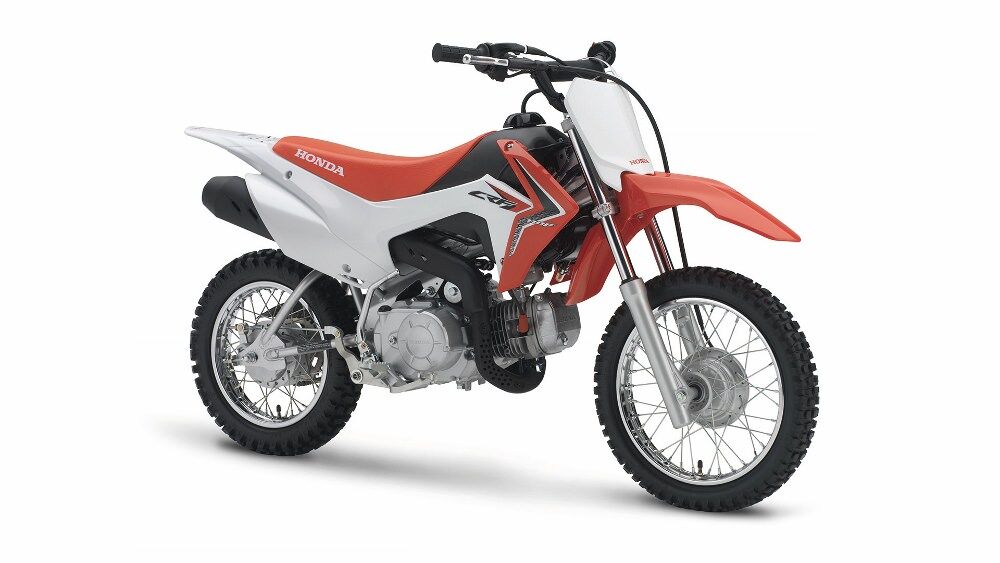 – 2017 CRF110 Kids Dirt & Pit Bike Details: Price, Seat Height, Weight, HP & TQ Performance + More! –
With its low seat height, modest size, and four-speed transmission with automatic clutch, the CRF110F fills an important entry spot among Honda's family of off-road bikes. The 109cc powerplant is tuned to meet the needs of those new to riding, and with a throttle-limiter feature, it offers parents additional tuning options. Also, the CRF110F features a convenient electric starter plus race-inspired styling evocative of the awesome CFR450R and CRF250R motocross bikes. It all adds up to a great option for new riders.
What does the "automatic clutch" on the CRF110F mean exactly? The automatic clutch means you don't have to worry about using a clutch to ride the machine. You do still have to change gears though and that's where it confuses some people but thanks to the auto clutch you don't have to worry about stalling the engine when coming to a complete stop nor do you have to use the clutch to change gears.
2017 CRF110F Performance Numbers:
2017 CRF110F Horsepower – 7.2 HP @ 8,000 RPM
2017 CRF110F Torque – 6.53 lb/ft TQ @ 3,500 RPM
Contents:
1)

Introduction

2)

Model overview

3)

Key features

4)

Accessories

5)

Technical specifications
---
1. CRF110F Introduction
The youth market for off-road motorcycles is growing, and looks set to do so for the foreseeable future. These days riding off-road, in trail parks, motocross tracks or even back yards, can be very much a family activity that involves everyone.
It's also a great, and enjoyable, introduction to motorcycling and readily builds skills and machine control, so useful later on whether out on the road or in competition. For Honda, acquiring young riders early in their careers is a great introduction to the brand, its core values and most importantly, its motorcycles.
2. CRF110F Model Overview
Honda's CRF110F is a brand new motorcycle, and replaces the popular CRF70F. It is aimed squarely at the 8-11 year old age range, and happily accommodates heights between 120-145cm and weights between 30-50kg. Primarily designed for leisure riding, it also provides a valuable stepping-stone up to more competition-focused motocross and enduro machines in the Honda range.
The CRF110F's engine offers more power and torque, and also features an electric starter; a brand new steel frame with improved suspension also adds to the 'big-bike' feel and performance. With styling inspired by the 2013 CRF450R, the family resemblance is more than passing, further reinforcing the CRF110F's appeal.
Engine/Drivetrain
Air-cooled single-cylinder four-stroke 109cc engine tuned for the beginning rider.
Four-speed gearbox with automatic clutch.
Adjustable throttle-limiter screw to match rider abilities.
Convenient electric starter with kickstart backup.
Chassis/Suspension
Low seat height of only 26.3 inches.
Handlebar pad.
Race-inspired styling evocative of the CRF450R.
3. CRF110F Key Features
3.1 CRF110F Engine
With a bore and stroke of 50mm x 55.6 (as opposed to the CRF70F's 47mm x 41.4mm) the CRF110F's air-cooled two-valve SOHC engine now displaces 109cc, rather than 72cc. Horsepower and torque figures rise from 5.03 HP & 3.68 lb/ft tq to 7.2 HP & 6.53 lb/ft tq; power is up 49%, torque 77%. The result is greatly improved performance everywhere in the rev-range, and much stronger and more consistent drive out of corners.
The automatic twin clutch system features two types of independent clutch – one for starting, the other for shifting – that makes changing gears easier and smoother than a conventional system. The transmission now also has four gears, instead of three. The engine start switch is on the right hand side of the handlebar, the engine stop switch is on the left.
A 1.2L airbox (the CRF70F used a 0.25L airbox) provides the much greater airflow that the larger capacity engine requires. The exhaust muffler cover is all new; partly for aesthetic reasons but also for improved protection. For more reliable performance digital ignition now gives the engine optimum ignition timing.
3.2 CRF110F Frame / Chassis
To make best use of the CRF110F's extra power and torque a new chassis was required. The new steel backbone frame and swingarm blends a high balance of rigidity with a certain amount of tuned flex, allowing the rider to fully exploit the engine's capabilities. The frame also incorporates safety covers at heat points, and carrying handles for easy transport.
The suspension has been completely uprated, for better traction and stability. The telescopic front fork diameter is 31mm, 4mm larger than the CRF70F and has 100mm of travel, while the rear shock absorber features a 28mm piston damper, up 7mm, with 90mm travel. Drum brakes front and rear provide ample, and measured braking force. The front wheel size is 14in with a 2.5 x 14 tire; the rear 12in with 3 x 12 tire.
A completely new body kit, with echoes of the CRF450R's 'triangle proportion' gives the CRF110F a crisp and modern appearance. The newly designed chain cover looks great and with the addition of a handlebar pad aids safety. Wide-set footpegs increase control, and the redesigned kick-starter is easier to use. The 2017 CRF110F Seat height is 26.3 inches, 0.2 inches taller than the CRF70F – but the lowest in class – and the wheelbase is 7mm longer at 1070mm. Fuel capacity is 4.9L, and wet weight of the CRF110F is 163 lbs.
2017 CRF110F Specifications
Model:
CRF110F
Engine Type:
110cc air-cooled single-cylinder four-stroke
Bore and Stroke:
50.0mm x 55.6mm
Compression ratio:
9.0:1
Valve Train:
SOHC; two-valve
Induction:
15mm piston-valve carburetor
Ignition:
CD
Transmission:
Four-speed with automatic clutch
Final Drive:
#420 chain; 14T/38T
Suspension
Front: Telescopic fork; 3.9 inches travel
Rear: Single shock; 3.4 inches travel
Brakes
Front: Drum
Rear: Drum
Tires
Front: 70/100-14
Rear: 80/100-12
Wheelbase:
41.9 inches
Rake (Caster Angle):
24°25′
Trail:
52mm (2.0 inches)
Seat Height:
26.3 inches
Ground Clearance:
6.9 inches
Fuel Capacity:
1.1 gallons, including 0.3-gallon reserve
Color:
Red
Curb Weight*:
163 pounds
* Includes all standard equipment, required fluids and full tank of fuel—ready to ride. Meets current EPA and CARB off-road emissions standards.
Publication Order Numbers:
Specification
Service Manual:

61KYK00

Owner's Manual:

31KYKA00

Engine:
Specification, Units:

mm (in)

Cylinder arrangement:

Single cylinder inclined 77° from vertical

Bore and stroke:

50.0 x 55.6 mm (1.97 x 2.19 in)

Displacement:

109 cm³ (6.6 cu-in)

Cylinder compression at rpm:

1,412 kPa (14.4 kgf/cm², 205 psi) at 400 rpm

Cylinder-to-piston clearance
Standard:

0.010 – 0.035 (0.0004 – 0.0014)

Service Limit:

0.10 (0.004)

Valve Clearance (cold)
Intake:

0.10 ± 0.02 (0.004 ± 0.001)

Exhaust:

0.10 ± 0.02 (0.004 ± 0.001)

Recommended engine oil/classification/viscosity:

Pro Honda GN4 4-stroke oil/API: SG or higher, JASO T 903 standard: MA/SAE 1

Oil capacity after draining/engine oil filter change:

1.0 liter (1.1 US qt, 0.9 lmp qt)

Oil pressure at oil pressure switch:

N/A

Fuel/oil mixing ratio:

N/A

Transmission:
Specification
Recommended transmission oil/classification/viscosity:

N/A

Capacity after draining:

N/A

Final Drive:
Specification
Recommended oil viscocity
Front:

N/A

Rear:

N/A

Oil capacity at draining
Front:

N/A

Rear:

N/A

C/S sprocket:

14

Rear sprocket:

38

Drive chain size (x) links:

420 x 86

Drive chain slack:

10 – 20 (0.4 – 0.8)

Cooling System:
Specification
Recommended antifreeze/concentration:

N/A

Coolant capacity,radiator and engine:

N/A

Fuel System:
Specification
Type/throttle bore:

Piston valve type carburetor/15 mm (0.6 in)

Carburtetor/throttle body ID #:

PB5PF

Float level:

10.7 mm (0.42 in)

Main jet:

#68

Slow jet:

#38

Jet needle/clip position:

N/A

Needle jet:

N/A

Pilot screw initial opening:

See Service Manual

Idle speed (+/- 100 rpm):

1,400 ± 100 rpm

Fuel pressure at idle:

N/A

Starter valve vacuum difference:

N/A

Throttle grip/lever free play:

3 – 6 mm (0.12 – 0.24 in)

Suspension:
Specification
Recommended fork fluid:

Pro Honda suspension Fluid SS-8 (10W)

Fork fluid capacity/and level:

179 ± 2.5 cm³ (6.1 ± 0.08 US oz)/96.0 (3.78)

Gas/air pressure:

N/A

Recommended rear shock oil:

N/A

Damper gas pressure:

N/A

Toe In/Out adjustment(TRX, MUV, and SXS only):

N/A

Tires:
Specification
Front  Size:

70/100-14 M/C 37J

Cold tire pressure:

100 kPa (1.00 kgf/cm², 15 psi)

Rear  Size:

80/100-12 50J

Cold tire pressure:

100 kPa (1.00 kgf/cm², 15 psi)

Battery/Charging System:
Specification
Charging system type:

Single phase alternator

BatteryCapacity/Model:

12 V – 3 Ah/YTX4L-BS

Battery voltage
Fully charged:

13.0 – 13.2 V

Needs charging:

Below 12.4 V

Battery charging current
Normal:

0.4 A/5 – 10 h

Quick:

4.0 A/0.5 h

Regulated voltage at rpm:

Measured BV < Measured CV < 15.5 V at 5000 rpm

Alternator charging coil resistance:

0.2 – 1.4 O

Lighting Equipment:
Specification
Lighting coil resistance:

N/A

Headlight bulb
Hi:

N/A

Lo:

N/A

Brake/tail light:

N/A

Front turn signal/running light bulb:

N/A

Rear turn signal light bulb:

N/A

Ignition System:
Specification
Ignition system type:

Condenser Discharged Ignition

Ignition timing (F mark):

10° BTDC at idle

Spark plug
Standard – NGK:

CPR6EA-9S

DENSO:

N/A

Optional – NGK:
DENSO:
Spark plug gap:

0.8 – 0.9 mm (0.03 – 0.04 in)

Ignition coil peak voltage:

100 V minimum

Ignition pulse generator peak voltage:

1.5 V minimum

Alternator exciter coil peak voltage:

N/A

Torque value:
Specification, Unit: N.

m (kgf.m, lbf.ft)

Front axle bolt/nut:

59 (6.0, 44)

Front axle holder/pinchbolt/nut:

N/A

Rear axle nut:

64 (6.5, 47)

Rear axle pinch bolt:

N/A

Engine oil drain bolt
Crankcase:

24 (2.4, 18)

Oil tank:

N/A

Transmission oil drain bolt:

N/A

Cylinder head cover bolt:

10 (1.0, 7)
---