– New Grom Performance Parts | Videos & Pictures / New Grom & MSX125SF UnderBelly Low-Mount Exhausts + High Mount Options –
One of the major players in the aftermarket Honda Grom & MSX parts industry, Tyga – has pounced quickly with a couple of new exhaust / muffler options for the 2017 Grom 125 and MSX. Tyga was one of the first to release cool parts & accessories as well as performance parts for the Grom / MSX way back in 2013 when the model was first released. They aren't "new" players to the field by any means though as they have been around for a very long time with goodies for a lot of bikes we don't have the pleasure of seeing over here on this side of the pond like the NSR, CBR250RR,  CBR400RR, multiple VFR variants etc as the list goes on. It doesn't stop with just Honda though as they build parts for just about every manufacturer out there from Kawasaki to Suzuki as well as Yamaha, KTM etc etc. I won't bore you anymore though with ramblings on who they are as you can check out there website www.Tyga-Performance.com or just type the name "Tyga Performance" into Google and you'll have enough to read for days…
---
| Detailed 2017 Honda Grom Review of Specs, Changes, HP & TQ Performance Numbers + More! – CLICK HERE |
---
Now, let's get to the good stuff and why you came here and that would be for 2017 Honda Grom performance parts!
* To clear some possible confusion up as you'll see me mention the model called MSX / MSX125 as well as Grom. If you're not familiar with what Honda calls the Grom overseas, the 2017 Honda Grom and 2016 MSX 125 are exactly the same model. The MSX received the changes in 2016 on the MSX that we got on the Grom for 2017. The MSX stayed the same from 2013 through 2015 and the Grom stayed the same from 2014 through 2015. 
Will the new 2017 Grom exhaust fit the old Grom? Will the 2015 and prior Grom exhaust fit the 2017 Grom? If you have a 2013, 2014 or 2015 Honda Grom / MSX 125 you'll be glad to hear that the top (2) new underbelly exhausts below are backwards compatible so they will fit your 2013 through 2015 model. If you have a 2017 Grom / 2016 MSX, the 'old' style (3) exhaust systems at the bottom will fit your new 17′ Grom / 16′ MSX125SF.
You'll also find 2017 Grom / 2016 MSX exhaust dyno charts showing the horsepower increase versus stock for each model.
Tyga went to work and created a new exhaust system for the 2017 Grom that's an underbelly / low-mount setup. They are stainless steel with a carbon fiber end cap and you have (2) options pictured above with the muffler as you can choose the 'short' or 'long'.
After checking out the New 2017 Grom exhaust pictures… What do you guys think about the new design?
---
2017 Grom Exhaust Sound Clip Video (2016 MSX)
---
2017 Grom Exhaust / Model: Tyga UnderBelly Muffler Carbon Fiber End Cap (Short)
---
2017 Grom Exhaust / Model: Tyga UnderBelly Muffler Carbon Fiber End Cap (Long)
---
---
The high-mount oval muffler exhaust systems (including Maggot) below are a carryover from the 2013 – 2015 Grom / MSX. Thankfully, Tyga has the available mount kit needed to where you can run these older style systems on your 2017 Grom / 2016 MSX125SF should you like that style.
2017 Grom Exhaust / Model: Tyga Maggot
---
2017 Grom Exhaust / Model: Tyga Oval Carbon Fiber Muffler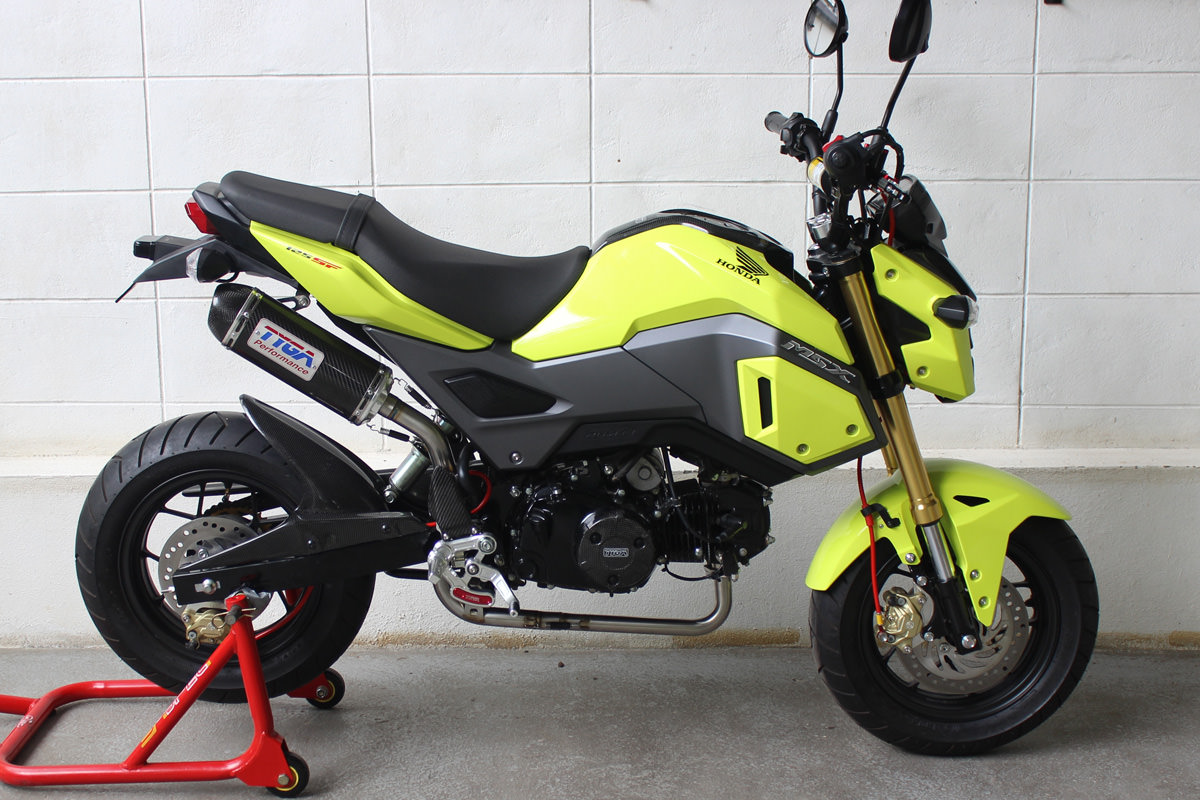 ---
2017 Grom Exhaust / Model: Tyga Oval Stainless Steel Muffler + Carbon Fiber End Cap