– 2017 MSX 125 Buyer's Guide Review: HP & TQ Engine Specs, MPG, Colors + More! (MSX125SF) –
– 2017 Honda MSX now with ABS! (Anti-Lock Brakes) –
I'm back with another 2017 motorcycle update from Honda thanks to the EICMA 2016 Motorcycle Show! Honda has really outdone themselves this year at EICMA with quite a few awesome concept motorcycles to kick off 2017 right as well as kicking off the show with many and I mean many 2017 Motorcycle Model Lineup Announcements / Updates. On this page we're going to breakdown all of the nitty-gritty details and specs on the 2017 MSX125 / MSX125SF like what was changed as well as color options, pricing, release dates etc. Wait, did I just say new 2017 MSX125 changes? Yup…
2017 Honda MSX125 Model Changes / Updates:
First, we'll touch on a little bit of MSX125 history in case you're new to the MSX. In 2016, Honda threw more angular design lines, unique stacked LED headlight and a compact, under-slung exhaust combined to give the MSX125 a sharper, new 'mini streetfighter' look that fully retained the charm of the original, but with added attitude. For 2017, ABS brakes and EURO4 compliance are new additions to the MSX125's appeal. Yes, you read that right… ABS as in Anti-Lock Brakes are now standard on the 2017 MSX125!
Since its release in 2013, the MSX125 has earned worldwide popularity, with over 300,000 units sold to date. Its exceptionally fuel efficient air-cooled 125cc engine, quirky looks and nimble handling have attracted A1 licence-holders, economy-conscious city commuters, camping vehicle owners and other recreational riders alike. It has also gained popularity as the perfect paddock bike for race teams. That's what is so awesome about the MSX125 is the fact that it hits close to home with a fun factor that you just can't get off of your mind from the second you first lay your eyes on the little guy and especially after the first time you get to take one for a test ride. I've lost count at how many buddies I have let take my Grom for a spin and so far she's batting 100% with selling them on it to where they had to buy one right after. Is it fast? Nope but you'll have more fun, if you actually allow yourself to have fun, bringing out your inner-hooligan than any bike you've ridden in a while! Reminds me of an old saying "It's more fun to ride a slow bike fast than it is to ride a fast bike slow".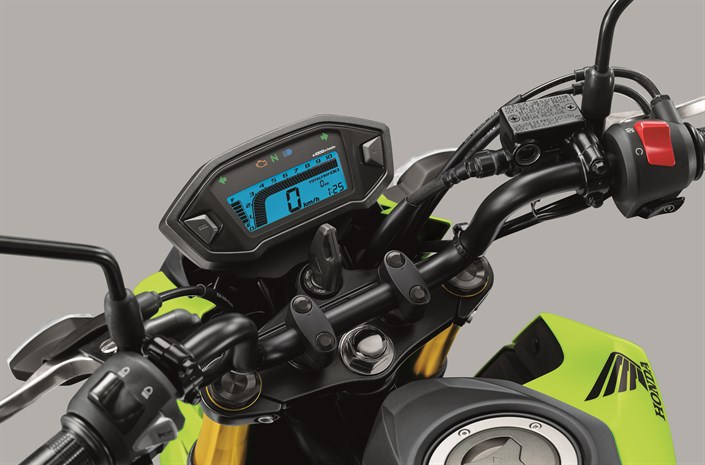 ---
---
In 2016, a redesign gave the MSX125 a sharper new attitude with more of a 'mini-streetfighter' feel. The new fuel tank and side panels integrate cleanly to give an edgier outlook; up front a unique, new stacked LED headlight gives the MSX a distinctive, ultra-modern face. The compact, upswept tail unit (with LED taillight), higher pillion seat and short, under-slung exhaust helped to complete the bolder new look that Honda was shooting for. You still have some that prefer the last generation MSX125 in the 'looks' department but there's no denying the fact that this latest redesign on the MSX helped to make it look 1,000 more aggressive.
2017 MSX125 Review Contents:
1. Introduction
2. Model overview
3. Key features
4. Photo Gallery / Pictures
5. Custom MSX Photo Gallery / Pictures
6. Technical specifications
1. MSX125 Introduction
Easy to use, fun and functional, the original leisure motorcycle was defined by Honda in 1963 with the iconic, small-wheeled Monkey bike and carried on – redefined for each respective generation – with the Dax and Ape. And it's a formula that still has resonance for a completely new breed of young riders; known as 'Generation Y' in the USA, 'Dek Neaw' in Thailand and 'Street-Kei' in Japan, many of today's teenagers, having grown up in the borderless, internet age share a culture, fashion and spirit that defies convention.
Instinctively drawn to motorcycling, they need their first two-wheeled transport to be exciting but not unduly challenging, and want it to pack a design that makes them smile. They also have a desire to turn heads and be more than just a little bit different. Plus, given the usual financial pressures of starting out in life, all of this needs to be achieved as economically as possible.
For Honda the early acquisition and introduction to the quality and values of the brand is important – the youthful buyer of a small capacity leisure bike today could very likely be back for something much bigger tomorrow, and lifelong brand loyalty can often result.
To cater specifically for this generation of young riders, in 2013 Honda produced the MSX125 (Mini Street X-treme 125). A truly global product (and known as the "Grom" in Japan and USA), the MSX125 has been a hit across the world, in particular in Thailand where over a quarter of a million units have been sold. It's everything expected of a Honda, in terms of performance, build quality and usability, but also wears a style and exudes an attitude all its own.
The MSX125 also commonly known as the MSX or MSX125SF is what we know as the "Grom" here in the USA and a select few other countries around the wo
rld. Originally, we didn't get the Grom in the USA until a model year (6 months) after it originally released across the pond as they (or you should I say? haha I guess it depends on where you live and how you're 'reading' this) got their 2013 Grom a few months ahead of us in the USA whereas ours was a 2014 model year released in August of 2013. Since these select countries are ahead of us so-to-say by a model year on the MSX / Grom then they get the latest changes and upgrades a model year before we do. Example: The 2016 MSX125 (also referred to as MSX125SF) was changed-up from the previous model year but we did not get that same changed-up model in 2016 as Honda held out on us and we didn't get the newly revamped and upgraded Grom until the 2017 model year but they gave it to us as an early year-model release and started shipping them in July of 2016. It's a little on the confusing side unless you deal with this stuff daily like I do but I have countless people ask me all the time about the differences in models / model years on the Grom versus MSX125 so I try to put it into words as much as possible when I do a detailed write-up like this to hopefully help those people out. Enough rambling though, let's get back to what you're here for and that is for more details on the 2017 MSX125 and its changes for 2017…
2. MSX125 Model Overview
Manufactured in Thailand the MSX125 is small enough to be supremely manageable yet also has a fully-fledged feel thanks to some standard sized motorcycle parts. It is part mini-bike, part motorcycle with involving performance matched to confident handling and styling that combines a sense of fun with a tough, urban edge. For 2016, a thorough-going redesign gave the MSX125 an even sharper new attitude with more of a 'mini-streetfighter' feel from its new design lines, compact underslung exhaust and stacked LED headlight.
The MSX125's well-proven and efficient 125cc fuel-injected engine provides smooth torque and power delivery, and also features a motorcycle-style four-speed gearbox and clutch. For 2017, the engine also complies with the stringent new EURO4 regulations, under which the allowable limits for exhaust tailpipe pollutants, such as carbon monoxide, hydrocarbons and nitrous oxide, are approximately half of those for EURO3.
Complementing the powerplant is a compact chassis that features a sturdy steel frame, inverted front fork, monoshock rear suspension, hydraulic disc brakes front and rear and lightweight 12-inch wheels sporting wide, low profile tires.
Four patents were applied for through the original development of the MSX125, focused around the split structure tank cover and frame, proof of just how seriously this bike is taken by Honda. Small it may be, but it in terms of worldwide sales, brand awareness and owner satisfaction, its impact has been large.
2017 MSX125 Colors:
Matt Axis Grey Metallic
Pearl Himalayas White
Pearl Valentine Red
Lemon Ice Yellow
2017 MSX125 Release Date: TBA
3. MSX125 Key Features
3.1 Chassis and styling
Priorities for the MSX125's chassis were threefold: it needed to provide the base for a practical bike that new riders could use – and park – with ease in an urban environment. But it also needed to be just as useable and enjoyable out of town, and also readily accept a pillion.
The comprehensive redesign for 2016 gave the MSX125 a sharper new attitude with more of a 'mini-streetfighter' feel. The new fuel tank and side panels integrate cleanly to give an edgier outlook; up front a unique, new stacked LED headlight gives the MSX125 a distinctive, ultra-modern face. The compact, upswept tail unit (with LED taillight), higher pillion seat and short, under-slung exhaust complete the bolder new look.
A steel mono-backbone frame has been employed. Its rigid, square-section tube joins the headstock directly to the swingarm pivot plates and every other part in effect hangs visibly from the frame, greatly contributing to the MSX125's minimalist look. Specifically tuned vertical/horizontal rigidity and flex in the swingarm pivot and engine hanger plates provides the perfect balance of comfort and confidence.
The frame structure has also enabled efficient storage of PGM-FI-related components and electrical parts inside the tank cover without reducing fuel capacity which comes in at 1.45 gallon (5.5 L) which was a substantial increase from the previous generation MSX125. Wheelbase is a snug 47.2 inch / 1200mm, with rake and trail of 25⁰ and 81mm and curb weight of 101.7 kg / 224 lbs. The MSX125 has a low 765 mm / 30.1 inch seat height making it very manageable; its size also ensures that motor home owners are sure to find it easy to load/unload, transport and use.
Another aim for the MSX125 was to provide 'beyond class' suspension quality. The 31mm USD fork – a first for Honda on a 125cc motorcycle – reduces unsprung weight and thanks to the pistons' greater pressure-bearing area (compared to a standard telescopic fork) offers improved damping feel throughout the stroke. The top and bottom yokes are full-sized, further enhancing handling and rider feel while a lightweight and robust single rear shock operates a simple and tough H-shape, 50mm x 25mm steel box section swingarm.
Fundamental to the MSX125's form and function are its 12-inch cast aluminum wheels, which feature wide 2.5-inch rims. New 'Y' shaped spokes not only look great they also save weight and the front 120/70-12 and 130/70-12 rear tires also inject a different dynamic, both in terms of looks and performance. Hydraulic dual piston front and single piston rear brake calipers work front 220mm and rear 190mm discs.
Easy to read for its compact size the LCD digital dash delivers all the information the rider needs – speedometer, twin trip meters, fuel gauge and clock. Resetting the trip meters and clock, or alternation between odometer and trip meter is via switches either side of the display.
3.2 Engine
The MSX125's 125cc two-valve air-cooled engine is based on one of Honda's most well-proven power units; known for its fuel efficiency, ease of use and longevity. Further development of the engine for the MSX125 has resulted in improved fuel economy; the engine uses low-friction technology such as an offset cylinder and a roller-rocker arm for the valve gear. Reducing crank inertia has also resulted in improved throttle feel and a smooth power delivery.
Imparting a motorcycle feel to the MSX125, the four-speed gearbox is managed via manual clutch and offers smooth and consistent gear changes. The 15T gearbox sprocket, 34T final drive sprocket and 12-inch wheels deliver lively around-town response plus the ability to travel slowly in a high gear – perfect for threading easily through tight traffic.
Sophisticated PGM-FI guarantees highly efficient combustion, and works in conjunction with both air intake and exhaust to deliver an involving experience at the throttle. The air intake connecting tube and funnel is divided in two, allowing its length to be optimized for consistent torque delivery at low and mid rpm. A large, 3-liter airbox and panel-type, wet paper filter provide reliable and quiet airflow; the filter itself has a life of approximately 10,000 miles / 16,000km. A new, short, under-slung exhaust pipe is fitted for the 2016 model and remains unchanged for 2017.
All in all the MSX125's engine packs a perfect blend of punchy roll-on performance with useful, accessible and fun all-round ability. The effort put into reducing internal friction and increasing intake and exhaust efficiency has also produced a highly economical unit.
4. 2017 MSX125 Photo Gallery / Pictures
5. Custom MSX125 Photo Gallery / Pictures
6. 2017 MSX125 / MSX125 SF Technical Specifications
| | |
| --- | --- |
| ENGINE | |
| Type | 2-valve air-cooled single cylinder |
| Displacement | 124.9cc |
| Bore ´ Stroke | 52.4mm x 57.9mm |
| Compression Ratio | 9.3:1 |
| Max. Power Output | 9.6 HP (7.2kW) @ 7000rpm |
| Max. Torque | 8.02 ft/lb TQ (10.9Nm) @ 5500rpm |
| Oil Capacity | 1.1 L |
| FUEL SYSTEM | |
| Carburation | PGM-FI |
| Fuel Tank Capacity | 1.45 gal (5.5 L) |
| Fuel Consumption | 154 MPG (1.52L/100km*) |
| ELECTRICAL SYSTEM | |
| Starter | Electric Motor |
| Battery Capacity | 12V 3.5AH |
| ACG Output | 160W/5000rpm |
| DRIVETRAIN | |
| Clutch Type | Wet multiplate |
| Transmission Type | 4 speed |
| Final Drive | Chain |
| FRAME | |
| Type | Steel mono-backbone frame |
| | |
| --- | --- |
| CHASSIS | |
| Dimensions (L´W´H) | 1760mm x 755mm x 1010mm |
| Wheelbase | 47.2 in / 1200mm |
| Caster Angle | 25⁰ |
| Trail | 81mm |
| Seat Height | 30.1 in / 765mm |
| Ground Clearance | 6.2 in / 160mm |
| Curb Weight | 224 lbs / 101.7kg |
| Turning radius | 6.23 feet / 1.9 meters |
| SUSPENSION | |
| Type Front | USD Front Forks, 31mm |
| Type Rear | Mono shock, steel square pipe swingarm |
| WHEELS | |
| Type Front | Y-Spoke Aluminum Cast |
| Type Rear | Y-Spoke Aluminum Cast |
| Rim Size Front | MT 2.5 -12 |
| Rim Size Rear | MT 2.5 -12 |
| Tires Front | 120/70-12 |
| Tires Rear | 130/70-12 |
| BRAKES | |
| Type Front | Single 220mm disc with hydraulic dual-piston brake caliper |
| Type Rear | Single 190mm disc with hydraulic single-piston brake caliper |
| INSTRUMENTS & ELECTRICS | |
| Instruments | LCD digital dash with speedometer, twin trip meters, fuel gauge and clock. |
| Headlight | LED Headlight and Taillight |
All specifications are provisional and subject to change without notice.
* Please note that the figures provided are results obtained by Honda under standardized testing conditions. Tests are conducted on a rolling road using a standard version of the vehicle with only one rider and no additional optional equipment. Actual fuel consumption may vary depending on how you ride, how you maintain your vehicle, weather, road conditions, tire pressure, installation of accessories, cargo, rider and passenger weight, and other factors.