– Patent Images show possible New 2017 – 2018 Motorcycles based off of recent Concept Bikes –
Well, well, well… I learned something new and very interesting today while scouring the internet and digging through patent documents etc. It looks like we may just get a little lucky and get a couple of pretty cool new motorcycles for 2017 / 2018 that were previously unveiled as "Concept Motorcycles" at the 2015 EICMA show. What motorcycles are they? Here are the (2) different models: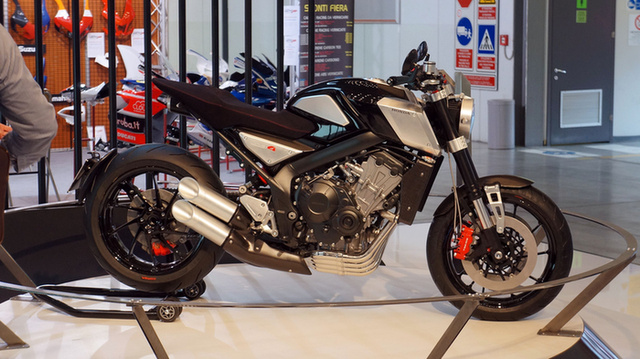 You'll find more details on both the Honda CB4 & Honda CBsix50 motorcycles if you click on the links above. They are based off of the CBR650F Sport Bike / CB650F Naked StreetFigher platform but completely worked over from top to bottom to make them looking nothing like their close CBR / CB siblings. The possible 2017 CBsix50 gives you that Scrambler style whereas the possible 2017 CB4 gives you… Well, I don't know what to call it haha. It doesn't really fit into any category in my opinion, it takes a lil bit from this category and that category while dibbling a little in another. It looks cool, no doubt about it but it does look as if it's a little lost but Honda has had luck here the last few years with new models that don't really fit into the typical "style" or "category" we're all used to.
What do you guys think? Do you want to see them make it into the 2017 or 2018 motorcycle model lineup from Honda?
Honda CB4 Patent Images
Honda CBsix50 Patent Images