– 2018 FourTrax Foreman Rubicon 500 DELUXE DCT / EPS Specs: Horsepower, Torque, Price, Colors + More! –
Alright guys, today we've got a good one… To date, it's the baddest 4×4 ATV that Honda has ever rolled off the production line and the most expensive to boot but let's forget about price tags while we go through all of the technology crammed into the FourTrax Foreman RUBICON 500. Specifically, we're going to break down the 2018 Honda Foreman Rubicon Deluxe 500 DCT EPS, model ID: TRX500FA7J. Below, I will explain exactly what the model ID means so you can better decipher what Honda's confusing model ID's mean. Honda makes multiple different variations of the Rubicon for 2018 even though they did discontinue some of the model options / variations a couple years ago which I break down in details here.
One of the most important questions and most asked would be – Are there any 2018 Honda Rubicon Deluxe DCT / EPS Changes? Nope. None. Zilch. Nadda.
2018 Rubicon 500 DELUXE DCT EPS Performance Numbers:
2018 Rubicon 500 DCT EPS Horsepower: 27 HP @ 6,250 RPM
2018 Rubicon 500 DCT EPS Torque: 28 lb/ft TQ @ 5,000 RPM
2018 Rubicon 500 DCT EPS ATV Miles Per Gallon: 33.6 MPG
2018 Rubicon 500 Models Power-to-Weight Ratio Numbers / Comparison:
Rubicon 500 EPS HP to Weight Ratio: ( 28.7 HP / 690 lb ) = .041 horsepower per pound
Rubicon 500 DCT HP to Weight Ratio: ( 27 HP / 703 lb ) = .039 horsepower per pound
Rubicon 500 DCT EPS HP to Weight Ratio: ( 27 HP / 719 lb ) = .038 horsepower per pound
Rubicon 500 Deluxe DCT EPS HP to Weight Ratio: ( 27 HP / 712 lb ) = .039 horsepower per pound
What does the DELUXE Package give you versus a standard Rubicon DCT / EPS model?
12″ aluminum wheels versus 12″ steel wheels
Red springs and control-arms (same suspension)
Painted plastics (Matte Gray Metallic)

You can also go with the Phantom Camo color-scheme instead of the painted matte gray metallic plastics. Typically, the Phantom Camo color will set you back $450 but since you're opting to not go with the painted plastics – you don't have a price increase for the camo this go-around. You also lose the painted red suspension when you go with the camo 2018 Rubicon Deluxe DCT / EPS TRX500FA7.
The four-member (models listed below), 500-class family of premium Foreman Rubicons is packed with powersports-category exclusives. For example, the Rubicon 4×4 EPS is the only ATV offered with a combination of a tough manual-shift transmission and independent rear suspension, and for those who'd rather not do all the shifting themselves, the other three variations come with Honda's revolutionary DCT gearbox, a durable geared system that has dual ranges and can execute shifts seamlessly. The IRS contributes to an impressively comfortable ride, even when spending long days in the saddle, along with excellent handling over the roughest terrain. The long list of available features includes Electric Power Steering (EPS), and all models can be switched between three drivetrain settings: 2WD, 4WD and 4WD with differential lock. This page will only be breaking down the Rubicon Deluxe DCT / EPS model but below I have listed the other model variations that are available for 2018:
2018 Rubicon 500 Model Variations / Reviews (individual model reviews coming soon):
2018 Rubicon 500 Color Options:
TRX500FM6 Rubicon EPS Colors: Orange, Red, Olive Green
TRX500FA5 Rubicon DCT Colors: Red, Olive Green
TRX500FA6 Rubicon DCT / EPS Colors: Red, Olive Green
TRX500FA7 Rubicon Deluxe DCT / EPS Colors: Matte Gray Metallic (First ever painted plastic), Phantom Camo
* Phantom Camo available on select Rubicon models: $450 MSRP / Price increase (Except on Deluxe models)
2018 Honda Rubicon DCT EPS (TRX500FA7) Features & Benefits:
Engine / Drivetrain
Legendary Honda 500-class engine is tuned for loads of pulling power along with a broad, easy-to-use powerband.
The Automatic DCT provides the compact size and strength of a manual transmission (no belts to slip, break or burn out) with the convenience of an automatic transmission, while giving the
rider the option of push-button manual control via Honda's Electric Shift Program (ESP®). The Automatic DCT features a dual shift-mapping program that automatically selects between two transmission shifting modes—either Cruise or Sport mode—for optimum shift timing depending on the rider's pattern of throttle operation. During aggressive use, the Sport mode kicks in and holds the transmission in gear longer before shifting to deliver more aggressive performance. During more casual operation, the Cruise mode allows the transmission to shift up sooner for more casual performance and enhanced fuel efficiency.
Drive/Low sub transmission offers two selectable gear ranges to match varying riding conditions.
Honda's Programmed Fuel Injection (PGM-FI) system yields improved throttle response and smooth power delivery, and aids fuel economy for greater range.
Honda TraxLok 2WD/4WD system offers 2WD, 4WD, and 4WD mode with locking front differential to optimize traction.
TraxLok system incorporates a Speed Override mode that can be engaged when the front differential is locked, which allows increased wheel speed under severe conditions such as deep mud.
Increased AC generator output of 574 watts allows powering more electrical accessories.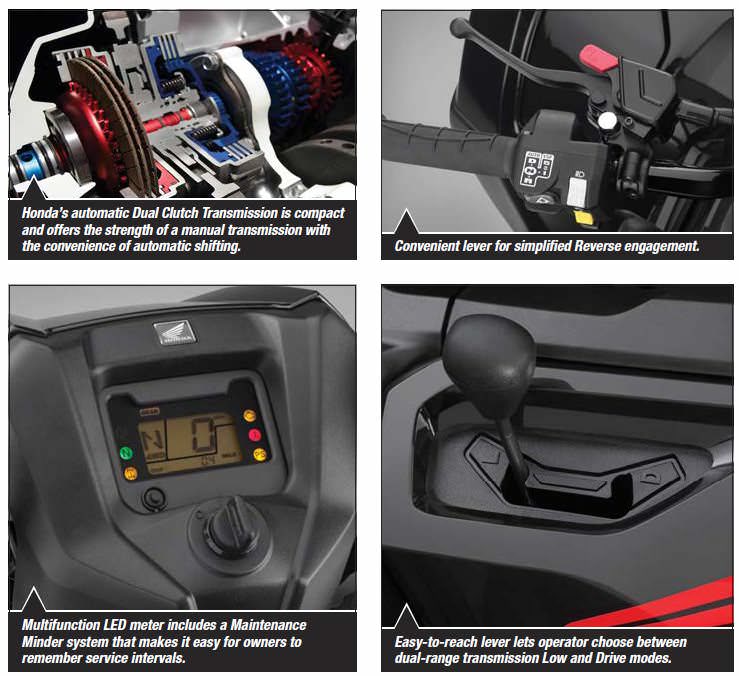 Chassis / Suspension
Double-cradle steel frame features increased stiffness and better torsional rigidity for precise handling and a smooth ride.
Independent double-wishbone front suspension delivers 7.3 inches of travel.
Independent dual-arm rear suspension design offers a more optimal shock ratio and increased suspension stroke for 8.5 inches of travel.
Adjustable spring preload featured on all shocks to allow suspension tuning to match varying loads and riding conditions.

Dual-purpose lever makes it easier than ever to engage Reverse gear as well as setting the parking brake. Simply pull the lever to engage Reverse; push the lever to set the parking brake.
Larger 190mm dual hydraulic disc brakes up front and 170mm hydraulic disc brake in back for strong stopping power.
Dggressive styling includes an all-steel full-coverage front bumper with integrated mounts for an accessory winch.
All-steel front and rear carriers are larger and offer more load capacity: 99 pounds up front, 187 pounds in the rear. Flat plates on carriers facilitate loading and offer multiple tie-down points.
Heavy-duty trailer hitch with 1322-pound towing capacity.
Three-point mounting setup for the optional EPS system makes the steering mechanism more rigid for more precise steering.
The seat is thicker, softer and sport-grip-textured for increased rider comfort and performance compared to the Foreman seat.
More open rider triangle ergonomics for all-day comfort.
Bold 50-watt top assist light operates independently of front headlights.
Electronic digital meter display includes a Maintenance Minder system that signals when it is time for service.
Maxxis tires feature a more aggressive tread pattern for improved traction and a new carcass design for improved rider comfort.
Available Deluxe model with aluminum wheels, special red-painted suspension components, and decals.
Assembled in Timmonsville, South Carolina, using domestically and globally sourced parts.
Transferable one-year limited warranty; extended coverage available with a Honda Protection Plan.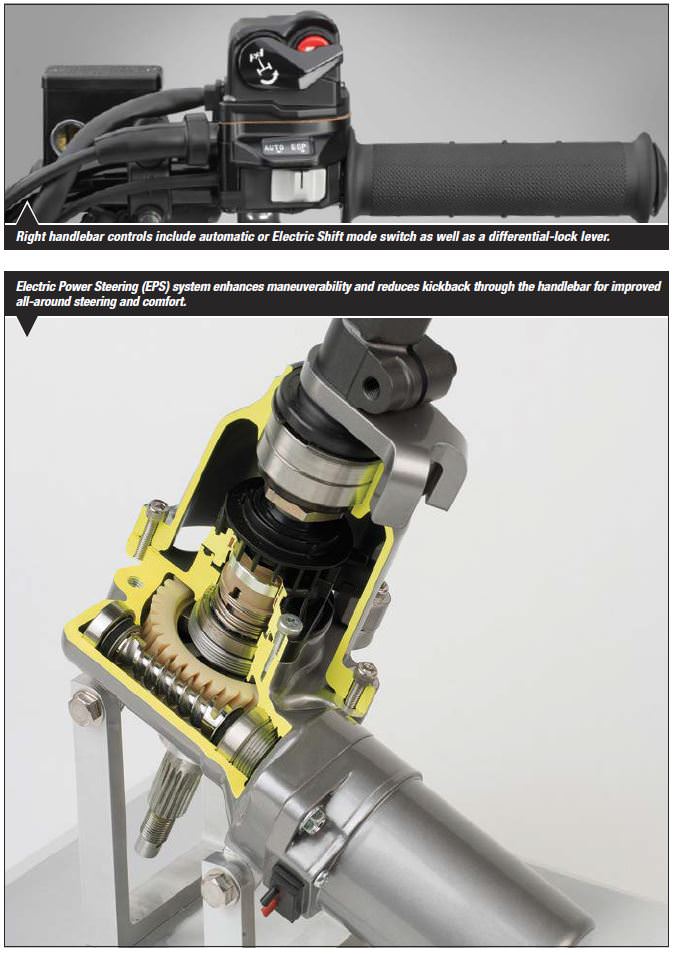 ---
– Video Review of Specs / Rubicon Deluxe DCT EPS –
(Video above is of a 2017 model as I don't have a 2018 model to do a video on yet, my 2018 ATV videos will be online soon.)
---
Choosing the perfect Honda FourTrax Foreman Rubicon (Model Options)
The 2018 Honda Foreman Rubicon is more than just a great ATV model; it's engineered to provide customers with options that provide exactly what they need and nothing they don't! When choosing the perfect Foreman Rubicon, the first decision is selecting a transmission type. The five-speed semiautomatic manual gearbox makes the Foreman Rubicon the only IRS ATV on the market available with a standard transmission—an incredible value and great for anyone looking for ultimate gear control. The other option is Honda's Automatic DCT with Drive/Low, which delivers smooth, seamless power with an added benefit of the ability to switch between full automatic mode and actively selecting gears via Honda's Electric Shift Program. Both transmission choices are gear-driven, with no belts to slip when wet, or to burn up or break.
Once customers have decided on their preferred transmission type, they can narrow their choice further by identifying which steering system—standard or Electric Power Steering (EPS)—best suits their needs. If it's the former, the search is over, whereas those who want EPS can also consider the Deluxe option, which boasts black machined cast-aluminum wheels with polished highlights (reducing unsprung weight by 7 lbs.) and red front and rear A/I-arms and shock springs.
The choices aren't finished upon making a final model selection, as there are no fewer than 23 available Honda Genuine and Signature Accessories, including a winch kit, heated grips, rear bumper and soft front and rear storage bags. The possible iterations are nearly limitless, which means the Foreman Rubicon lineup can meet the needs of just about any customer.
2018 Honda Rubicon 500 ATV Model Lineup Options / Variations:
Foreman
Rubicon
4×4 EPS (TRX500FM6)
Foreman
Rubicon
4×4 DCT (TRX500FA5)
Foreman
Rubicon 4×4
DCT EPS (TRX500FA6)
Foreman
Rubicon 4×4
DCT EPS Deluxe (TRX500FA7)
Independent Rear
Suspension
√
√
√
√
Electronic
Fuel Injection
√
√
√
√
Traxlok
2WD/4WD
√
√
√
√
Front Differential
Lock
√
√
√
√
Manual
Transmission
√
Automatic DCT
Transmission
w/ Drive/Low
√
√
√
Electric
Power Steering
√
√
√
Cast Aluminum
Wheels & Red
Suspension
√
Press "Play"
Honda's ATV models have always been respected for their practical capabilities but Honda wanted to expand its lineup options for customers who use their vehicles for enjoyment when the workday is finished. Performing well in disparate realms is no easy feat, but the 2018 Foreman Rubicon achieves the right balance, in part through the following updates:
Independent Rear Suspension
Days with long hours in the saddle are when riders really notice how well an ATV absorbs bumps. The 2018 Foreman Rubicon's Independent Rear Suspension (IRS) was engineered to increase its recreational riding ability while remaining great for hard work and towing.
With IRS, the rear wheels aren't as connected to one another and there's less mass to move up and down when traveling over uneven surfaces, so the suspension reacts willingly to the terrain. This improved compliance means the tires can stay in better contact with the ground and more readily maintain traction. The result is amazing versatility, enabling users to enjoy the outdoors in a variety of ways with all-day ride comfort.
Automatic DCT with Drive/Low
Honda has taken its venerated Automatic DCT gearbox from the Rancher line, scaled it up for the additional torque of a 500-class engine, added a new dual-range Drive/Low shifter, and expanded it as an option to the 2018 Foreman Rubicon.
Because Honda's Automatic DCT has a relatively direct connection between the engine and the drivetrain, it suffers less power loss than systems that incorporate belts. DCT helps maximize low-end power, with the vehicle reacting immediately to throttle input, which makes it great for tight trails and rocky terrain, where having power on demand is extremely useful. Additionally, it's great for downhill engine braking. As if that weren't enough, DCT is also a more reliable design, particularly for the high torque loads common with ATV use.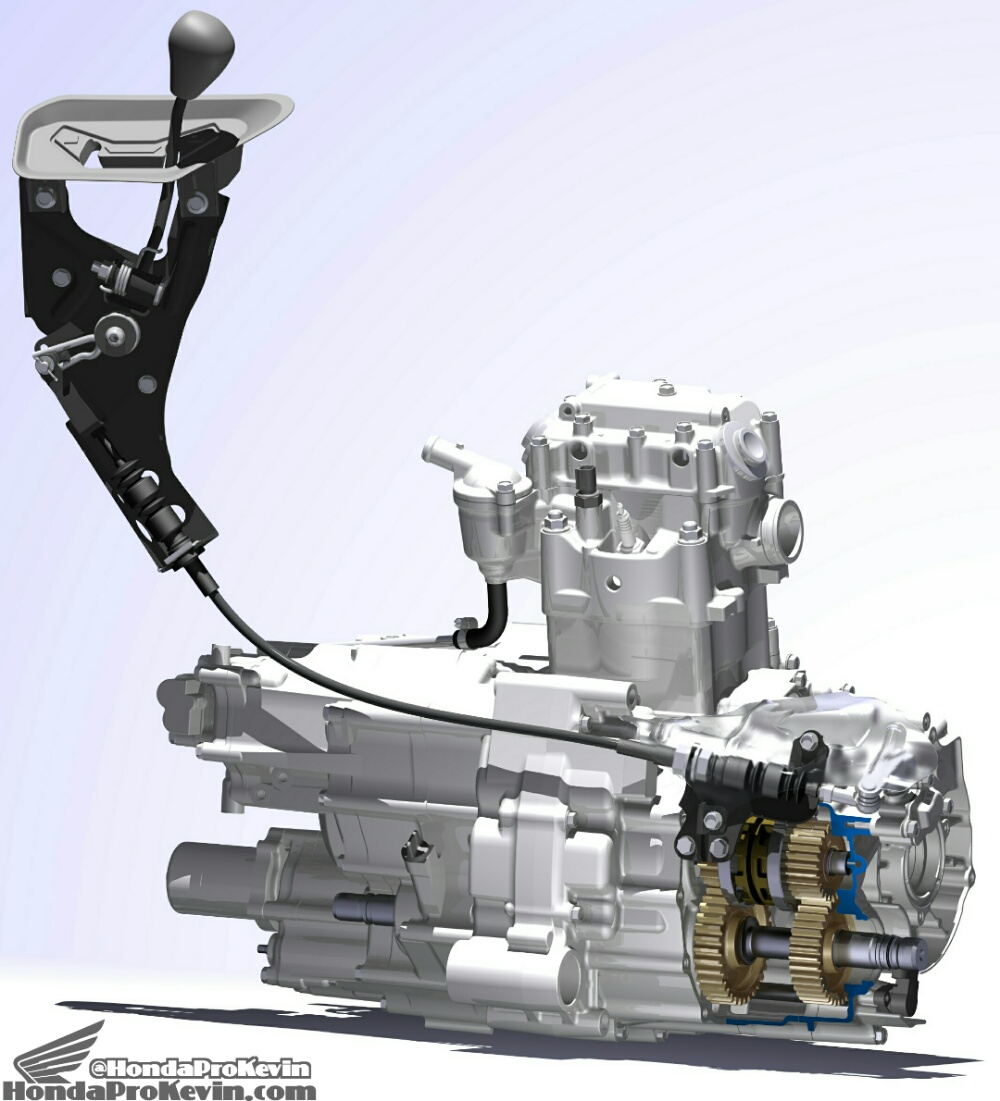 ---
Maximum Optimization: Great Parts, Better Sum
When planning the FourTrax Foreman Rubicon 4×4 models with Independent Rear Suspension (IRS), ride comfort and handling were front-of-mind for Honda engineers in Ohio, but they knew that just adding IRS wouldn't be enough. At least as important would be getting the entire package to work efficiently as a well-balanced whole, with matched suspension and engine performance.
Following are a few examples of areas that have been optimized with the Foreman Rubicon line:
Chassis
The development team's priorities included managing overall size and keeping the center of gravity low, since these attributes lead to good maneuverability and handling in rough terrain, as well as rider comfort on all-day outings. "We wanted a machine that doesn't move as it goes down the trail because the suspension is doing all the work, but we didn't want a vehicle that was too large," explains Eric Stevens (HRA-Ohio), Large Project Leader (LPL) for the Foreman Rubicon.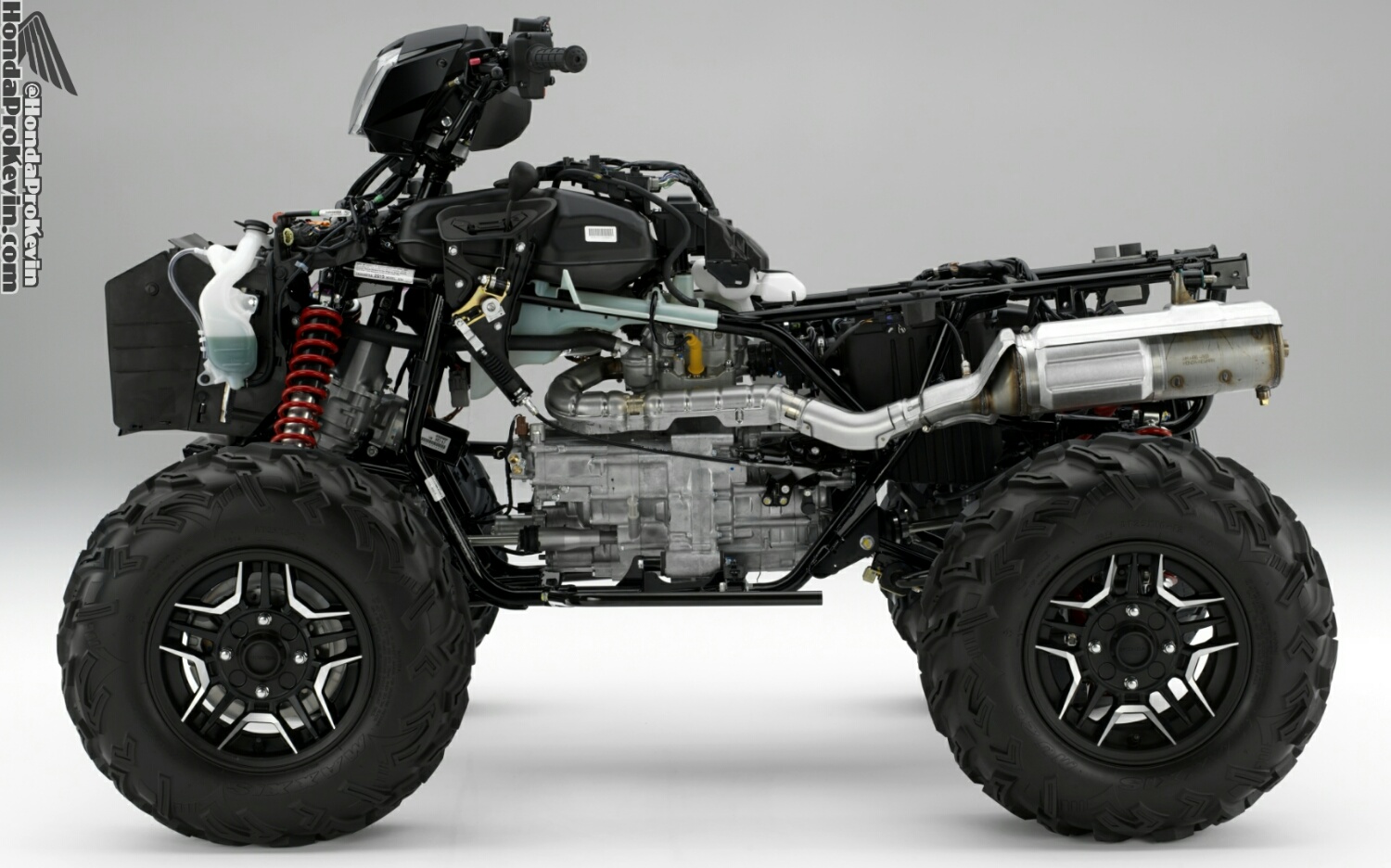 Front and rear suspension travel were increased significantly to 7.3 and 8.5 inches, respectively, but engineers stopped short of making sacrifices with vehicle size and/or handling. "We wanted to keep that Honda character," explains Matt Alexander (HRA-Ohio), the project's Sub-LPL. "That meant we had to avoid a high center of gravity or a really wide vehicle, so we worked hard to squeeze maximum performance out of every millimeter of suspension travel."
To that end, all four shocks are preload-adjustable, and every suspension component was completely redesigned to optimize rigidity and comfort. The all-new double-cradle steel frame was also designed to provide enough torsional stiffness for good performance during aggressive trail riding while still offering plush character for all-day comfort. The front brake rotors are now larger at 190mm, and the single 170mm hydraulic rear disc brake's integrated, inboard position keeps it out of harm's way while reducing unsprung weight and increasing ground clearance (now 9.4 inches, a 1.9 inch increase).
Tires
On ATVs, tires actually work as part of the suspension system, as they absorb smaller trail impacts. When designing the new Foreman Rubicons, Honda engineers worked closely with Maxxis tire technicians to develop a special tire that would be compliant without sacrificing handling or precise steering. "We experimented a lot with the actual plies of the tire to make it work well," Stevens reveals. "We went through several different tire iterations before we got the right one."
Of course this tire development didn't occur in a vacuum; at the same time, Honda was tuning suspension settings and frame rigidity to ensure that all of the components worked with the tires in a complementary fashion while still meeting Honda's rigid strength criteria. It's a balancing act that results in a refined, cohesive package.
Engine / Drivetrain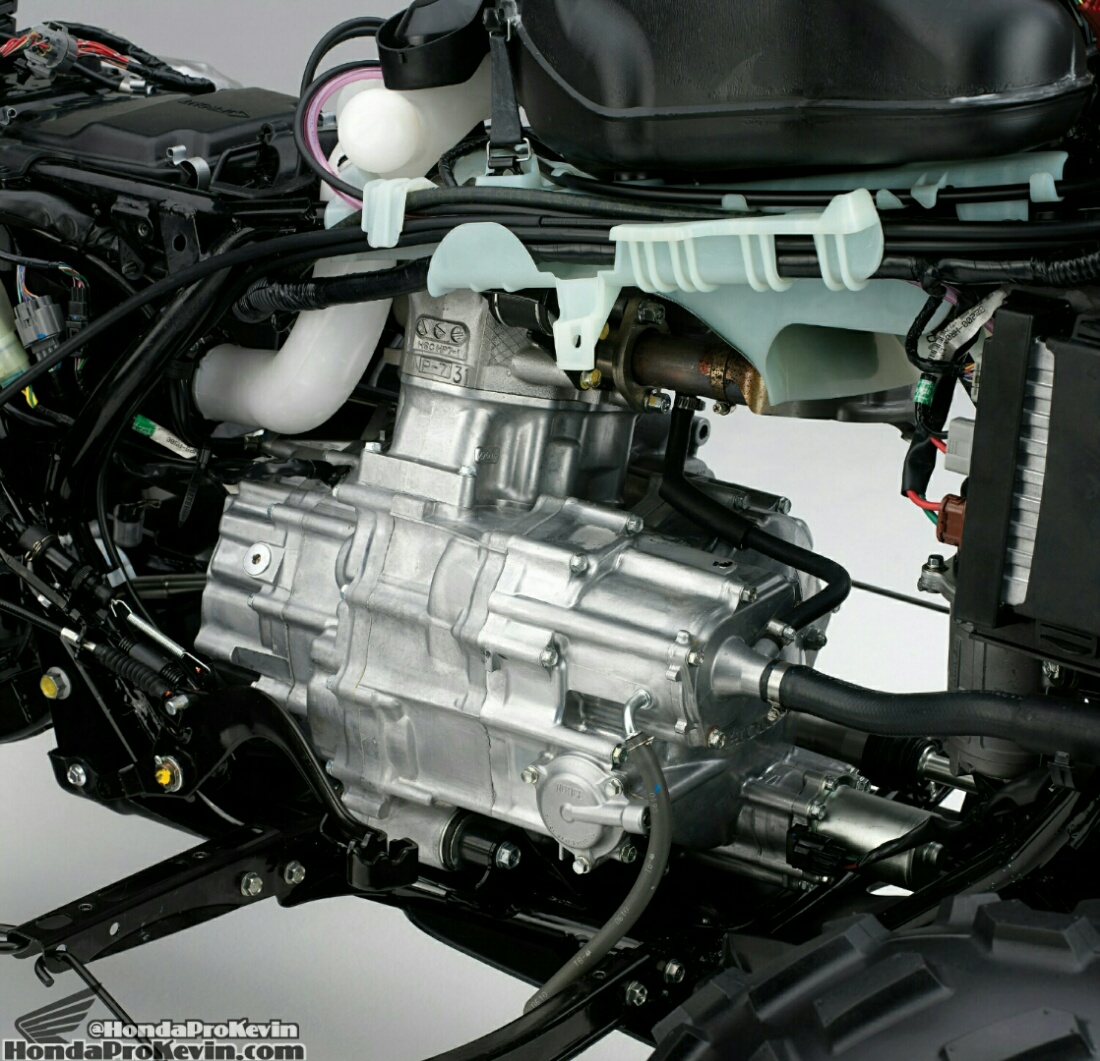 As with the chassis, the Foreman Rubicon's engine is designed to provide maximum performance, as its longitudinal mounting is more efficient than a power-robbing across-the-frame orientation. In addition, the electronic fuel injection has been remapped for optimization, and importantly, the Automatic DCT gearbox is inherently more efficient than a standard CVT design.
---
Engineering Spotlight
The 2018 FourTrax Foreman Rubicon is the best-handling, most comfortable model in the full-size market, but the new IRS is only part of what makes it such a rider-friendly ATV. Here's a look at some of the features that give all-day comfort to riders at work, on the trail and in the garage:
Comfortable cockpit
The seat is larger and has thicker foam, while a new "gripper"-texture cover prevents things from getting slippery in challenging conditions.
A raised handlebar provides a more open ride position, while a new, 2mm larger half-waffle eccentric handgrip design (similar to the popular grip on Honda's CRF motocrossers) insulates the rider from impacts and vibration. The grips have an optional heated accessory as well, a welcome detail in cool weather.
The bodywork is stylish and rugged, and it provides excellent protection from mud.
Rider-friendly trail manners
With the Automatic DCT gearbox with a new dual-range Drive/Low shifter, riders can choose between automatic or manual settings. In automatic mode, sensors monitor variables like vehicle speed and the ECU can select from a broad range of shift points. A dual-zone shift map seamlessly and intuitively adjusts to the rider's style, whether it be mellow or aggressive.
With Honda's electronic TraxLok system, riders can select from 2WD and 4WD, and when in the latter mode, differential lock can be selected as well—great on tough ascents or when riding over rocks or through mud. Engaging it is as simple as flicking a switch with the right thumb. When the front differential is locked, a Speed Override mode can be engaged, allowing increased wheel speed in challenging conditions like deep mud.
The Electric Power Steering has an optimized ECU map, resulting in reduced rider fatigue. The system has three mounting points instead of the previous two, increasing rigidity.
A lantern-style, handlebar-mounted 50 watt assist light enables riders to direct illumination where they choose, augmenting the two fender-mounted headlights. The light can be turned off when there's a load on the front rack, to avoid glare reflecting into the rider's eyes.
Easing the workload
A new dual-purpose lever simplifies backing up and parking: pull the lever to engage reverse, or push it to set the parking brake.
The front and rear racks have both been redesigned to increase functionality and versatility, while weight-carrying capacity has been increased (99 lbs. front, 187 rear). Flat steel plates are incorporated into the racks for more surface area to secure loads, and there are multiple tie-down points.
The frame has a heavy-duty hitch, and towing capacity has been increased significantly, to 1,322 lbs. Towing heavy loads is simplified by the sub-transmission, which effectively adds an extra five low gears on the Automatic DCT models. Meanwhile, the front bumper wraps around the headlights and has integrated mounts for an accessory winch.
A neodymium magnet stator design helps the new, more powerful AC generator to produce more electricity, enabling running of more Honda Genuine Accessories.
Easy to live with
Programmed Electronic Fuel Injection (PGM-FI) comes standard for the Foreman Rubicon, which boasts great cold-weather starting and improved fuel efficiency.
The digital display has a maintenance minder, signaling when it's time for routine service.
The one-piece fuel tank/side cover can be removed without tools, making for easy access and maintenance.
As usual, Foreman Rubicon owners can expect to enjoy Honda's legendary durability, quality and reliability.
---
When development work for the latest all-new generation FourTrax Foreman Rubicon began at Honda R&D Americas in Marysville, Ohio, engineers' targets were clear, but it wasn't until later that they would have the opportunity to see whether they had hit the bull's-eye. That verification came at Transportation Research Center (TRC), an independent proving ground that sits adjacent to the Honda R&D facility. During the interim, technicians had spent countless hours on the project in the virtual world, performing computer-aided engineering (CAE) and finite-element analysis (FEA) tests to design components and evaluate performance before beginning the prototype phase. Now they finally had their first physical prototype, and they were eager to evaluate real-world performance. "You can simulate a lot, but sometimes you don't really know how a product is going to be until you get on it," explains Matt Alexander (HRA-Ohio), Sub-Large Project Leader for these models. "There are times when that first ride serves as confirmation that you got it right, but it's also possible it might send you back to the drawing board."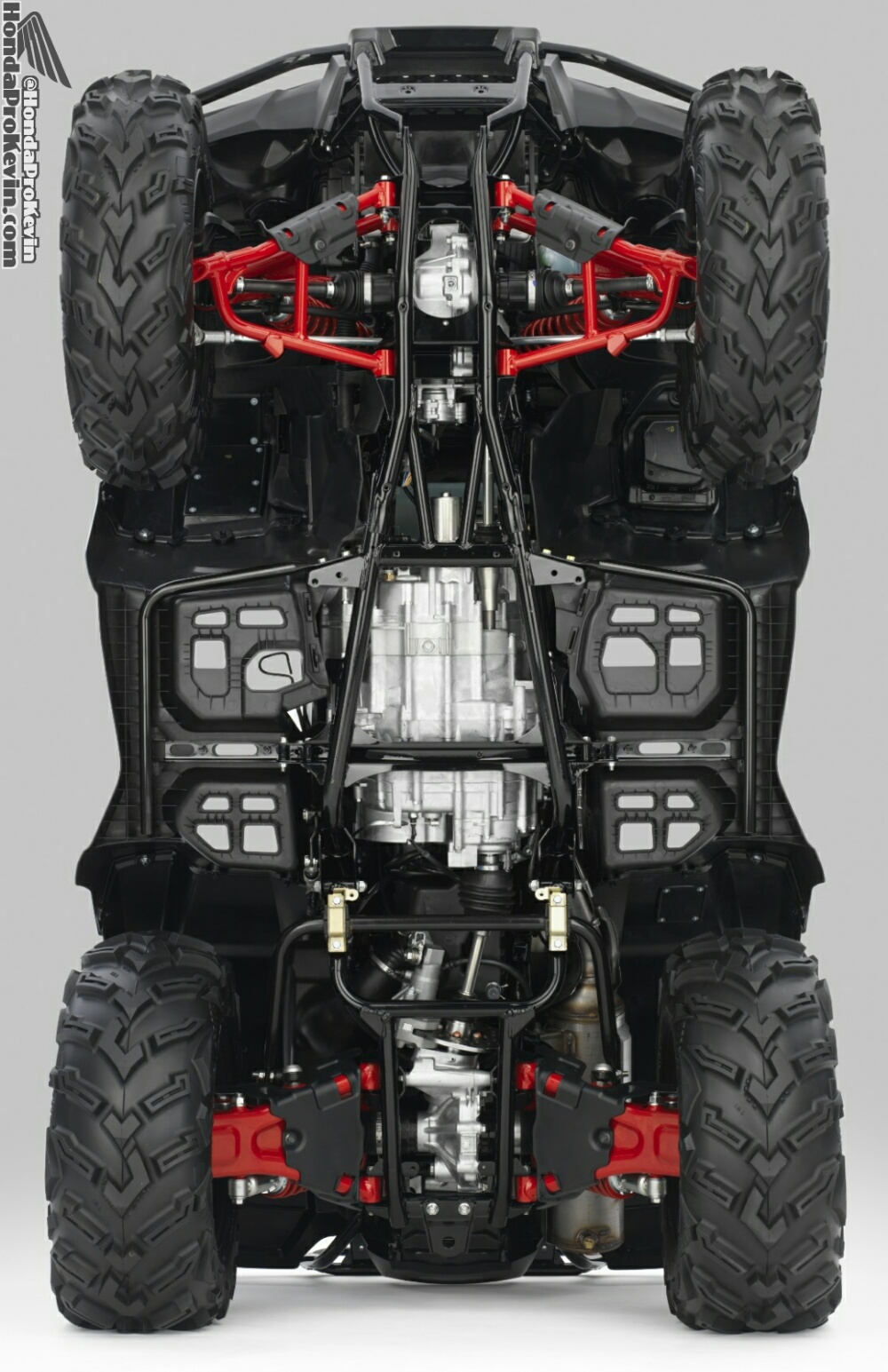 The TRC facility comprises a 7.5 mile paved oval, inside of which are a number of varied test courses, including approximately 25 miles of trails through a section of woods. It was in this setting that Alexander and his colleagues tried out the prototype for the first time. In addition to their engineering qualifications, the group's members all have years of hands-on powersports experience, having grown up riding ATVs, dirt bikes and on-road motorcycles. "It's a very cool, unique blend of people," says Eric Stevens (HRA-Ohio) who, as Large Project Leader, oversaw the entire project. "They genuinely understand the segment and the products."
The group's common goal is to make ATVs that enthusiasts like them will want to use, and from that very first ride, it was clear to them all that they'd hit their targets for performance, handling and comfort. Alexander recalls the conversation when the riders removed their helmets at a ride break. "Everyone was like, 'Wow, the comfort on this vehicle is even better than we expected,' but at the same time, the center of gravity was low and the control was great. It was a really positive first outing."
Of course there was still plenty of work remaining before production could begin at Honda's Timmonsville, South Carolina, assembly plant. More advanced prototype iterations needed to be built, and during that process, it's typical that small modifications to the vehicle necessitate changes elsewhere, which must then be subjected to confirmation testing and ultimately durability testing. "Throughout the development process, you're always balancing hard criteria like strength and durability with soft criteria—ride position, steering, handling," Stevens says. "That continues until you finally get a package that's completely refined, where you've satisfied all the objective items and the subjective items too."
Nonetheless, the auspicious beginning helped that long refinement process to go smoothly, as no major changes to the frame body would be required. "We were really impressed with how well it performed right from that first ride," Stevens says. "We were very, very happy, because when your first prototype is excellent, it means that the team did a great job."