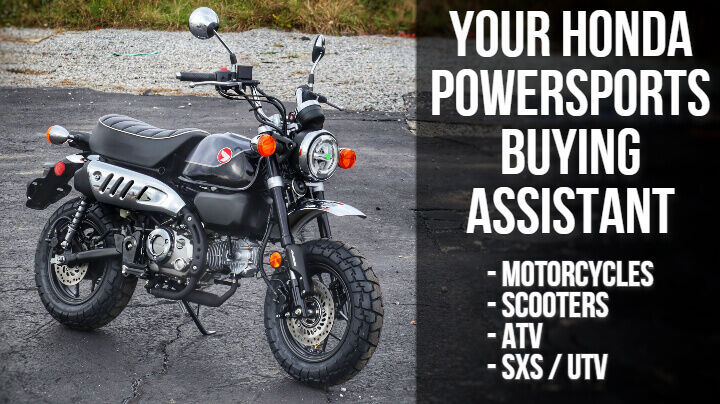 – Your Personal Honda Motorcycle / Scooter / ATV / UTV Shopping Advice & Buying Assistant –
Are you in the market to buy a new Honda motorcycle, scooter, ATV or Side by Side / UTV / SxS? Are you confused about all of the different model options and variations to choose from? Do you want assistance from someone that has nothing to gain when it comes to whether or not you buy that particular unit? Do you need help when it comes to financing or trades?
If so, I might be able to help you out! I have 15 years of experience at a level 4 Honda Powersports dealer in everything from sales to finance and everything in between. I always took pride in treating our customers how I would want to be treated and I'm thankful that by doing that, it gave me many repeat customers over the years and they knew they could refer their friends and family my way because I was honest. I didn't want to make a "quick buck" off someone and run them off as a customer, I wanted you to remember me years down the road so the next time you needed something – you'd remember me. I would still be running that Honda Powersports dealer today as this is something I truly love and want nothing more to continue on being involved with but the owner of the dealership had some unexpected health issues arise and had to close down after being a Honda dealer since 1962. That place way my home, I put everything into it over the years and treated it like it was my own so it rocked my world needless to say.
Long story short, I know there are a lot of people that would like to speak with someone knowledgeable and between running this blog here at HondaProKevin.com and my HondaPro Kevin YouTube Channel on top of the other ventures I'm involved with and my family too, it's hard to make time for each and every question I get online so that's why I started this as an option for those of you that would like my undivided attention. So if you have a question regarding the purchase of a new Honda motorcycle, ATV, Side by Side, scooter etc – I'm here! It can be as simple as talking about what motorcycle or ATV might be best for you, the different model variations and options available, financing questions, trades and more.
Booking Info & Options:
Below, you'll find my booking calendar (click on calendar) with the different options available as some of you may only need a few minute phone call and some of you may need more one-on-one time with me. If you have any questions before booking, don't hesitate to shoot me an email to Kevin@HondaProKevin. Thank you as always for your time and support, I really appreciate it…
If you don't see the booking calendar displayed above, click the "Book Now" button below and it will load OR you can Click Here to manually load the calendar with all of the options available etc.
More info…
Who might be interested in this service?
If you're looking for advice from a third party that doesn't stand to benefit whether you buy that particular unit or the next.

If you're confused by the different models, model variations and options etc and would like someone to break it all down to make sure you're getting the best one for your needs and not just what someone wants to sell you on that given day because that is what's in stock etc.
If you're confused on financing options and packages and would like to make sure you're choosing the best option for your needs and not just because that's what the F&I person wants to sell you.
Or if you just want to talk powersports, I could do that all day haha! In all seriousness though, this is for people that would prefer to have someone that has behind-the-scenes knowledge and would prefer to get straight answers to their questions without having to worry about if the other person is being honest or not because they want to close a sale.
Is this service for everyone?
Nope. Not everyone will need someone to talk to and bounce things off of but after spending so many years in this industry and seeing some of the incorrect information that's floating around out there, it's obvious why some people would like to speak with a trustworthy person to make sure what they're being told is accurate etc.
Want to make the most out of the allotted time available?
If you know in advance what you'd like to talk about and or any questions you may have… Shoot them over to me in an email at Kevin@HondaProKevin so I can prepare in advance and that'll help us get the most amount of information to you in the timeframe we have.
---