2016 CBR1000RR Fireblade Changes / HP & TQ Performance Numbers / Detailed Specs & Pictures + More!

A lot of rumors have been floating around this year that the 2016 CBR1000RR would be an all new machine. A few weeks ago Honda made the official announcement for the 2016 CBR1000RR & CBR600RR that laid those rumors to rest. The only change for 2016 on the CBR1000RR Fireblade is that of new color options for us to choose from. In the USA, we will only see one color option : Matte Black Metallic. If you opt for the special edition 1000RR SP then you have another color option that is the famous Repsol Edition scheme from Honda's MotoGP RC213V.
---
Please Click "Like" and or Share if you found any of my content, pictures etc helpful. Thanks guys.
---
Even though the CBR1000RR goes unchanged this year it doesn't take anything away from the bike that has been well-known for the most potent package Honda has ever put together under the CBR nameplate. Is the 2016 CBR1000RR the highest horsepower liter bike you can buy? Nope. Is it going to win every single 1000 cc bike shootout for 2016? Nope. It is and will go down as one of the easiest 1000 cc sport bikes to ride fast though if you read any review that includes the current generation CBR1000RR. Does it have the traction control and wheelie control nanny-type electronics you find on many bikes these days? Nope. Personally, that's one thing I still like about the CBR whether it be the 600 or 1000. It's all personal preference though when it comes to electronics as some prefer them and some don't. The CBR1000RR rewards riders who appreciate this machine's unparalleled feeling of transparent connectedness, and who prefer to rely on their own skills as a method of traction control. Time and time again in comparison tests and races the CBR1000RR has shown it's still a competitive machine and is a force to be reckoned with even again its competition equipped with electronic interventions, and the reason is simple: Fast laps on a track, like good times on the street, have more to do with a machine's overall balance and rideability than anything else. That's the secret to the CBR1000RR's long-time popularity. I'll save the rest of my personal opinions for later and let's get to the facts about the 2016 CBR1000RR Fireblade that you came here for…

Contents:
1 | Introduction
2 | Styling
3 | Key Features

Engine / HP & TQ
Chassis / Frame / Suspension

4 | Accessories
5 | HRC Race Kit / Performance Parts (HRC = Honda Racing Corporation)
6 | Quick Recap (For those in a hurry)
7 | Technical Specifications
1. Introduction
The original 1992 Honda CBR900RR Fireblade created a revolution in open class Super Sport motorcycle design. Its combination of big-hitting liter-bike power and light, middleweight-size chassis created a breathtaking – yet very useable – riding experience on open road or closed circuit.
From 2004 to date the CBR1000RR's story is one of constant evolution and development. Honda's 'Total Control' concept – a design philosophy running continuously through every single model – has resulted in a motorcycle in total balance, combining exceptional performance and handling with a satisfying ability to extract the very best from every rider.
Recent changes to the CBR1000RR focus on sharpening what is arguably the most critical component in a motorcycle designed for sporting use: chassis performance. Granted, big-time horsepower always holds its own attractions and the CBR1000RR pours out huge quantities of horsepower and torque right in the midrange where literbike aficionados want it to be-after all, what's the point of having a peaky big-bore bike? However, it's the ultra-responsive middleweight-style handling that truly allows this large-displacement sportbike to shine.
Starting with a tried and proven four-piece Fine Die-Cast twin-spar aluminum frame, Honda's development team focused their efforts on incorporating innovative chassis components, specifically a new-concept rear shock, Big Piston Fork, 12-spoke cast aluminum wheels that provide even more rigidity. In doing so, they were able to markedly expand the CBR1000RR's handling prowess and enhance its braking and traction characteristics. In addition, recently tweaked bodywork follow the layered fairing concept that aids aerodynamic flow to create a large still-air pocket around the rider while also helping draw air through the cooling system. An integrated chin spoiler in the nose also reduces aerodynamic lift at speed, thereby improving handling, and the overall package lends a more aggressive appearance.
In 2014 the CBR1000RR Fireblade was updated with improved peak power and mid-range torque, revised riding position and added the track-focused CBR1000RR Fireblade SP to the CBR model lineup that makes another appearance for 2016 as well. The CBR1000RR SP model will not be covered in this write-up though as it deserves its own special page to cover all of the features that set it apart.
For 2016 and inspired by 2013 and 2014 MotoGP champion Marc Marquez the 2016 Honda CBR1000RR / Fireblade will be available with special Repsol Edition colors on the SP model. I'll cover all of the details and differences in a later post this week on what sets the CBR1000RR SP Repsol apart from the standard CBR1000RR for 2016.
2016 CBR1000RR Release Date: January 2016
2016 CBR1000RR Price / MSRP: $13,999
2016 CBR1000RR SP Repsol Edition Price / MSRP: $17,299
2016 CBR1000RR SP HRC (Non USA model)
2016 CBR1000RR HRC (Non USA model)
2016 CBR1000RR ABS (Non USA model)
2. STYLING
Styling Design
Based on key phrases such as "compact, lightweight, mass concentration" that have been notable features of successive generations of CBR-RR, themes of "speed" and "dynamic" have been increasingly integrated to further highlight the machine's racing image. These qualities of "speed" and "dynamism" have been highlighted further by the use of a wedge-shaped theme and sharp character lines at the front of the bike. With a line-beam headlight and air intake shapes adding even greater sharpness, the new CBR1000RR offers a novel and intrepid front face.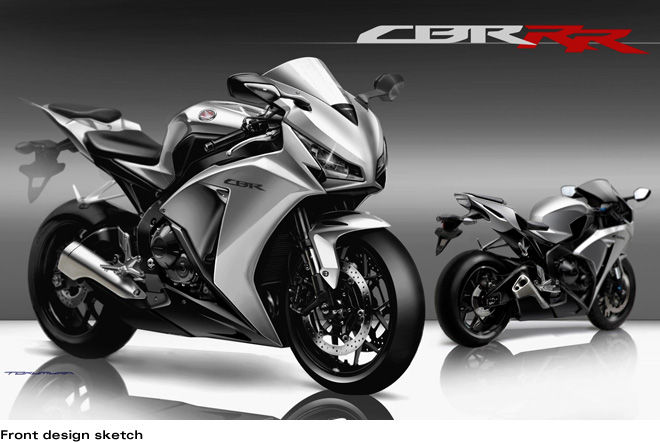 Front Cowl
Introducing wind to cool the engine and perform highly-efficient air management, the side cowl and lower cowl that constitute the front cowl have an intricately worked surface shape to allow truly nimble handling. As a power accent on the simple cowl design, the vertical slit inherited from its predecessors built into the side cowl gives a feeling of tension in the overall styling. And the chin spoiler formed as a single unit on the front cowl allows exquisite airflow control, to improve handling even further.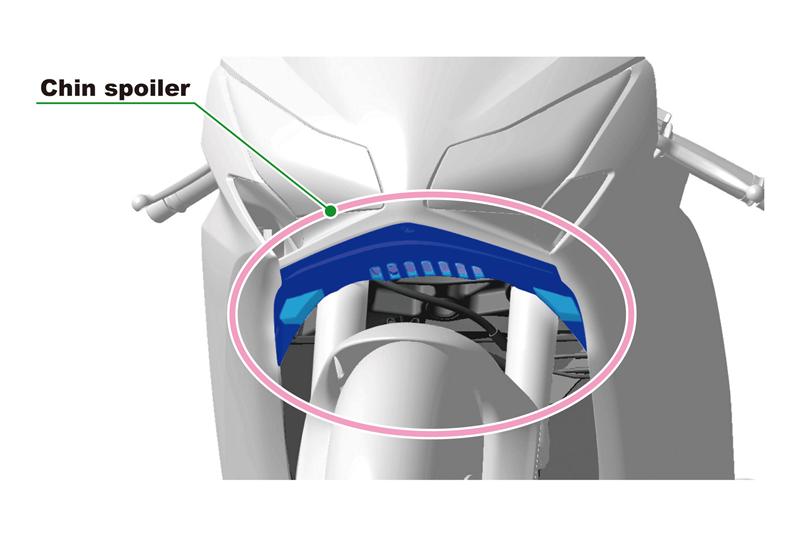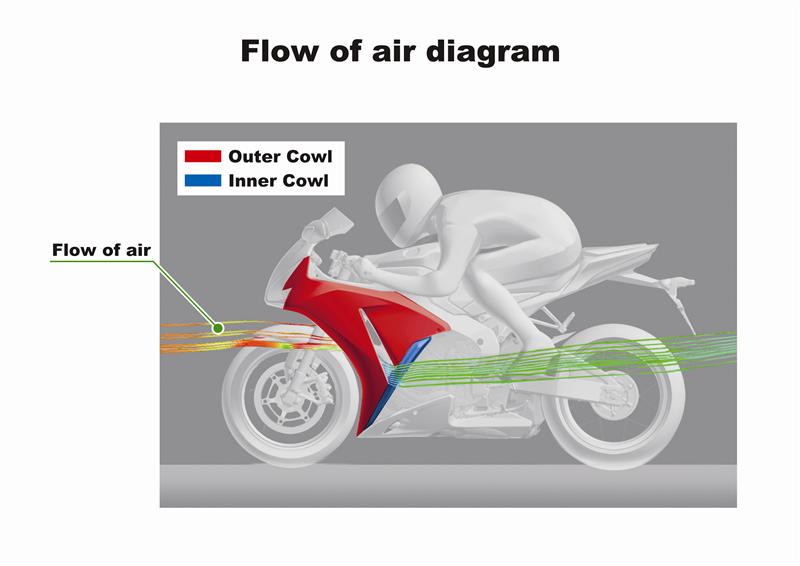 Layer Cowl
This cowl has a new layered configuration of an outer cowl with a wide open slit and a rigid inner cowl extending from the bottom to the top. The cowl ensures a large opening to significantly increase a rider's comfort and riding comfort. Cowl weight is reduced, rigidity is ensured, and a dynamic form is created.
Invalid Displayed Gallery
3. KEY FEATURES
3.1 Engine
The lightweight and compact, liquid-cooled DOHC inline 4-cylinder engine features a bore and stroke set at 76mm x 55.1mm and a total displacement of 999cm3 with compression ratio of 12.3:1. A nickel-silicon carbide (Ni-SiC) surface treatment on the cylinder walls reduces friction and ensures reliability even in extreme conditions. And along with remarkable output characteristics, the engine is extremely lightweight. In addition to adopting from the previous model the Programmed Dual Sequential Fuel Injection System (PGM-DSFI), cultivated by racing technology, the engine also features a supported material with high absorbability  for the catalyzer in the exhaust pipe and muffler, for a high-output engine with cleaner exhaust emissions.
The 2016 CBR1000RR horsepower rating comes in at 175.7 HP (131kW) and arrives at 12,250 RPM; torque peaks with 82.6 lb ft TQ delivered at 10,500 RPM. * 2016 CBR1000RR SP Repsol 178.4 HP (133kW) and 84 lb ft TQ delivered at the same RPM.
As ever, the all-round usability of such a potent engine – especially throttle control at partial openings – has been a principal factor for Honda's engineers. Key is the Programmed Dual Sequential Fuel Injection system (PGM-DSFI).
Re-mapped to match the revised cylinder head and uprated power and torque output, PGM-DSFI delivers precise fuelling and an accessible power delivery, especially at low speeds and low rpm, where response is particularly refined, predictable and progressive.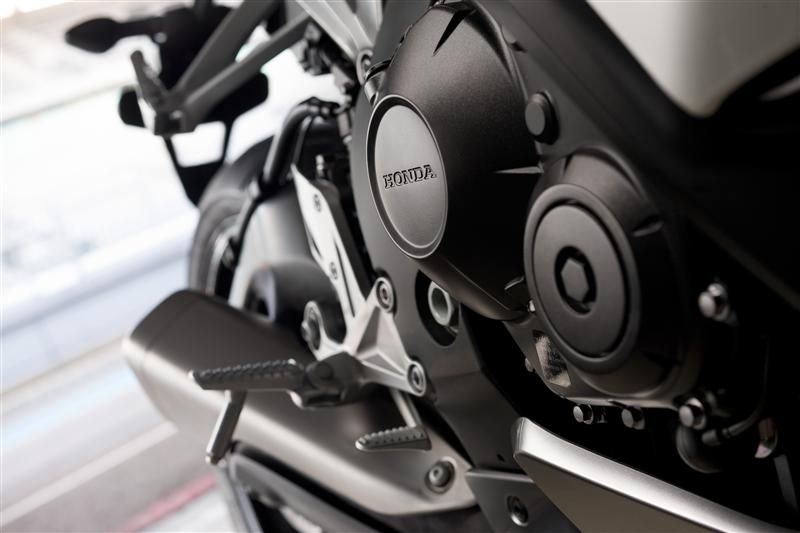 At throttle openings of up to 25% the PGM-DSFI delivers relatively fine and consistent changes in power and torque output – perfect for extracting maximum drive at full lean. As throttle openings become larger, the changes in output are progressively greater and the overall result is an engine that responds with great accuracy to rider throttle input, giving superb feel from the rear tyre and highly usable, linear acceleration.
The MotoGP-derived slipper clutch ensures full power transmission together with ultra-smooth gear shifting and light feel at the lever. In the critical hard braking, back-shifting corner-entry phase it decreases the torque passed from engine to the rear wheel, reducing the chance of traction loss and increasing stability.
Invalid Displayed Gallery
Assist Slipper Clutch
The 2016 CBR1000RR is fitted with an assist slipper clutch with the same specifications as its predecessor, of the same type as that loaded in the RC212V, making smooth engagement possible. By assisting with clutch capacity at times when even greater transmission capacity is needed for the clutch such as when accelerating, the assist slipper clutch allows smoother shifting and even lighter clutch operation with no need for a powerful clutch spring. In those instances when excessive back torque from engine braking is generated such as when decelerating, this back torque is reduced, contributing to a decrease in the burden on the rider.
Rideability
To make a super sports model that is even easier to handle for even more fun sports riding, the PGM-DSFI settings were revisited. Specifically, when the throttle starts to open from fully closed in roads conditions such as when riding on winding roads, cornering at low speeds or riding on steep banks, the settings were changed for even greater road-holding feel for the rear tire. Thanks to extensive analysis of real situations, the CBR1000RR achieves particular controllability at a throttle opening angle of one-quarter or less. Changes in output for different throttle openings have been precisely adjusted, resulting in refined output characteristics and improved throttle operation. Moreover, for traction performance, changes in output have been set very small in the early stages of throttle operation, and to gradually grow larger when opening the throttle further. As a result, the engine is able to respond to the rider's intentions, realizing easy maneuverability and linear acceleration performance in a variety of conditions.
2016 CBR1000RR Horsepower – 175.7 HP @ 12,250 RPM
2016 CBR1000RR Torque – 82.6 lb ft / tq @ 10,500 RPM
2016 CBR1000RR Gas Mileage – 51 MPG
3.2 Chassis
Frame
The 2016 CBR1000RR features a compact 4-piece type, die-cast aluminium twin-spar frame achieving both high rigidity and a slim body that balances strength, rigidity and lightness required for Super Sport-specification handling and a favorable power-to-weight ratio. Tightly wrapped around the main components, it also contributes to mass centralization, a guiding principle of Honda's racing and road-going design philosophy. Rake is set at 23° 30' with trail of 96mm and wheelbase of 1,410mm. Curb weight is 200kg with front / rear weight distribution of 52.6% / 47.4%.
The CBR1000RR's aluminum frame and swingarm both tap into a variety of manufacturing techniques to accommodate the fine-tuning of specific components for strength, rigidity, shape, size and weight prior to final assembly. The steering head, for example, utilizes Honda's innovative Fine Die-Cast technology to create a structure that's strong yet features thin-wall construction for light weight. From there, large gravity die-cast sections extend down and around the engine, while other plates reach up and forward from the swingarm pivot. The solid-mount engine hangers are also gravity die-cast pieces. The short but large main aluminum spars wrap around the cylinder head in RC-V fashion, and these aluminum extrusions have been specially shaped so the upper side is narrower than the bottom, in part to create more clearance space for the handlebars and cylinder head.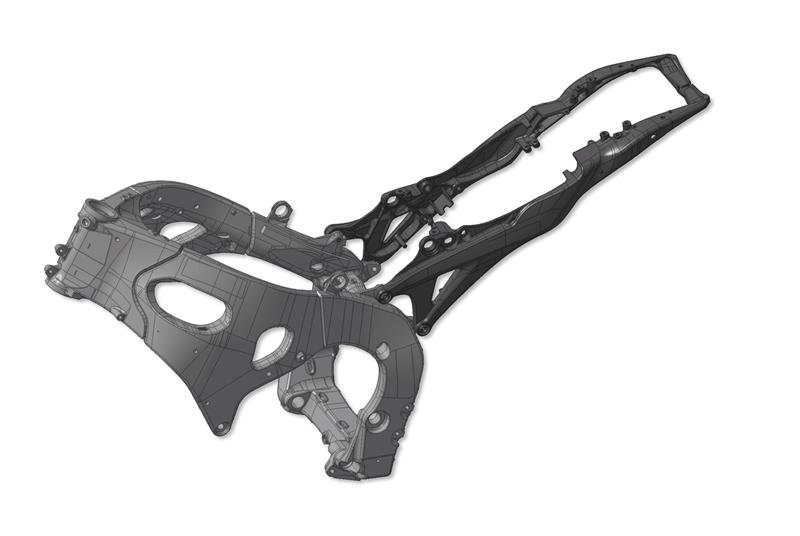 The aluminum gull-wing swingarm is deliberately long. It operates through MotoGP-derived Unit Pro-Link rear suspension to deliver outstanding traction and rider feedback.
In 2014, in response to customer feedback, the riding position was made more aggressive. The footpegs were set 10mm further back, and the handlebars made wider, and brought 1° lower and 5° forward compared to the previous model. This is just one of the many changes that the current generation CBR1000RR has went through since it's inception to help fine-tune it to be one of the best 1000 cc sport bikes on the market as well as show that Honda does listen to customer feedback.
Invalid Displayed Gallery
Suspension
The main objectives in the further development of the CBR1000RR's suspension setup included: smoother suspension action, improved rider feel, and increased grip and traction. To achieve those goals, the latest generation update on the CBR1000RR rear suspension system still features Honda's acclaimed single-shock Unit Pro-Link configuration, but now it introduces the first Balance-Free Rear Shock on a production motorcycle, an advancement developed in conjunction with world-leading suspension specialist Showa that has patent protection pending.
For the first time on a production motorcycle when introduced in 2012 is the use of an advanced rear shock with twin-tube design to provide a more precise and superior cushioning with improved compression compare with previous model years. The 2016 CBR1000RR also features an inverted 43mm telescopic front fork with Showa "Big Piston" technology with improved cushioning. It also improves tire grip on the road surface and increases stability when braking.
A Showa 43mm inverted telescopic fork employs Big Piston Front Fork (BPFF) technology. Their unique construction – with larger damping volume – effectively reduces hydraulic pressure generated under compression and extension.
This results in finer control during the initial stroke and smoother damping, maximizing tire contact with tarmac. Improved overall handling, excellent feel for front tire traction and enhanced stability during hard braking follow. Spring preload and rebound and compression damping are fully adjustable.
The rear suspension features a fully adjustable Showa Balance Free Rear Cushion. Instead of a conventional single-tube layout, the system uses a double-tube design: the damper case and an internal cylinder. The damper piston has no valves – instead the damping force is generated as displaced oil passes through a separate damping component.
This allows pressure changes within the shock to be controlled more smoothly than normal. And because there are no small amounts of oil being used at high pressures damping response and reaction are improved, and damping force can function smoothly during load input. Moreover, damping weight is generated consistently when switching from tension to compression due to even pressure changes.
In keeping with the overall aim of improved handling, and with the aim of achieving unprecedented levels of riding stability for its class, changes have been made to specifications such as the damping force characteristics for the front and rear suspension. The result is both a smoother ride and a feeling of effective responsiveness, that underpins improvements in basic riding performance. Below, we'll dive more in depth as to how the front and rear suspension work in conjunction with each other to make this current generation CBR1000RR the best handling CBR to ever roll off the production line.
Rear Suspension
The rear suspension continues to use the same Unit Pro-Link suspension system as previous models, which offers excellent road holding capabilities. In addition, the world's first balance-free rear cushion (Balance Free Rear Cushion, made by Showa) has been adopted, and its performance maximized through optimal combination with the unique Unit Pro-Link suspension. As a result, the CBR1000RR sees significantly improved stability in both damping force and shock-absorbing performance, leading to improved traction.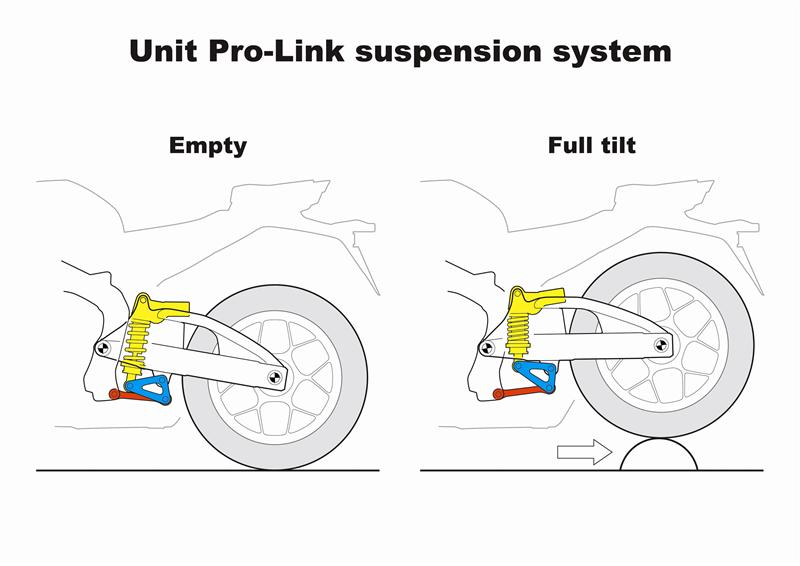 Balance Free Rear Cushion
Compared with the conventional single-tube structure, the Balance Free Rear Cushion adopted for this machine uses a double-tube structure (damper case and cylinder). The valve-less piston slides inside the cylinder, and the oil pushed out passes through a purpose-built separate component to generate damping force.
In place of the conventional single-tube shock configuration, the Balance-Free Rear Shock design incorporates a double-tube design featuring a damper case plus an internal cylinder. The damper piston does not feature any valves; instead, the damping force is generated as displaced oil passes through a separate damping component. In a conventional structure, the compression-side damping force is generated in two places with the main and sub damping valves, but elimination of the sub valve and concentration in one place allows pressure changes within the cushion to be controlled even more smoothly. And because there is no small amount of oil being used at high pressures, damping force response is improved and damping force can function smoothly during load input. Moreover, damping force can be generated smoothly when switching from tension to compression due to smooth pressure changes. In the Balance-Free Rear Shock, this action is handled in one circuit, allowing pressure changes to be controlled more smoothly by a larger body of oil. The net result is more responsive damping and a smoother, better-controlled damping action, particularly during the transition from compression to rebound. As a result, the Balance-Free Rear Shock delivers more consistent damping over the duration of a ride, track session or race, improved shock absorption and greater traction since contact is more consistently maintained between the rear tire and the road or track surface. In addition, the adjusters for compression and rebound damping settings are placed prominently on the top of the shock body for quick and easy access.
With this system, traction and road holding performance is significantly increased. The Showa Balance Free Rear Cushion delivers more consistent damping, plus improved shock absorption and greater traction as more consistent contact is maintained between rear tire and tarmac. To allow easy and fast adjustment of compression and rebound damping the adjusters are placed on top of the shock body, offset to the left.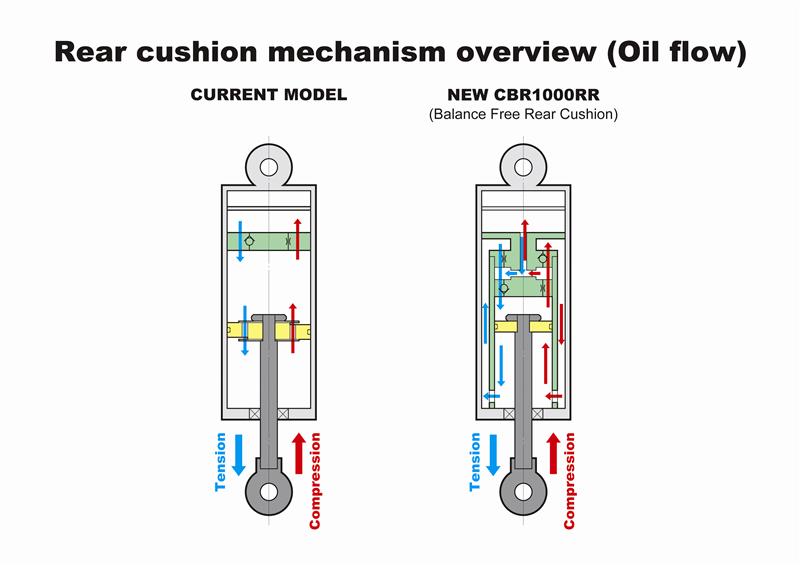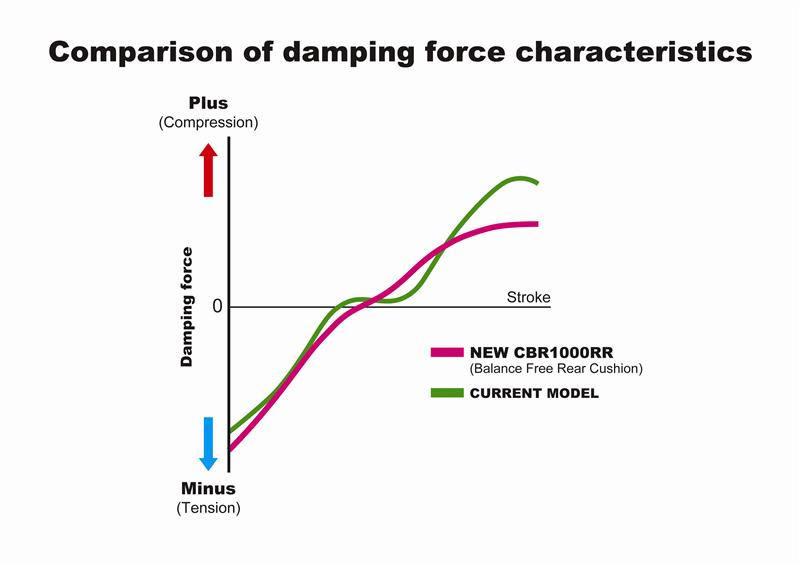 The advanced balance-free rear cushion's control adjuster concentrating damping force, was artfully placed within the Unit Pro-Link swing arm. The adjuster was placed in the opening area consisting of the seat frame, the pillion step and the swing arm, with a concentrated placement of two adjusters on the tension and compression sides, so that adjustment in line with the rider's preference is even easier.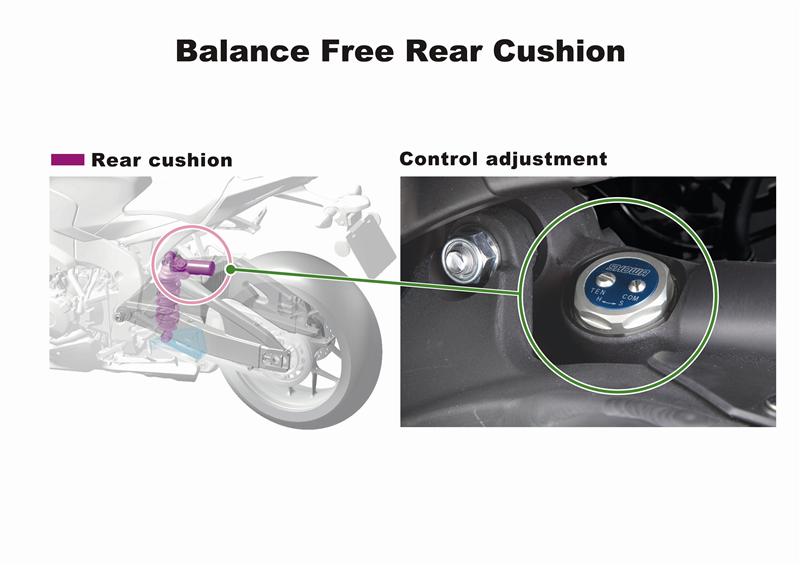 Front Suspension
For the front suspension, the CBR1000RR features a telescopic inverted fork with an inner tube diameter of 43 mm, and a big piston front fork (Big Piston Front Fork, made by Showa) is newly adopted. The pressure-receiving area is larger than in the previous specifications, and to generate damping force at low internal pressures, transient characteristics are improved by damping force through such means as smooth operation and reduction of play at the start of the stroke. Combining this with the new rear cushion allows for even greater excellence in handling characteristics and stability during braking.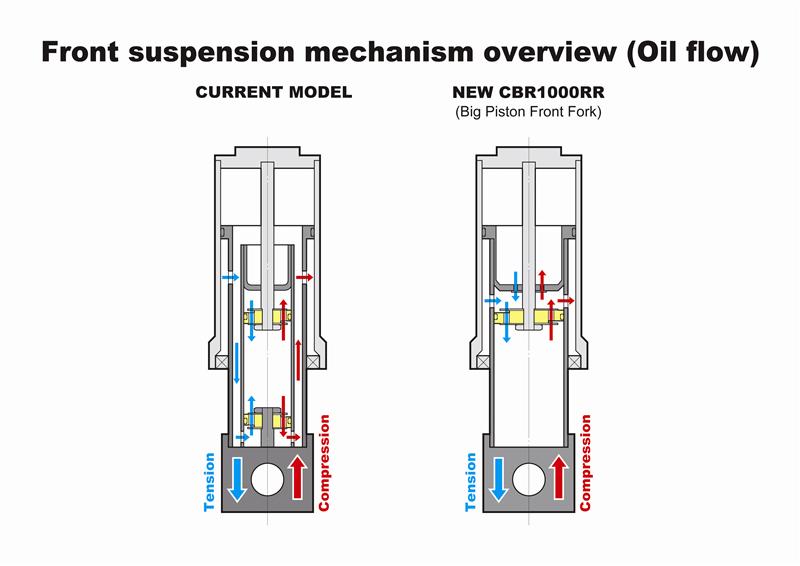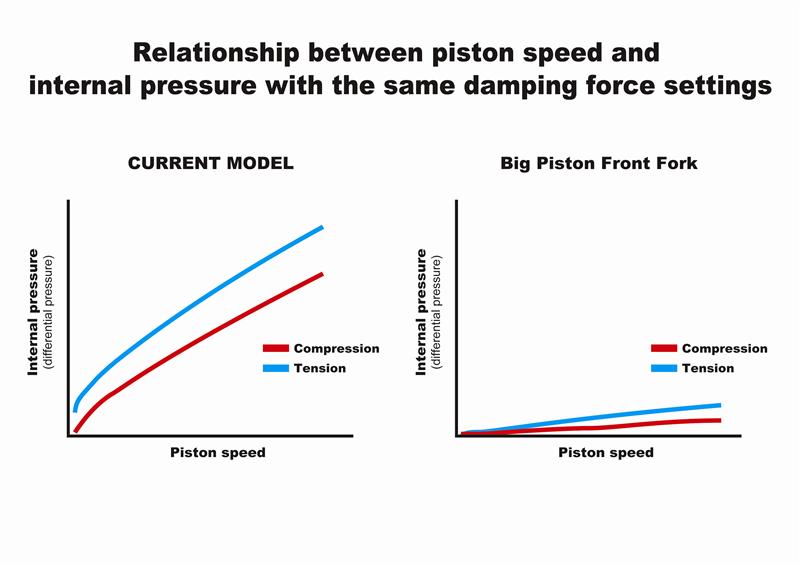 Wheels
Working hand in hand with the sophisticated Showa suspension, rigid 12-spoke cast aluminum wheels offer superb handling and rider feel; the front 17 in x 3.50 in wears a 120/70ZR17 tire, the rear 17 in x 6 in a 190/50ZR17.
A new design, 12-spoke, lightweight aluminum cast wheel was adopted for both the front and rear. Compared with the conventional model, due to the increased number of spokes, rigidity has been further evened out for load received in all directions from the tire contact points. This change and the changes to the suspension offer improved maneuvering feel.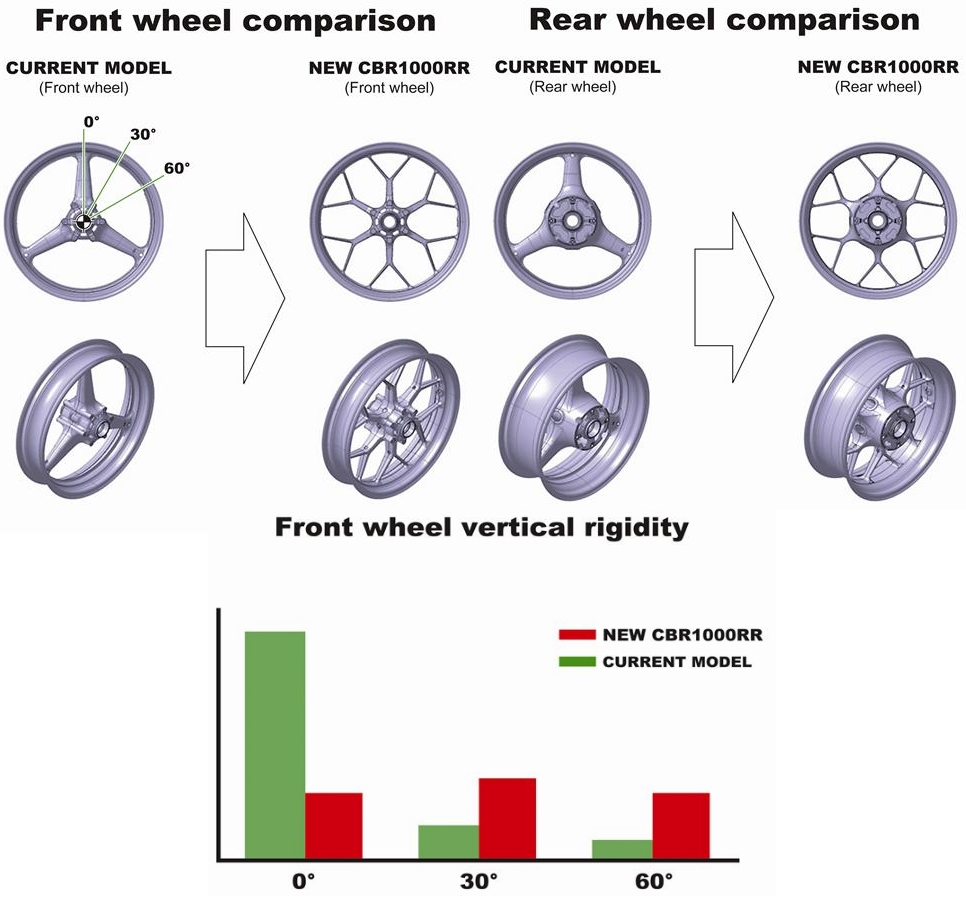 Brakes
The CBR1000RR brake system is set with the standard type and the electronically controlled "Combined ABS". In the front, as before, the machine is equipped with a combination of a 320 mm-diameter double disc and 4-piston opposing calipers. The calipers are radial-mount, lightweight and highly rigid monoblock type, with lightweight aluminum material adopted for the piston. And although the disc diameter is large, setting the number of floating pins to six allows for reduced weight. As a result, along with realizing direct responsiveness, the machine achieves nimble handling. Furthermore, the rear, as in the previous model, features a 220 mm-diameter disc and compact, lightweight single-piston calipers.
Machined from a single piece of aluminum – to save weight and optimize rigidity – the four-piston front brake calipers are radially mounted and work 320mm floating discs. The rear single-piston caliper and 220mm disc add subtle levels of control.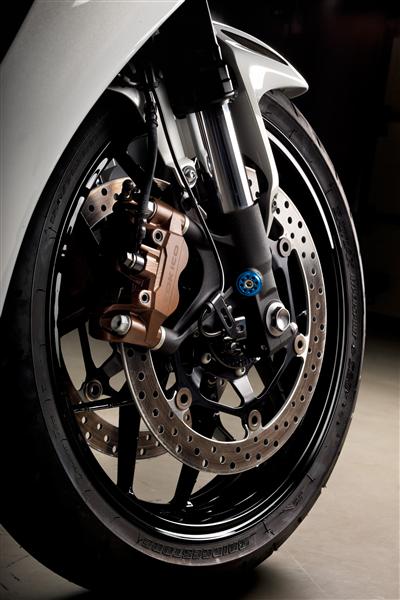 Electronic Combined ABS
Honda's high-performance electronically-controlled Combined Anti-lock Brake System (electronic Combined ABS) is an option on the CBR1000RR. The CBR1000RR was the world's first super sport bike with electronically controlled "Combined ABS" developed by Honda in 2008 and loaded on the 2009 model, garnering rave reviews from super sports bike-loving riders all over the world.
Electronic Combined ABS has a high level of precision and adjustability, due to the fact that it is a 'brake-by-wire' system. A dedicated ECU converts hydraulic pressure from the front and rear brake into an electronic signal passed to power units which in turn generate hydraulic pressure at the calipers.
The system's electronic control has numerous benefits. Firstly, it eliminates the "pulsating" effect on the brake lever associated with conventional motorcycle ABS technology. It also allows the system to be activated instantly as soon as tire slip is detected, minimizing loss of grip and eliminating the possibility of locking a wheel. It also means there is absolutely precise control of the speed at which the brake calipers are activated. The result is extremely stable and neutral bike behavior, giving the rider maximum feel and confidence, even under hard braking,
The combined element of the system varies the distribution characteristics of braking force as the front or rear brakes are applied and released. The system is set up so that when the rear brake is applied gently, the front brake is not activated. This allows the rider to use only the rear brake for small adjustments to speed, useful in Super Sports riding such as when settling the bike for corner entry.
By having both the conventional mechanically-controlled combined brake system (CBS) and the combined electronically controlled anti-lock brake system (ABS), this advanced braking system allows for even finer control of braking force distribution to the front and rear wheels during braking, and offers the rider an even higher level of controllability, without sacrificing the superior performance possible only with a super sports model.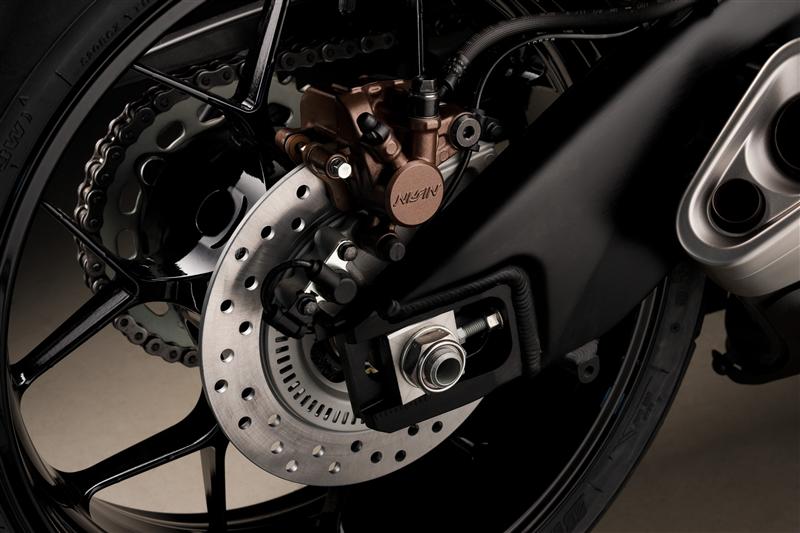 Improved Pedal Controllability
Modified front braking force distribution characteristics when applying rear brake to a setting more appropriate or sports riding.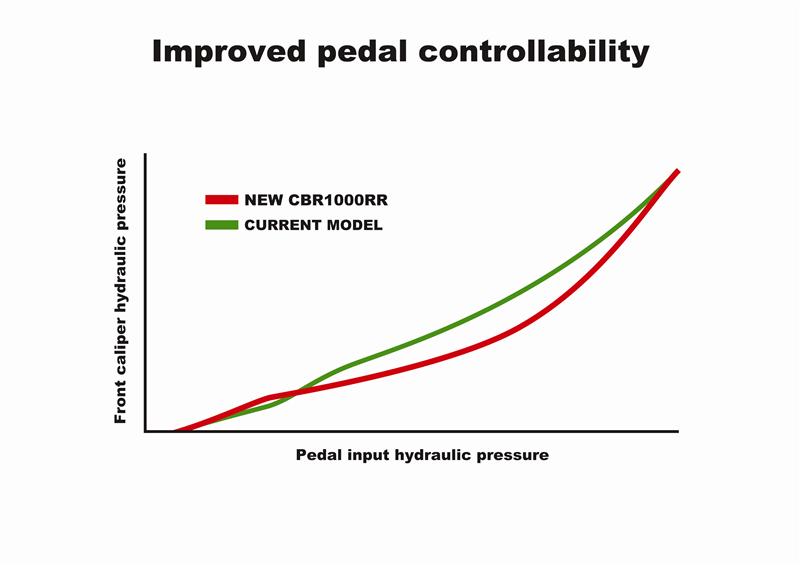 Honda Electronic Steering Damper (HESD)
Like its predecessor, the 2016 CBR1000RR is equipped with the Honda Electronic Steering Damper (HESD), a compact and lightweight, electronically-controlled hydraulic steering damper. With sensors detecting vehicle speed and throttle opening angle, calculations being performed in the ECU to control damping force characteristics of the damper, the HESD allows nimble handling during low speed riding, while at high speeds, it suppresses disturbance from the road surface and keeps shimmy in check, to offer strong and stable handling.
For well-balanced steering the second-generation Honda Electronic Steering Damper (HESD) monitors speed and tailors damping force accordingly. It enhances stability at high speed by minimizing the effect of sudden steering angle changes, while also leaving the steering untouched – and light – at low speed.
Steering dampers are not new to the motorcycling scene. For decades, riders have resorted to using steering dampers, most often for extreme-use high-speed racing conditions in off-road competition as well as road racing. Regardless of the application, steering dampers help reduce excessive steering movement by incorporating a damper connecting a motorcycle's fork and frame. Some units use simple friction dampers, while others are of hydro-mechanical design.
In the past, Honda avoided installing these devices on motorcycles because all existing designs included inherent drawbacks that compromised the benefits. Typically, when a steering damper was set for high-speed performance, the motorcycle's handling would be adversely affected at moderate and lower speeds–not a good trade-off for general-purpose riding. If a compromise setting was selected to mollify a steering damper's negative effects on low-speed handling, the high-speed benefits were similarly reduced–again, not much net gain. So when Honda's engineers decided a maximum-performance machine such as the CBR1000RR would benefit from the positive aspects of a steering damper, they simply decided to reinvent the device to reap the full rewards while eliminating the historic drawbacks.
Unlike past designs, the new Honda Electronic Steering Damper (HESD) has no fixed damping characteristics. Instead, damping action is controlled by the CBR1000RR's Electronic Control Unit (ECU), which automatically varies damping force according to vehicle speed and acceleration over a wide range of riding conditions. Jointly developed in cooperation with Kayaba, the HESD mounts atop the steering head and a linkage arm connects the HESD to the triple clamp. Within the damper unit, a large chamber filled with oil is divided into two sections by a moving vane connected to the linkage arm. In response to steering movements transmitted by the linkage arm, the vane forces oil between the left and right sides of the chamber through various passages, including a main valve controlled by a linear solenoid that receives its control signals from the ECU.
At lower speeds, the damper's main valve opens fully and therefore creates virtually no perceptible damping effect. Result: a light steering feel. As speed and rate of acceleration increase, the linear solenoid constricts oil flow between the two sides of the chamber, resulting in the desired amount of increased steering damping. Four one-way check valves ensure that oil flows through the main valve in only one direction, whether the vane is moved to the right or the left. A relief valve maintains internal pressure below a designated set level, while another small piston compensates for temperature-induced changes in oil volume.
Technical aspects notwithstanding, CBR1000RR pilots will reap the benefits of the new HESD in the form of confidence-inspiring handling, making the riding experience all the more enjoyable. Once again, Honda has harnessed technical sophistication into a seamless package that enhances the pleasure of riding.
3.3 Equipment
A compact car-style 'wave' design ignition key offers security and greatly reduces the chance of breakage.
The CBR1000RR uses multi-function LCD instrumentation with a cockpit display dominated by the digital bar-type linear tachometer that scrolls left to right as engine speed increases. Beneath this are the main numerical readouts: gear position, coolant temperature, speedometer, clock/lap time, trip/fuel efficiency/fuel consumption and odometer/numerical tachometer. At the bottom of the display are lights for headlight high beam, neutral and indicators.
Clear and easy to read in all light conditions, the tachometer has four display modes: Conventional, which uses black LCD segments to show current rpm; Reverse, which employs black LCD segments to show remaining rpm. Peak Hold indicates rpm in the conventional way and also leaves a tell-tale segment showing the peak rpm achieved while Single Segment uses a single block to show current engine speed. In addition the odometer may be switched to display engine rpm numerically.
The lap timer features four modes. The display can also show fuel consumption, average fuel efficiency, distance travelled and total elapsed time. To assist debriefing after a session, lap time recall mode shows the fastest lap time and the lap on which it was set.
To ensure gear shifting at the optimum engine rpm, the 5-level shift indicator display uses highly visible white LEDs, adjustable for brightness. They illuminate sequentially as engine rpm rises, finally blinking at a chosen pre-set rpm (default is 13,000rpm but this can be set between 4,000 RPM and 13,000 RPM). The interval between sequential illumination can also be set at 0, 200 or 400 RPM.
4. 2016 CBR1000RR Accessories
The CBR1000RR can be personalized with a range of Honda Genuine Accessories. And like all Honda Genuine Accessories those for the CBR1000RR fit perfectly because they have been developed along side the model. They are all subject to Honda's rigorous testing procedures to make sure they adhere to our exacting quality standards, which is why they're offered with a warranty.
Energy Seat E-Cushion
Comfort seat with unrivaled performance, utilizing Thermoplastic Elastomer 3D mesh cushion. Provides superior rider comfort and durability vs. traditional foam and gel seats.
Hugger
A painted hugger protects the rear shock absorber from dirt splashes and also adds a high-class, sporty look. The single-piece unit is available in bodywork colors to create a seamless sporting entity.
Carbon-fiber accessories
A range of carbon-fiber accessories give the CBR1000RR the ultimate sports finish and underline the machine's rich racing heritage. The carbon-fiber hugger is based on that used on the Repsol Honda RC213V in MotoGP and features a Honda Racing logo. An optimized number of carbon layers ensure the perfect balance of weight, handling and durability.
Similarly, at the front end, a carbon-fiber mudguard also reflects the CBR1000RR's racing pedigree with a Honda Racing logo, while its soft edges and clear coating exude class.
A set of quality carbon-fiber crankcase covers protect the powerplant with an advanced composite cover on the left and, on the right, also protecting the clutch cover, a guard featuring the Honda Racing logo.
You also have a multitude of carbon fiber tank pad / protectors for the fuel tank to choose from with Honda's logo on them. Most get rid of the factory fender thanks to fender eliminator options for the 2016 CBR1000RR and what better way to dress up the tag a little when you relocate it than with Honda's carbon fiber tag frame.
Seat cowl
To add a more focused sporting look to the CBR1000RR, a rear seat cowl gives a sharp and aggressive finish. It replaces the standard passenger seat pad, yet still offers the same easy access to the underseat storage area. Available in colors for each every model year CBR1000RR and featuring the famous Honda Racing logo, it offers a classic performance image.
High windscreen
A tinted and clear windscreen – 27mm higher than standard – gives added wind protection. It also integrates perfectly and, even with its side stays, does not compromise visibility, drivability or manoeuvrability. To underline the CBR1000RR's racing heritage, a Honda Racing logo is featured on the high screen.
Racing Cover
Provides protection from dust and debris. Aggressive design features the Honda Racing logo over a silhouette of the CBR. Soft-stretch material allows for a custom fit.
17″ Wheel Stripe Sticker (Wheel / Rim Tape)
Thick, 6 mil gloss white reflective vinyl includes a repositionable adhesive. Screen printed with a translucent red UV screen ink. Laminated with a 1 mil gloss polyester.
---
2016 Honda CBR1000RR Walk-Around Videos
– 2016 CBR1000RR SP HRC Video –
– 2016 CBR1000RR SP Repsol Video –
– 2016 CBR1000RR HRC Video –
---
2016 CBR1000RR vs 2016 Fireblade – What's the difference? Nothing. The Fireblade and CBR1000RR are one in the same. Some countries use the Fireblade nameplate whereas some only use CBR1000RR. I've had some ask me this with confusion over the years thinking they are different bikes so I wanted to touch on that point here as well.
---
2016 CBR1000RR Performance Parts / HRC Race Kit
Want to build a faster CBR1000RR? A stock 1000RR not fast enough? These parts are accessible to the average Joe like you and I but you will pay a pretty penny for these parts which is why you won't see them on the average "street bike". They are true "baller" parts in every sense of the word. Why am I showing them here? I've always found the factory race parts from Honda that receive countless hours of R&D pretty cool to look at and check out. Deep down, I wish I could hit the lotto just so I could splurge on the similar HRC kit for my CBR600RR haha even though I don't have the skills to push it close to 100% of its stock power when I'm out on the track. Who doesn't love cool stuff and more horsepower though?
I'll have the PDF catalog uploaded shorty covering more details on 2016 CBR1000RR cams, quick shifter, velocity stacks, fairing stay, rearsets, clutches, head gaskets, steering damper,radiator, rear shock etc as the list goes on and on. These are technically intended for off-road use only but that's the same disclaimer you'll find on a lot of parts whether they be aftermarket performance parts for your CBR1000RR or from HRC (Honda Racing Corporation).
---
6. | 2016 CBR1000RR Overview (Quick Spec Review for those in a hurry)
12-Spoke Wheels
With their consistent rigidity and balance, these sharp-looking 12-spoke cast-aluminum wheels work with the fork and enhance suspension feedback to deliver real handling improvements.
Big Piston Fork (BPF) Front Suspension
The CBR1000RR's front suspension uses a Big Piston Fork (BPF). The 43mm Showa fork is smoother, more responsive and gives you excellent front-end feedback.
Available Combined Anti-Lock Braking System (Electronic C-ABS)
Electronically controlled C-ABS distributes brake force over both wheels, helping to maintain braking confidence in less-than-ideal conditions. The system electronically measures rider input on the brake lever and pedal, and applies only the front or rear brake in some cases or combines both brakes in other situations. (Not available on CBR1000RR SP model.)
Honda Electronic Steering Damper (HESD)
Most steering dampers only sense handlebar-deflection speed. The Honda Electronic Steering Damper (HESD) is way more sophisticated. It also detects vehicle speed, and adjusts damping proportionally. That helps maintain low-speed maneuverability while providing excellent, predictable high-speed handling.
LCD Instruments
The CBR1000RR's full-screen LCD instrumentation includes a lap timer, trip and fuel-consumption computer, five-level customizable shift indicator, gear-position indicator, and peak-rpm memory function.
Layered Fairing
There's no mistaking the 2016 CBR1000RR, thanks to its layered fairing bodywork. Lean, mean, and more aggressive from front to back, it's a real attention getter, even when it's standing still.
Centrally Located Fuel Tank
The CBR1000RR's 4.6-gallon fuel tank is positioned in the center of the chassis and low in the frame. This allows for a more compact design but more importantly, it helps centralize the bike's mass. Increased mass centralization means the CBR is more responsive to rider input, especially when leaning the bike into a turn or standing it up at the exit.
Dual-Stage Fuel Injection
The CBR1000RR features two sets of injectors per cylinder for both low- and high-rpm performance, instantaneous high-rpm response and great low-rpm metering and clean running. Refined EFI settings make the engine even more manageable, with smoother throttle response specifically at smaller throttle openings.
Assisted Slipper Clutch
Superbikes can deliver a great deal of back-torque through the driveline, upsetting handling—not the CBR1000RR. Its Honda-designed assisted slipper clutch is the same type used on our MotoGP bikes. The design does away with the need for heavy clutch springs, ensuring full power transmission with smooth shifting and a light clutch pull at the lever.
Twin-Spar Aluminum Chassis
A four-piece aluminum frame design balances strength, rigidity and lightness. Wrapped tightly around the engine, the structure helps centralize the CBR1000RR's mass for more responsive handling—some of the best anywhere on two wheels.
Unit Pro-Link® Rear Suspension
The CBR1000RR features front and rear suspension. In the back, the Unit Pro-Link® design uses a balance-free rear shock with a double-tube design for a smoother and more accurate response.
Cylinder Head and Exhaust
The 2015 CBR1000RR features changes to the cylinder head, including revised valve seats, machining and intake exhaust port shape. Along with modifications to the intake and exhaust systems, this creates more horsepower and torque.
Gull-Wing Swingarm
The CBR1000RR's braced aluminum "gull-wing" swingarm is deliberately long. That helps deliver improved traction and gives the rider excellent chassis feedback.
Lightweight aluminum sidestand.
Line-beam headlight features two-piece reflector design utilizing two H7 bulbs for optimum light distribution and unique compact design.
LED taillights for lighter weight and improved appearance.
Engine / Drivetrain
Compact, liquid-cooled DOHC 16-valve 999cc four-stroke inline four-cylinder engine features bore and stroke dimensions of 76mm x 55.1mm.
Removable cylinder block with Nikasil-coated cylinders.
Sixteen-valve cylinder head features 30.5mm intake and 24mm exhaust valves with a 12.3:1 compression ratio for efficient combustion and high horsepower.
Titanium intake valves create a lighter valve train and feature double-spring design for optimum performance at high rpm.
Direct shim-under-bucket valve actuation system ensures high-rpm durability and allows 16,000-mile valve maintenance intervals.
Programmed Dual Stage Fuel Injection (PGM-DSFI).
46mm throttle bodies feature Denso injectors with lightweight valving for faster reaction time and 12 holes per injector to optimize mixture atomization, combustion efficiency and power.
Idle Air Control Valve (IACV) minimizes torque reaction and smooths response to small throttle changes through gradual reductions of air and fuel intake when the throttle is opened and closed.
Ignition Interrupt Control system works with IACV and PGM-FI mapping to enhance rideability.
MotoGP-derived twin-tunnel ram-air system allows a high volume of cool air to the 9.7-liter airbox for linear power delivery and incredible engine performance.
Compact, low-mount exhaust system design reduces rear bodywork size and incorporates exhaust valve and catalyst, contributing to significantly improved mass centralization and reducing roll and yaw inertia.
Patented slipper-clutch design uses a center cam-assist mechanism for easier actuation. Unlike an ordinary slipper clutch where the pressure plate moves from side to side, the Honda clutch moves both the center cam assist and the pressure plate to provide additional slipper effect.
Chassis / Suspension
Lightweight four-piece Fine Die-Cast twin-spar aluminum frame utilizes latest MotoGP technology.
MotoGP-derived, next-generation Honda Electronic Steering Damper (HESD).
43mm fork incorporates Showa's latest Big Piston Fork technology with a larger damping volume to effectively reduce the hydraulic pressure generated as the fork legs compress and extend. The result is more precise action during the initial stroke and smoother damping action, for improved handling, enhanced front-end feedback and a more solid feel during hard braking.
Exclusive, MotoGP-derived Unit Pro-Link rear suspension features a new, patented Balance-Free Rear Shock from Showa that incorporates a unique double-tube design featuring a damper case plus an internal cylinder for more responsive damping and a smoother, better-controlled damping action.
Radial-mounted monoblock four-piston front calipers feature chromium-plated aluminum pistons and squeeze lightweight 320mm floating discs in front and a 220mm rear disc with a single-piston caliper for exceptional stopping power.
CBR1000RR ABS features Honda's Electronic Combined ABS. This all-new Electronic Control Module (ECM), hydraulically actuated system provides accurate braking-force distribution to both wheels. ABS is controlled by a hydroelectronic unit and stroke simulator to ensure precise operation. Benefits include consistent lever pressure without the pulsing often associated with ABS systems. Application of rear brake does not result in immediate front brake activation unless lock-up is sensed, allowing an experienced rider to use rear brake in a normal manner during spirited riding. Combined ABS components are smaller and lighter than conventional hydraulic ABS designs, and have been located nearer to the center of the machine, enhancing mass centralization and reducing unsprung weight.
2016 CBR1000RR Specifications
Model name
CBR1000RR
Model type
SC59
Overall length × Overall width × Overall height (m)
2.077×0.685×1.135
Wheelbase (m)
1.407
Ground clearance (m)
0.13
Seat height (in)
32.2
Curb weight (lb)
440.9 lb
Minimum turning radius (m)
3.2
Engine type
Liquid-cooled 4-stroke 16-valve DOHC inline-4
Displacement (cm³)
999.8
Bore × Stroke (mm)
76×55.1
Compression ratio
12.3:1
Horsepower
175.7 HP @ 12,250 RPM
Torque
82.6 lb ft / tq @ 10,500 RPM
Fuel consumption
51 MPG
Fuel supply system
Programmed Dual Sequential Fuel Injection System (PGM-DSFI)
Starter
Electric
Ignition system
Computer-controlled digital transistorised with electronic advance
Fuel tank capacity
4.6 Gallons
Clutch
Wet, multi-plate with diaphragm springs
Transmission
Constant mesh, 6-speed return
Transmission gear ratio
1-speed
2.286
2-speed
1.778
3-speed
1.500
4-speed
1.333
5-speed
1.214
6-speed
1.138
Reduction gear ratio (primary/secondary)
1.717/2.625
Caster angle/Trail (degree/mm)
23°18′/96.3
Tire size
Front
120/70 ZR17M/C
Rear
190/50ZR17M/C
Brakes
Front
320 x 4.5mm dual hydraulic disc with 4-piston calipers and sintered metal pads
Rear
220 x 5mm hydraulic disc with single-piston caliper and sintered metal pads
Suspension
Front
Telescopic inverted fork with an inner tube diameter of 43 mm, and a Big Piston Front Fork with preload, compression and rebound adjustment, 120mm stroke
Rear
Unit Pro-Link with gas-charged HMAS damper featuring 10-step preload and stepless compression and rebound damping adjustment, 138.2mm stroke. Rear Balance Free Rear Cushion with preload, compression and rebound adjustment, 62mm stroke.
Frame
Diamond; aluminium composite twin-spar