We couldn't ask for more of B-E-A-UTIFUL day to get out and have some fun today on our Groms!
(Below: Honda Grom Stunt Video Clip / Circle Burnout & Wheelie)
There's nothing more fun than getting a group of friends together and heading out for a Sunday ride on 2 wheels… It's funny how all of us have "big bikes" too yet we would rather get out on our Groms haha. It's a testament to just how fun the Grom is! It brings out your inner child inside and also your inner hooligan haha.
We're lucky to have some beautiful mountain roads locally as well as plenty of roads to just get lost on and discover here in the Chattanooga, TN area. One awesome part about the Grom too is that you can turn even a parking lot into a way to have some fun. The simplest parking lot turns into your own little racetrack or stunt track real quick.
Only a couple Groms were hurt in the making of today's ride but nothing major so the ride continued thanks to some first-aid kits.
(Below: Honda Grom Stoppie 180 & Wheelie Video Clip)
We did have one exhaust lost on one of our highway "races" haha. Sadly, a one week old Competition Werkes exhaust broke right at one of the welds and sit the exhaust flying at about 65mph. Thankfully, it didn't turn out as bad as it could have and nobody was hurt. So far we've seen a few different exhausts breaking on the Grom : M4 exhaust, Two Brothers exhaust, Competition Werkes.
Thanks again to everybody that made it out for some fun today.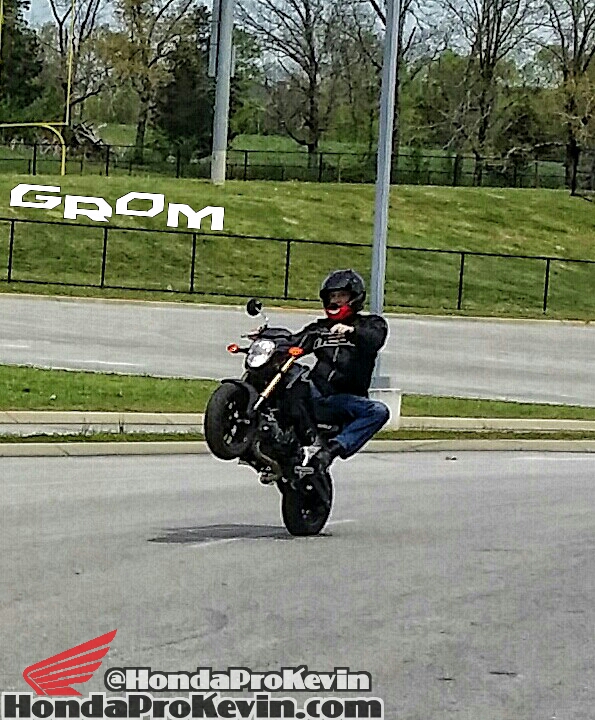 Do you live in the Chattanooga, Cleveland, Ooltewah, TN, North GA & AL area and are looking for some other Grom riders? If so, join our Facebook Group at Facebook.com/groups/HondaGromRidersChattanoogaTN and stay up-to-date with all of our Grom group rides etc.
Looking to possibly buy a Honda Grom? Want to see pictures of all of the colors available for 2015 on the Grom (Pearl White, Yellow, Red, Black) ? Grom Walk-Around videos? Grom prices? Click here —> Honda Grom Specs / Pictures / Videos / Prices.
You can also email me at Kevin@HondaofChattanoogaTN.com for more Grom 125 information. Stop by Honda of Chattanooga in TN at 4915 Hwy 58 and check out the Hottest selling Honda motorcycle for 2014 & 2015.