My garage is far from being special or anything along those lines but I get asked often, "Do you ride?" etc. So, I figured I would throw up some pictures of my babies.
Not only do I have the pleasure of selling Honda's daily but I also am blessed to have a couple of toys of my own. Of course, they are Honda's haha. Long before I started working for Honda, I was a huge Honda fan. Some people may think that's the only reason why you'll ride X brand is because your work there but that's far from the case with me.
Aside from those pictured here, in the driveway and garage we have : Honda CRF50F, Honda CRF110F, Honda Accord, Acura RSX Type S, Honda CRV. Then you have the Honda's pictured that include a Honda Grom, CBR600RR, S2000. To say I love Hondas would be an understatement haha.
Honda Grom
Honda CBR600RR
Honda Z50R
Honda CRF50F (sons)
Honda CRF110F
Honda S2000
Honda Accord (daily driver)
Acura RSX Type S  (daily driver)
Honda CR-V (wife's)
Check back for updates on my builds.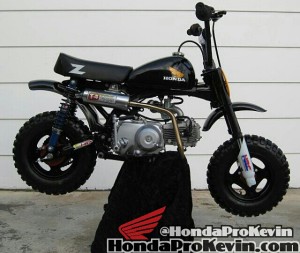 ---