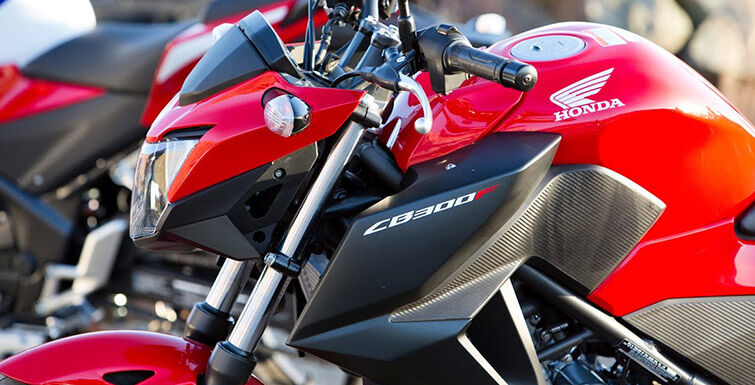 – 2015 CB300F – Naked Sport Bike / StreetFighter Motorcycle Review –
This lightweight and nimble-handling naked bike offers plenty of fun for beginners and experienced motorcyclists. Featuring a 300-class engine, the new CB300F carries a dash of attitude and independence along with its versatile creds. Whether you're commuting, zipping around town or headed out for a weekend ride, its roomy ergonomics, great handling and broad powerband make every ride a blast. Thanks to its affordable price tag, adding on a few Honda Genuine Accessories is easy—a simple way to give it that extra bit of flair and make it uniquely your own.
Thanks to it's single–cylinder engine configuration, the CB300F is super narrow. Combine that with its low 30.7–inch seat height and light 348–pound curb weight, and you have the recipe for a bike that offers excellent maneuverability in the city. Plus, putting your feet down in parking lots or at stoplights is a lot easier.
Hondas are famous for their engines, and we've given the CB300F a great one. First, the facts: it's a single–cylinder with fuel injection, double–overhead cams and a counterbalancer. But here's the genius part: Because it's a single, it offers the kind of torque and midrange power that's well suited for all levels of riders.
The CB300F rocks when it comes time to fill up. With a fuel economy estimate of 78 MPG, you're more likely to be laughing at high gas prices. The CB300F can carry a passenger and is freeway legal. Get all the versatility you need.
– 2015 CB300F Horsepower: 30.5 @ 8,500 RPM (22.7 kW)
– 2015 CB300F Torque: 19.9 lb ft @ 7,250 RPM (27 Nm)
– 2015 CB300F MPG: 78 miles per gallon (30.2 km / l)
– 2015 CB300F Price / MSRP: $3,999
CB300F Engine
The CB300F's DOHC 4-valve engine retains its 76mm bore, but stroke is increased 8mm to 63mm to give the larger 286cc capacity. Compression ratio remains 10.7:1 and peak power of 30.5 HP / 22.7kW arrives at 8,500rpm with peak torque of 19.9 lb ft / 27Nm at 7,250 rpm – a healthy increase over the CBR250R's output (26 HP / 19.4kW @ 8,500rpm and 17.5 lb ft torque / 23.8Nm @ 7,000rpm).
Countering extra vibration from the longer stroke, the balancer shaft is heavier and the engine's frame mounts are stronger. The PGM-FI fuel injection – with 38 mm throttle bore – has been remapped with a focus on crisp throttle response across the rev range. A new CBR500R-inspired muffler design with larger internal volume adds big-bike style and a pleasing exhaust note.
The CB300F's single-cylinder engine offers many benefits for any rider. Because the number of moving parts is kept to an absolute minimum, the engine is more fuel efficient, and small details like the low-friction piston rings and iridium spark plug help reduce running costs.
Acceleration is greatly improved thanks to the larger capacity,and the six-speed gearbox's final drive ratio has been lengthened for more efficient highway speed cruising when compared to the older discontinued CBR250R. The 2016 CB300F MPG rating comes in at 78 MPG (30.2km/l), it can cover over 230 miles on one fill-up of the 3.4 gallon fuel tank.
The mechanical simplicity of the engine reduces servicing costs – another essential element in creating a problem-free ownership experience. It compact size also helps create a bike that is lighter and more manageable than a multi-cylinder, and allows it be positioned perfectly within the chassis for an ideal front/rear weight distribution.
CB300F Chassis & Frame
A steel diamond twin-spar frame provides the backbone of the CB300F's chassis and features a rigidity balance carefully tuned for both a sporty dynamic in corners and stability at speed. Rake is set at 25°05′with trail of 98mm and wheelbase of 1,380mm / 54.3 inches; curb weight is a class-leading 348 pounds.
37mm telescopic forks and Pro-Link rear monoshock provide well-damped, reactive suspension that transmits plenty of feel to the rider. Cast aluminum wheels – rim sizes front 17 x 2.75 in and rear 17 x 4 in – wear 110/70-17 and 140/70-17 tires to provide a good combination of grip and agility.
Overview of Key Features
Disc Brakes
The CB300F features front and rear hydraulic discs for excellent stopping power and brake feel. The single front 296mm and 220mm rear hydraulic discs helps keep things simple and lowers unsprung weight, too.
Clean, Open Design
Less is more with a CB300F. The minimal bodywork gives this machine a clean, open naked styled sport bike look that's not only cool but that helps make it even lighter.
Multifunction Digital Instrumentation
The CB300F's digital gauges with analog tachometer provide vital riding information in a styled, hi-tech instrumentation package featuring digital speedometer, fuel gauge, coolant temp, tripmeter/odometer and clock.
Fuel Injection
Fuel injection means the CB300F starts right up, even in cold weather. Compared to a carbureted bike, it also helps reduce emissions and enhance performance and fuel efficiency. PGM-FI fuel injection produces crisp throttle response throughout the rev range.
Counterbalance Shaft
Because it features a counterbalancer, the CB300F engine is a smooth runner. You get the narrow overall width and power advantages of a single along with the smoothness of a multi-cylinder bike.
Single-Cylinder Engine
A single is the perfect choice for a bike like the CB300F. It's light, simple, provides excellent fuel efficiency and features a broad powerband with plenty of low-revving torque—just what you want in your first motorcycle. Engine displaces 286cc for responsive power throughout the rev range. Derived from the CBR250R engine, a new crankshaft and connecting rod create a longer engine stroke (up to 63mm from 55mm) to add 37cc of displacement.
Narrow Seat & Low Seat Height
A low 30.7-inch seat height does more than help make sure the CB300F fits a wide range of riders. It makes it easier to put your feet down at stoplights and in parking lots—a big confidence builder. Plus, we'll offer a Honda Genuine Accessory seat that'll lower seat height even further!
Pro-Link® Rear Suspension
The CB300F uses a single-shock preload- adjustable rear suspension that not only gives you a smooth ride, but helps enhance handling as well, just as on some of our larger sport models.
Under-seat Storage
Removing the rear passenger seat provides a lockable area to throw a map, gloves, or a spare set of sunglasses.
Passenger Ready
A separate passenger seat, integrated grab rail, and standard passenger footpegs mean you can take a friend along when you go riding–another example of the CB300F's versatility.
Stylish CBR500R-inspired exhaust system features larger internal volume for increased performance, enhanced appearance and a throaty exhaust note.
Specially configured seat and side covers provide an easy reach to the ground.
Affordable pricing: $3999.
Transferable one-year, unlimited-mileage limited warranty; extended coverage available with a Honda Protection Plan.
2015 CB300F Honda Genuine Accessories
Honda Racing Seat Bag, Carbon Fiber Tank Pad, Carbon Fiber Fuel Lid Cover, Drive Chain Case (Carbon-Style), Under Engine Cowl (Carbon-Style), Front Fender (Carbon-Style), Under Cowl (Carbon-Style), Front Headlight Cover (Carbon-Style), Tank Shroud (Carbon-Style), Chrome Bar Ends, Seat Cowl (Color-matched), Honda Racing Red Reflective Wheel Stripe Stickers
2015 CB300F Honda Signature Accessories
Available Accessory Seat is more than 1 inch lower than standard seat for easier reach to the ground.
---