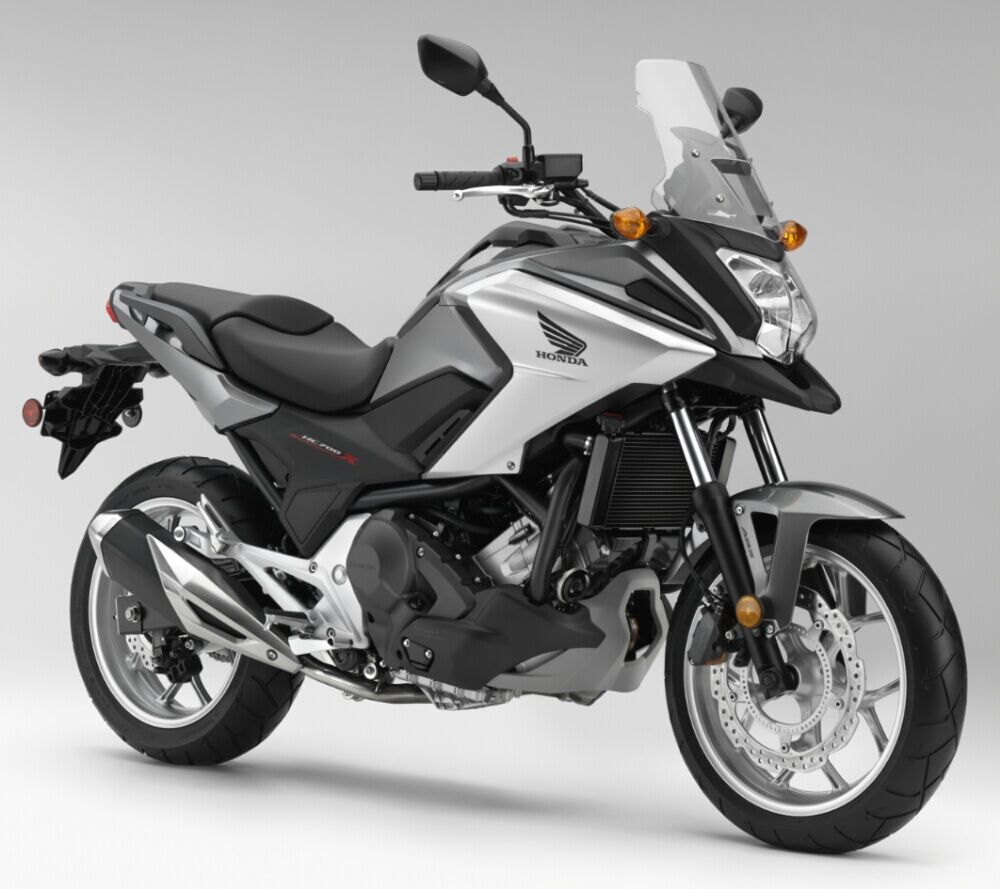 – 2016 NC700X DCT Review – Automatic Adventure Motorcycle / Bike –
2016 Honda NC700X DCT Changes / Upgrades: A larger windscreen for better weather protection; new, tougher-looking bodywork; a new front-brake caliper; and a new pentagonal muffler for a sharper look and a sound you're bound to love. The new luggage compartment holds even more, a full 22 liters, and comes with a new "utility rail" and a storage hook inside the lid. Available in two versions—the conventional six-speed, manual-clutch transmission remains one choice, while a second version is available with an updated version of Honda's exclusive automatic Dual-Clutch Transmission (DCT). Even the tires are easier to service, thanks to new "L"-shaped valve stems.
Contents:
1. Model Overview
2. Key Features
3. Model Details
4. Technical Specifications
1. Model Overview
2016 NC700X DCT Horsepower: 51 HP
2016 NC700X DCT Torque: 45 lb/ft TQ
2016 NC700X DCT MPG: 61 Miles Per Gallon (Manual 64 MPG)
The NC700X crossover offers the long-travel suspension, agility and commanding riding position of an off-road bike in an overall package with high standards of stability, braking and engine performance. It promises a fun, engaging riding experience together with the practicality and ease of use that make it a machine eminently suitable for daily commuting.
At the heart of the NC700X is a purpose-built engine and transmission package. The liquid-cooled, in-line 2-cylinder 670cc engine is a lightweight and compact unit with a low centre of gravity. It offers a very usable power delivery with strong levels of torque at low to medium rpm combined with low exhaust gas emissions and outstanding fuel economy (78.8mpg WMTC mode. Tested in D-Mode). On the NC700X there is the option to enjoy this new engine with the second generation of Honda's innovative Dual Clutch Transmission, offering both manual gear shifting and fully automatic functionality – a suitably advanced and versatile core for an innovative new motorcycle.
The NC700X has been designed with a secure internal storage space large enough to accommodate a full-face helmet, located where you would typically find the fuel tanks. It is also offered with Honda's Combined Anti-Lock Braking System (C-ABS) as an option that comes standard when you get the DCT model. It offers the practicality of a commuter with easy handling in a crossover styling.
2. Key features
2.1 Innovative two-cylinder engine
Developed to provide responsive power and strong torque in a compact package, the new 670cc inline two-cylinder engine also meets the demands of today's environmental concerns by being highly fuel-efficient for a tank range of nearly 240 miles.
Optional Dual Clutch Transmission
The NC700X is available with either a conventional manual 6-speed transmission or the second generation of Honda's Dual Clutch Transmission. The system uses two hydraulic controlled clutches to deliver swift and very smooth gear changes in a choice of three modes. Manual (MT) allows the rider to shift gears using buttons, while automatic mode (AT) offers two settings: S for sporty riding and D for everyday use.
Other NC700X features:
– All-new liquid-cooled eight-valve 670cc parallel-twin engine pumps out plenty of torque in the low-end and midrange for easily accessible power.
– The impressively broad torque curve gives the NC700X an extraordinarily linear and smooth power delivery.
– Purpose-built engine architecture with a relatively long engine stroke (80mm combined with a 73mm bore diameter) and a high-inertia crankshaft add to the NC700X's extremely tractable power characteristics.
– The 62-degree forward lean given to the cylinder assembly facilitates near-vertical mounting of the single 36mm throttle body for superior intake port positioning and shaping. In addition, special shaping to the combustion chambers further enhances engine combustion efficiency for clean burning and optimal power production.
– Engine balancer shaft quells vibration for smooth, comfortable operation.
– Programmed Fuel Injection (PGM-FI) continuously monitors numerous variables to ensure the correct fuel mixture for existing riding and atmospheric conditions, thereby delivering optimal performance and remarkably crisp throttle response over a wide range of operating conditions.
– NC700X features manual six-speed transmission.
– NC700XD DCT/ABS features a second-generation automatic six-speed Honda Dual Clutch Transmission that uses two hydraulically controlled clutches to deliver quick and smooth gear changes in a choice of three modes: Manual (MT), which allows the rider to shift gears using buttons, and two automatic (AT) modes—S for sport riding and D for everyday use.
– DCT model also features Honda Combined ABS to provide full antilock functionality for powerful and secure braking action.
– Fuel tank located under the seat contributes to mass centralization and a low center of gravity, making the NC700X feel remarkably light.
– Large 22-liter secure internal storage area (positioned where the fuel tank typically rests in other models) accepts a helmet or other gear for added versatility.
– Fuel capacity of 3.7 gallons gives the NC700X a cruising range of nearly 240 miles.
– A rigid and compact diamond-shape steel frame, low center of gravity plus long-travel suspension help make the NC700X delightfully responsive and agile.
– Brawny 41mm front fork provides a full 5.4 inches of travel, while the Pro-Link® rear suspension system delivers an impressive 5.9 inches of wheel travel.
– Open, roomy ergonomics position the rider in a well-balanced seating position for all-day comfort.
– Modern adventure-bike styling gives the NC700X the look of an urban assault commuter as well as a country road explorer.
– Windscreen and bodywork route wind around the rider, adding to comfort and reducing fatigue.
– A large array of available accessories allows owners to add just the right combination of capabilities to suit individual preferences and expand their adventure.
– Combined Antilock Braking System (C-ABS) is available on the DCT model.
3. Model details
3.1 Engine
Designed for purpose
Early in the development of the NC700X, new research yielded some key data regarding the typical engine use of a rider commuting on a mid-capacity machine. It was determined that 90% of riding involved speeds of 87 MPH or less and engine speeds of 6000 RPM or less. The NC700X demanded a new engine ideally suited to this kind of usage, with strong torque characteristics across the rpm range typically used providing ease of use, thanks to its flexibility and outstanding fuel efficiency.
All-new twin-cylinder engine
The liquid-cooled SOHC 670cctwin-cylinder engine has been designed to meet the challenges of the 21st century. It is smooth, clean, fuel efficient and compact, but it is also fun to use, with a strong low-rpm power delivery thanks to its relatively long-stroke SOHC architecture and specially shaped combustion chambers. Further enhancing this satisfying feeling of effortless torque is the crankshaft, which has been designed with high levels of inertial mass.
The NC700X is produced with two different specifications of engine. One produces a peak power output of 51 HP (38.1kW) at 6,250 RPM and 45 lb/ft TQ (62Nm) at 4,750 RPM; the other, specifically offered with the 2013 A2 European licensing regulations in mind, produces 46 HP (35.0kW) at 6,250 RPM and 44 lb/ft TQ (60Nm) at 4,750 RPM.
Practical, efficient and reliable
The in-line two-cylinder configuration is both practical and efficient in terms of space layout, freeing up space within the body of the motorcycle. By reducing the number of parts to a minimum the engine is lighter, more efficient and more reliable. For example there is just one throttle body and one exhaust, despite the two cylinders. Where possible, components are made to do more than one job too. The camshaft also drives the water pump for the cooling system, while the balancer shaft, which ensures smooth, comfortable running, also drives the oil pump.
To further reduce fuel consumption, the engine was developed using stoichiometric analysis. By analysing combustion in this way, the engine has been developed to deliver exactly the fuel/air ratio required for a complete, clean burn at all idle engine rpm. An efficiency target of 64MPG was accomplished thanks to these technology developments. Such low fuel consumption target is attractive given the sense of responsibility we all feel towards our environment. It also makes the NC700X more practical on a day-to-day basis, since a fuel-efficient vehicle is cheaper to run and requires fewer fuel stops over a given week of commuter travel.
Clean exhaust emissions
Thanks to the same stoichiometric analysis, used to reduce fuel consumption, the engine also burns extremely cleanly, minimising the emission of harmful exhaust gases. The PGM-FI fuel injection system supplies the optimum amount of fuel and is fully EURO-3 compliant thanks to an oxygen sensor in the exhaust. Finally the high-absorption catalyser has been located close to the engine. As a result the catalyst reaches operating temperature more quickly after a cold start, reducing harmful emissions over a typical journey.
3.2 Versatility and practicality
True versatility
The NC700X redefines the multi-role motorcycle by uniting a strong, fuel-efficient engine with a comfortable riding position and a versatile chassis. Ideally suited to commuting during the working week, the bike also inspires an adventurous spirit at the weekend. A long tour, a leisurely ride into the countryside or a trip into the city with a passenger to meet friends – the NC700X is ready for anything.
Practicality and convenience 
The NC700X features an internal storage space large enough to hold a full-face helmet, a waterproof suit or a bag. Together with the fuel filler cap, this space is accessed using a key to unlock and flip-up the seat. The fuel tank holds 3.7 gallons – enough for an impressive range of nearly 240 miles between fill-ups. Since this range is due to engine efficiency, not a large fuel tank, it comes without the penalty of additional weight or bulk, and also ensures low running costs.
The NC700X features a protective windscreen to provide comfortable running even at highway speeds.
Commanding riding position
The NC700X has a relaxed and comfortable upright riding position with a higher viewpoint for enhanced hazard perception. Another advantage of this off-road inspired riding position is great low-speed control. Combined with the machine's low centre of gravity and generous steering lock, the result is exceptional low-speed handling and agility. In busy traffic and on twisting roads the NC700X is a confidence-inspiring ally. Thanks to its carefully shaped fairing the machine is equally comfortable when cruising at speed. The windscreen and bodywork divert wind around the rider, minimizing fatigue.
Advanced multi-function instrument display
The NC700X reassures the rider by communicating all the important running information at a glance. The clear and easy-to-read instrument display features a digital speedometer, digital bar-type tachometer, clock, bar-type fuel meter and two trip meters.
3.3 Intuitive Handling
Highly adaptable crossover chassis
Using the same rigid and compact steel diamond frame as the NC700S, the NC700X uses its own unique crossover wheel and suspension package to deliver a supremely adaptable chassis.
A rugged steel diamond frame offers agile, responsive handling. This type of frame is ideal where space within the machine is at a premium, since it takes up very little volume but offers superb riding dynamics.
Suspension travel on the NC700X is set to ensure smooth ride on ever changing surfaces. (153.5mm at the front and 150mm at the rear). Spring and damping rates – optimised for the suspension travel – ensure good control and feedback. The off-road inspired riding position and 35° of steering lock also help with reassuring stability, even loaded with hard luggage.
Reflecting the machine's multi-purpose remit, the NC700X combines lightweight 17" cast aluminum wheels for excellent traction and control on all types of road surfaces. To absorb shocks the wheel spokes have been designed with a Y-shaped cross section, contributing to the ride quality. Tire sizes are 120/70 at the front and a broad 160/60 at the rear.
3.4 Styling concept
The NC700X is a multi-purpose machine designed to excel in a wide range of tough riding conditions. To inspire a sense of adventure, the machine has been designed with a rugged look; at home in a wealth of urban and out-of-city environments. The NC700X makes clear its willingness to take on any ride, however demanding.
3.5 Optional Dual Clutch Transmission
Honda's Dual Clutch transmission takes ease of use to new heights in the NC700X, offering either manual shifts at the push of a button or fully automatic functionality – just twist and go. As the name implies, the system uses two clutches: one for start-up and 1st, 3rd and 5th gears; and another for 2nd, 4th and 6th. By pre-selecting the next gear using the clutch not currently in use, the system hydraulically controls each clutch as required, delivering swift, smooth and seamless gearshifts. This smoothness is particularly beneficial when carrying a passenger.
Three modes of operation are available for outstanding flexibility. MT mode gives full manual control, allowing the rider to shift gears with the handlebar controls. Two fully automatic shift modes are also available. D mode is ideal for city and highway riding. In sporty S mode the transmission lets the engine rev a little higher before shifting up, giving greater performance, and also shifts down sooner when decelerating, offering useful additional engine braking.
In either D or S mode the Dual Clutch Transmission also offers immediate manual intervention if required. The rider simply selects the required gear using the MT mode shift buttons, after which the system will continue to act as an automatic transmission. This is particularly useful when preparing to overtake or when approaching a tight corner on a twisty hill road. To ensure the optimum shifting schedule in D and S modes, extensive testing was conducted on all kinds of European roads.
Hassle-Free Maintenance
Designed to offer convenience and low running costs, the engine and transmission require the bare minimum of maintenance. The optional Dual Clutch Transmission uses heavy duty large-diameter clutches to comfortably deal with the rigours of daily use in stop/start city traffic. After purchase, a first service to check valve clearances is commonplace on commuter motorcycles but the engine requires no such attention. Service intervals are every 8,000 miles, and the engine's highly efficient iridium spark-plugs only require replacement at 32,000 miles. The result is convenient and efficient personal transport with no hassle and low running costs.
3.6 Secure C-ABS braking
Honda is committed to improving motorcycle safety and is proud to offer a Combined Anti lock Braking System (C-ABS) as standard on the NC700X. The system dramatically improves braking performance in an emergency situation. The front and rear braking systems on two-wheeled vehicles are usually independent. This means the rider must use just the right amount of front and rear brake, a skill that comes only with experience. C-ABS links the two systems and works to optimise the pressure acting on each brake. The result is strong and safe deceleration. Additionally, C-ABS has full antilock functionality. Should the system detect either wheel is about to lock up and skid, C-ABS momentarily reduces the hydraulic pressure being applied to the relevant brake, ensuring powerful and secure braking in all conditions.
4. Honda Genuine Accessories
The versatility of the 2016 NC700X can be further enhanced with a range of genuine Honda accessories.
35L top box
45L top box on/off
29L pannier kit
Pannier kit decoration panel
Topbox35L inner bag
Topbox45L inner bag
Pannier inner bag set
High windscreen
Front side cowl panel
Leg deflector kit
Foot deflector kit
LED fog lamp Kit
Accessory pipe
Grip heater kit
12V DC socket kit
Main stand
Alarm
U-lock
5. Technical Specifications
2016 NC700X Specifications
Model:
NC700X / NC700XD with Automatic Dual Clutch Transmission and Combined ABS
Engine Type:
670cc liquid-cooled parallel-twin
Bore and Stroke:
73mm x 80mm
Compression ratio:
10.7:1
Valve Train:
SOHC; four valves per cylinder
Induction:
PGM-FI with 36mm throttle body
Ignition:
Digital transistorized with electronic advance
Transmission:
Six-speed / Automatic six-speed with two modes and a manual mode
Final Drive:
Chain
Suspension
Front: 41mm fork; 5.4 inches travel
Rear: Pro-Link®; 5.9 inches travel
Brakes
Front: Single 320mm disc with two-piston caliper (NC700X) / Single 320mm disc with three-piston caliper; Combined ABS (NC700XD)
Rear: Single 240mm disc with single-piston caliper (NC700X) / Single 240mm disc with single-piston caliper; Combined ABS (NC700XD)
Tires
Front: 120/70ZR17 radial
Rear: 160/60ZR17 radial
Wheelbase:
60.6 inches
Rake (Caster angle):
27.0°
Trail:
110.0mm (4.3 inches)
Seat Height:
32.7 inches
Fuel Capacity:
3.7 gallons
Estimated Fuel Economy**:
64 MPG (NC700X) / 61 MPG (NC700XD)
Curb Weight*:
474 pounds (NC700X) / 505 pounds (NC700XD)
2016 NC700X Specifications
Engine:
Specification, Units:

mm (in)

Cylinder arrangement:

2 cylinders in-line, slant angle 55°

Bore and stroke:

73.0 x 80.0 mm (2.87 x 3.15 in)

Displacement:

670 cm³ (40.9 cu-in)

Cylinder compression at rpm:

1,775 kPa (18.1 kgf/cm², 257 psi) at 470 rpm

Standard:

0.010 – 0.039 (0.0004 – 0.0015)

Service Limit:

0.05 (0.002)

Intake:

0.17 ± 0.02 (0.007 ± 0.001)

Exhaust:

0.28 ± 0.02 (0.011 ± 0.001)

Recommended engine oil/classification/viscosity:

Pro Honda GN4 4-stroke oil/API: SG or higher, JASO T 903 standard: MA/SAE 1

Oil capacity after draining/engine oil filter change:

3.4 liters (3.6 US qt, 3.0 Imp qt)

Oil pressure at oil pressure switch:

470 kPa (4.8 kgf/cm², 68 psi) at oil filter

Final Drive:
Specification
C/S sprocket:

16

Rear sprocket:

43

Drive chain size (x) links:

520 x 114

Drive chain slack:

30 – 40 mm (1.2 – 1.6 in)

Cooling System:
Specification
Recommended antifreeze/concentration:

Pro Honda HP Coolant or an equivalent high quality

Coolant capacity,radiator and engine:

1.69 liters (1.79 US qt, 1.49 Imp qt)

Fuel System:
Specification
Type/throttle bore:

PGM-FI/36 mm (1.4 in)

Carburtetor/throttle body ID #:

GQ3UA

Idle speed (+/- 100 rpm):

1,200 ± 100 rpm

Fuel pressure at idle:

343 kPa (3.5 kgf/cm², 50 psi)

Starter valve vacuum difference:

N/A

Throttle grip/lever free play:

2 – 6 mm (1/16 – 1/4 in)

Suspension:
Specification
Recommended fork fluid:

Pro Honda Suspension Fluid SS-47 (10W)

Fork fluid capacity/and level:

514 ± 2.5 cm³ (17.4 ± 0.08 US oz)/104 mm (4.1 in)

Tires:
Specification
Front  Size:

120/70ZR17M/C (58W)

Cold tire pressure:

250 kPa (2.50 kgf/cm², 36 psi)

Rear  Size:

160/60ZR17M/C (69W)

Cold tire pressure:

290 kPa (2.90 kgf/cm², 42 psi)

Battery/Charging System:
Specification
Charging system type:

Triple phase output alternator

BatteryCapacity/Model:

12 V – 11 Ah/YTZ12S

Fully charged:

13.0 – 13.2 V

Needs charging:

Below 12.4 V

Normal:

1.1 A/5 – 10 h

Quick:

5.5 A/1 h

Regulated voltage at rpm:

Measured BV < Measured CV < 15.5 V @ 5,000 rpm

Alternator charging coil resistance:

0.1 – 0.5 O

Lighting Equipment:
Specification
Hi:

12 V – 60/55 W

Lo:

N/A

Brake/tail light:

12 V – 21/5 W

Front turn signal/running light bulb:

12 V – 21/5 W x 2

Rear turn signal light bulb:

12 V – 21 W x 2

Ignition System:
Specification
Ignition system type:

Computer-controlled digital transistorized with el

Ignition timing (F mark):

12° BTDC at idle

Standard – NGK:

IFR6G-11K

Spark plug gap:

1.0 – 1.1 mm (0.039 – 0.043 in)

Ignition coil peak voltage:

100 V minimum

Ignition pulse generator peak voltage:

0.7 V minimum
---