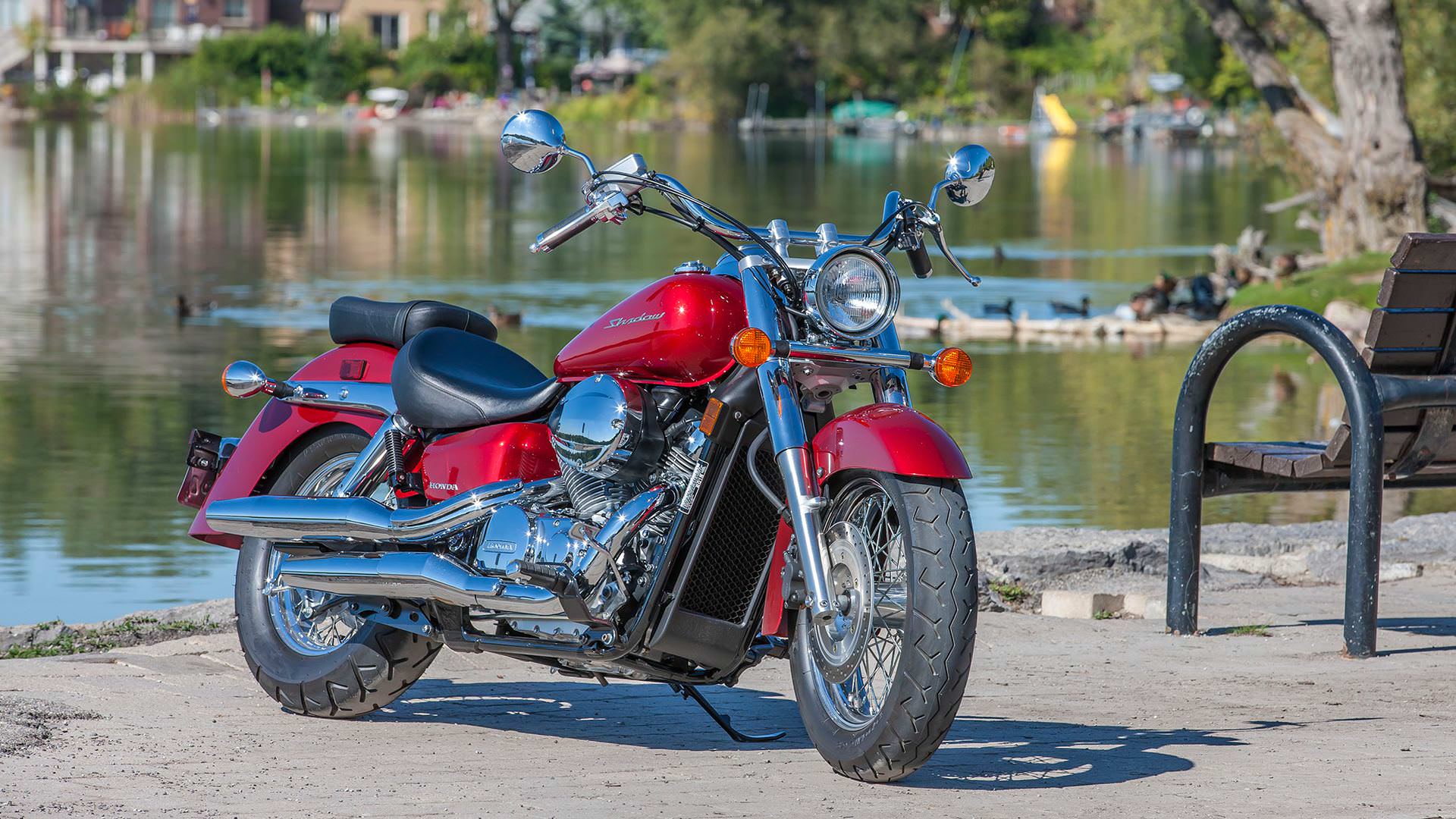 2016 Shadow Aero Cruiser / Motorcycle Review of Specs & Features (VT750C = Aero)
You don't kick back and relax in a suit and tie. When you want to take it easy, you slip into something more comfortable, a little more your style. Same with a motorcycle. And time is the test of style. So when you want to go for a nice, relaxed ride, you want a bike that fits you like your favorite leather jacket or your old blue jeans, and one that looks just as chill too. And that's what the Honda Shadow Aero is all about. Our Shadow line of cruisers are some of the most popular bikes on the road, and one look at the Shadow Aero will tell you why. Features like its spoked wheels, full fenders and long, chromed mufflers are all about taking it easy and looking good while you're doing it. But the Aero rider also gets some thoroughly modern performance courtesy of this bike's 745cc V-twin engine, specially tuned for low-revving torque. Maintenance-reducing features like shaft final drive make the Aero easy to own. And best of all, the Aero is a huge bargain, giving you a big-bike ride without the big-bike price.
---
2016 Honda Shadow Aero Price / MSRP: $7,499
Shadow Aero 750 Horsepower: 40.5 HP @ 5,500 RPM (33.5kW/5,500min)
Shadow Aero 750 Torque: 47.9 lb ft TQ @ 3,500 RPM (65Nm/3,500min)
Shadow Aero 750 MPG: 56 Miles Per Gallon
---
V-Twin Power – There's nothing like a V-twin when it comes to cruising. And the Shadow Aero gets one of our best: a 745cc powerplant that provides plenty of torque and a wide, user-friendly powerband.
The Right Sound – The Aero features a custom two-into-two exhaust system, flowing into bullet-style mufflers. The result is a soul-stirring sound that's classic V-twin cruiser, making the Aero a bike that sounds as good as it looks.
Retro Meets Modern – Cruisers should be about getting out and having fun, not about maintenance headaches. That's why the Aero's shaft final drive makes so much sense. Clean, virtually maintenance-free and efficient, it's the smart choice.
Engine
The power at the heart of the VT750C Shadow Aero is a 750cc liquid-cooled fuel-injected engine. Its delivery is tuned for deep, rumbling pulses of power and torque. Accessibility and dependability are also essential to the VT750C experience, and the fuel injection system has been developed for quick throttle response and maximum fuel economy.
The liquid-cooled 52° V-twin engine powering the Shadow Aero is a time-proven standard of Honda excellence, essentially the same configuration that provides strong, dependable power to all our 750cc V-twin cruisers. Its compact shape allows the frame's central backbone to be lowered, facilitating the cruiser's long-and-low profile. The engine features a long-stroke, single-pin crankshaft configuration and optimal mass to enhance the feel of its low rpm torque peak. Efficient combustion and instant power thrusts are provided by SOHC three-valve cylinder heads with dual spark plugs, while close-ratio transmission delivers strong, exhilarating acceleration from anywhere in the engine's power range. The sensation of strong, direct power delivery to the rear wheel is down to the machine's enclosed shaft final drive. Requiring only minimal maintenance, the shaft drive operates smoothly and quietly while enhancing the feel of the engine's power.
The 2016 Shadow Aero 750 is equipped with a highly developed Honda PGM-FI fuel injection system, featuring an idle air control valve which precisely controls incoming air for smooth idling operation. The system ensures easy starting, instant throttle response and smooth, satisfying thrusts of acceleration. With accurate fuel flow monitoring, efficiency is also optimized, keeping both emissions and fuel consumption low.
The impressive exhaust pipes that accentuate the length of the Aero chassis are more than just a visual accent on its classic retro styling. They also pump out an exhilarating sound that combines with the throbbing feel of the engine to create an exciting ride sensation.
Each exhaust pipe is fitted with an oxygen sensor that feeds data to the fuel injection system's ECU and a HECS3 (Honda Evolutional Catalyser System) low emissions system. This strictly regulates exhaust gases while still maintaining the engine's capable performance and thrilling sound.
Styling
The Shadow 750 oozes timeless American cruiser style from every curve of its classic long-and-low profile and every glint of its gorgeously polished chrome accents. Its elegant bullet-shaped headlight provides a strong point of focus, underlined by impressive chrome wrapped front fork covers, gleaming wire-spoke wheels and fat tires.
The instrument panel is placed on top of the tank. It features a large, easily readable speedometer dial, a compact assembly of practical gauges and indicator lights and an eye-catching silver-painted cover. The seat is easily the lowest in the 750cc cruiser class and creates a deep riding position that allows an easy reach to the grips and a laid-back cruiser feel.
Chassis
The engine's power is contained in a slim, lightweight and rigid double-cradle steel frame that is both responsive and easy to handle. A large-diameter single tube backbone and pressed steel pivot plates combine in a low overall chassis height, allowing for low tank and seat positioning. The seat rails and chopped rear fender are supported by a cast sub-frame. The frame design is an important contributor to the sensational ride quality, transmitting enough primary vibration to maximize enjoyment of the engine's performance without allowing it to become uncomfortable.
The extended 41mm front fork and 17″ front wheel create a remarkably responsive and comfortable package. On the left side, the shaft drive is integrated with the swingarm adding to the clean and simple look. The exposed rear shock absorbers are tilted forward, providing progressive damping and a comfortable ride with precise control. A fat 160mm rear tire emphasizes the sporty custom styling as well as adding to comfort. The powerful brakes perform with smooth efficiency. A large-diameter 296mm front disc with a responsive dual-piston caliper is paired with a conventional 180mm leading/trailing drum brake at the rear.
V-Twin Engine
Nothing pumps out the torque like a big V-twin. The Aero's power makes it perfect for both around-town cruising, commutes and casual weekend-long rides.
Five-Speed Transmission
Wide-ratio five-speed transmission lets you cruise the boulevard at a low, unhurried pace, yet allows you hop on the highway without revving the engine through the roof.
Programmed Fuel Injection (PGM-FI)
Forget about fiddling with a choke—the Shadow's fuel injection system means no-hassle startups on cold mornings or at high altitudes, and optimal performance in any condition.
2-Into-2 Exhaust System
Sleek pipes feature bullet-style mufflers for that classic cruiser style of yesteryear. Large-diameter head pipes and 2-into-2 system design combine to put out true, V-twin cruiser sound.
Front Suspension
Sturdy and responsive 41mm front forks deliver a confident and neutral handling ride.
Rear Suspension
Dual-shock rear suspension features five-position spring preload adjustability for a smooth ride.
Spoked Wheels
Spoked wheels give the Aero a classic look.
Full Front Fender
Wide metal front fender gives the Aero a classic styling touch.
Front-Disc Brake
If there's one place you don't want retro performance, it's your brakes. That's why Honda gave the Shadow Aero a 296mm front disc clamped by a twin-piston caliper with sintered metal pads for distinctly modern stopping power. Rear brake is drum type.
Chrome Highlights
Chrome highlights include cylinder-head cover, air-cleaner cover, engine sidecovers, brake and clutch-lever brackets, rear brake pedal, shift lever, handlebar, rear shock covers and more.
Comfortable Saddle
Broad, low-slung solo seat features a detachable passenger seat.
Low Seat Height
Skimming the pavement at just 25.9 inches, the Aero's low seat height makes flat-footing it at stoplights or in parking lots a breeze. And the Aero's narrow seat/tank junction makes it feel even lower.
Shaft Final Drive
With the Shadow Aero's driveshaft you do not have to worry about the added maintenance of a chain or belt-drive. The shaft final-drive system helps provide a smooth and reliable low-maintenance option compared to other chain and belt-drive motorcycles on the market.
* Combined Anti-Lock Brakes
Optional combined Antilock Brake System provides smooth, powerful braking and adds to the overall feel of confidence and easy control.
Three-Valve Dual-Plug Combustion Chamber
---