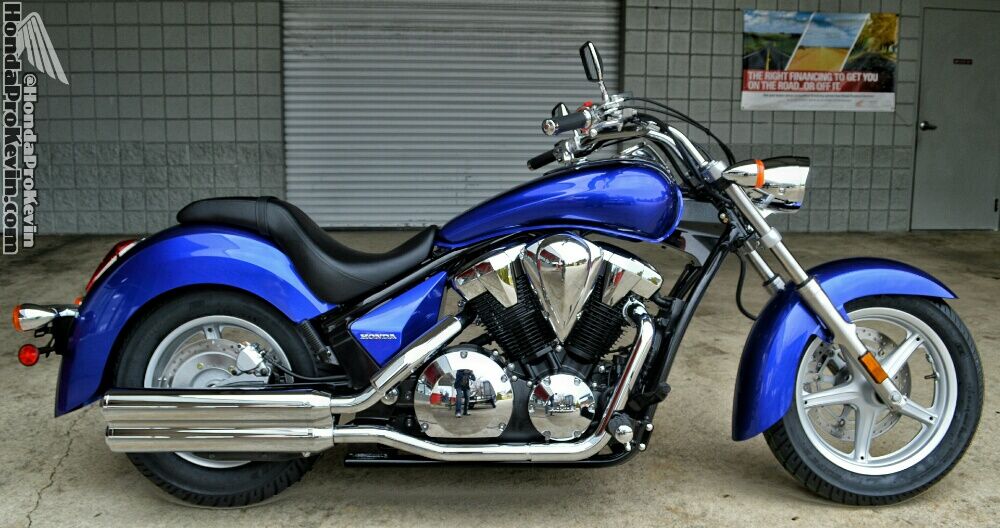 – 2016 Honda 1300 Stateline Cruiser / HP & TQ / MPG + More! –
People ride cruisers for two big reasons: the way they work, and the way they look. Around town and on the road, the relaxed, stretched-out cruiser style is not only comfortable, but it makes sense too. And the way they look—cruisers turn heads everywhere, even when they're parked. That's especially true of the Honda Stateline. With its stretched lines and progressive styling, it really stands out. With its 1312cc V-twin engine, shaft final drive, disc brakes and fuel injection, it's as modern and trouble-free as any Honda out there, and you know how good that feels.
You see a lot of cruisers out there that have too much junk hung all over them. Not the Stateline. Its streamlined good looks really set it apart. And the way it rides? That puts it even further ahead of the pack.
Featuring long, low lines that embody what cruising is all about, the Stateline blends two worlds of motorcycling style: traditional looks plus progressive elements. The deeply valanced fenders arc downward in classic retro style, yet the rolling chassis and overall lines bring a fresh look to the class. A wider seat with more lean-back angle and a long, sweeping, wider handlebar with more upright and relaxed riding stance—the perfect way to capture that traditional cruiser experience. The blacked-out engine treatment is another classy styling touch that helps make the Stateline its own machine. Add to that the deep throaty rumble of a big V-twin engine and that classic big Vee power pulse, and you have a machine that's the perfect choice for cruising—anytime you want.
2016 Honda Stateline Price / MSRP: $9,999
2016 Honda Stateline MPG: 46 Miles Per Gallon
2016 Honda Stateline Horsepower: 67 HP @4,250 RPM
2016 Honda Stateline Torque: 78.9 lb/ft TQ @2,250 RPM
Programmed Fuel Injection (PGM-FI)
Forget about fiddling with a choke—the Stateline's fuel injection system means no-hassle startups on cold mornings or at high altitudes, and optimal performance in any condition.
1312cc V-Twin Engine
Powerful 1312cc, 52-degree V-twin engine with a single-pin crankshaft and dual balancers has plenty of torque, and the feel only a V-twin can deliver.
Shaft Final Drive
The shaft final drive is quiet, clean and has been uniquely integrated into the overall design.
It's All About the Engine.
Fuel-injected and featuring three valves per cylinder, the Stateline's mighty 1312cc 52-degree V-twin is the perfect fusion of traditional layout and modern engineering.
Less Is More.
Everything about the Stateline is tastefully done, with a streamlined spin. Case in point: Check out the tank-mounted speedometer, nestled inside a gorgeous, specially designed chrome housing.
Stopping Power.
The Stateline features a 336mm front and a 296mm rear-disc brake and the option of Honda's Anti-Lock Brake System. That makes for powerful, sure stops. Because you never know what the open road is going to throw at you.
Five-Spoke Cast Wheels
Silver-finish five-spoke wheels never go out of true, are easy to keep clean and just plain look right on a sharp, contemporary cruiser like the Stateline.
Retro-Progressive Styling
Like its Sabre and Fury cousins, the Stateline with its chopped dragster look, beefy V-twin and long, neo-design fenders, is one of the most authentic, radically styled custom motorcycles that Honda has ever produced.
Tank-Mounted Instruments
Part of the Stateline's super-clean look comes from mounting the instruments in a streamlined, modern tank nacelle. It completely opens up the handlebar area, yet still gives you all the information you need.
Low-Slung Saddle
Measuring in at an ultra-low 26.7 inches, the Stateline's wide, one-piece, deep-dish seat not only beefs up the comfort level, but the classic styling as well.
Wide, Low-Profile Tires
Big, fat and bad to the bone, the Stateline's wide, low tires do more than just look good—they are the basis for the Stateline's excellent handling. Exactly what you'd expect from a Honda cruiser.
Full Valanced Fenders
Those long, full-coverage fenders with their deep side valances are purely modern, but pay tribute to some of the classic cruisers of old. That combination of classic and new is what the Stateline is all about.
Front- and Rear-Disc Brakes (Optional ABS)
A single 336mm disc/twin-piston caliper unit up front and 296mm disc/single-piston caliper setup in back ensure the Stateline can reel itself in when needed.
Quick Overview of Features
– Progressive retro styling with a raked-out front end.
– Stylized curved downtubes create a unique custom look.
– Blacked-out engine.
– New-style wheels.
– Specially designed tank-mounted chrome housing features a speedometer, odometer/A&B tripmeter and indicator lights for turn signals, high beam, neutral, oil pressure, coolant temp and clock.
– Wide retro-styled pull-back handlebar offers all-day comfort.
– Deep, long, flowing fenders for a classic look.
– One-piece seat design enhances the classic flowing lines.
– 4.4-gallon fuel tank capacity.
– Slim radiator is mounted unobtrusively to accent the Stateline's clean lines.
– Low-maintenance slim-profile driveshaft provides smooth operation with no need for chain or belt guards and covers.
– Transferable one-year, unlimited-mileage limited warranty; extended coverage available with a Honda Protection Plan.
Engine / Drivetrain
– 1312cc liquid-cooled 52-degree V-twin delivers strong low-end and midrange torque, with ample power for passing and relaxed cruising. Unique dual exhaust offers throaty exhaust note.
– Powerplant features a single-pin crankshaft to accentuate the engine's character.
– Programmed Fuel Injection (PGM-FI) incorporates a single 38mm-diameter throttle body.
– Three-Valve Dual-Plug Combustion Chamber.
– Five-speed transmission for exciting roll-on performance.
Chassis / Suspension
– Single rear shock provides a comfortable ride and 3.9 inches of wheel travel.
– Large-diameter 41mm front fork provides 4.0 inches of plush, responsive travel.
Honda Genuine Accessories
Custom Grips, Boulevard Screen (smoke), 24L Saddlebag (plain/studded), 18L Saddlebag (plain/studded), Saddlebag Bracket (18L/24L), Touring Bag (plain/studded/fringed), Front Pouch (plain/studded/fringed), Tank Belt (plain/studded), Backrest & Pad (low/tall), Rear Carrier Mounting Bracket, Rear Carrier, Passenger Floorboard, Engine Guard, Footpegs, Custom Rider Seat (Scorpion/Flame), Chrome Side Cover, PIAA Driving Light, Braided Lines (Throttle Cable/Clutch Cable/Front Brake Hose/Rear Brake Hose), Digital Audio System, Audio Attach Kit, Master Cylinder Caps (fluted/V design/neo-retro), Billet Dipstick, Fork Nut Covers, Side Cover, Billet License Plate Frame (fluted/V design/neo-retro)
---