* Official 2016 Honda UTV / ATV / Motorcycle Model Announcement & News — Releasing June 11th at 2:01 AM PST * 
---
– Update / Edit –
All New 2016 Pioneer 1000 Just Announced!
---
[mc4wp_form]
---
Honda Pioneer 1000 & 1000-5 Link Index / UPDATED Blog Posts with More Detailed Information
New Pioneer 1000 Drive Review – Click Here for my first impressions after putting some time in driving the All New Pioneer 1000-5 Deluxe: 
Honda Pioneer 1000 & 1000-5 pages detailing Spec Sheets, Features, Horsepower and more:
Honda Pioneer 1000 & 1000-5 Model Pricing and Release Dates:
Honda Pioneer 1000 & 1000-5 Part & Accessory Information:
Misc Honda Pioneer 1000 & 1000-5 Information:
---
2016 Honda Pioneer 1000 Review / Specs / Videos / Pictures – Click Here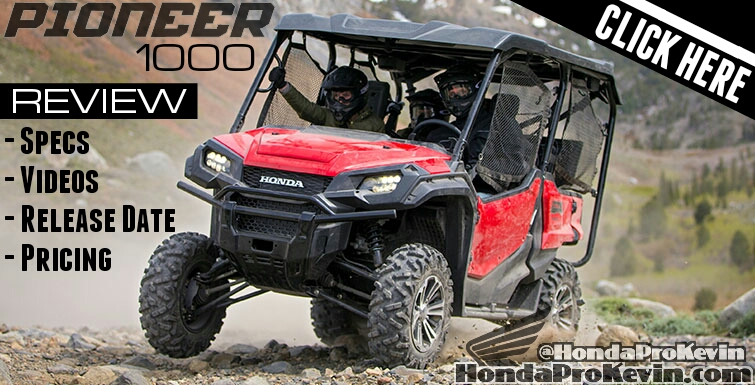 ---
2016 Honda Pioneer 1000 / 1000-5 Release Date UPDATE – CLICK HERE
---
2016 Pioneer 1000 & 1000-5 Detailed Interior / Frame / Engine / Suspension Photo Gallery – CLICK HERE
---
2016 Honda Pioneer 1000 Update / July 1st 2015
Pioneer 1000 SxS Horsepower Announcement – Click Here
---
2016 Honda Pioneer 1000-5 Patent Application Documents – CLICK HERE
---
2016 Honda Pioneer 700-4 Review / Specs / Features + More – CLICK HERE
---
Original post June 7, 2015: The time has officially came for another 2016 Honda Side by Side / Motorcycle / ATV model announcement update with news regarding some of the new models coming for 2016. In the previous Model Announcement a couple weeks ago, news broke on the 2016 Africa Twin CRF1000L.
---
Dealer Video from March 2015: Explaining that Honda WILL be expanding their SxS model lineup even further for 2016. 
---
A lot of rumors are floating around about a sport SxS / UTV from Honda for 2016. Will this be the day that Honda let's the cat out of the bag? Only time will tell.
[ad name="Commission Junction-2″]
Will it be a 2016 Pioneer 1000? Something still sticking with the utility vehicle roots of the current Pioneer 700 & 700-4? A lot of patent drawings are floating around and have been for quite a few months now. Showing a twin cylinder Side by Side from Honda that looks like a bigger brother to the current Pioneer series. One thing is for sure, it will be interesting to see how all of this pans out as the SxS / UTV market is really booming now with all of the manufacturers releasing new model after new model go try and get you into their showrooms.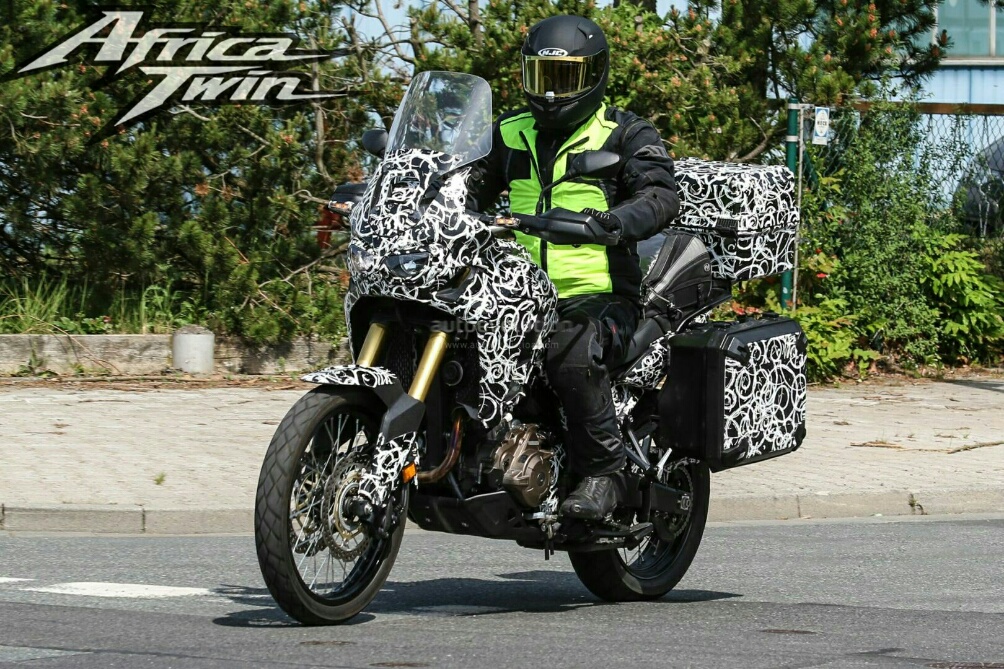 Will it be the detailed overview of Specs and Features on the 2016 Honda Africa Twin CRF1000L? It could very well be. Honda stated that all of the detailed specs would be released in Q3 of 2015. Read more about that current info in my 2016 CRF1000L Africa Twin Review.
Will it be the official release of information and specs on the 2016 Honda sport ATV models like the 2016 TRX450R or 2016 TRX400X? All of the utility 4×4 models for 2016 have already been announced so we know it won't have anything to do with those ATV models.
Will it be 2016 CBR600RR or 2016 CBR1000RR sport bike model news? How about an affordable version of the RC213V-S? Loads of people are biting at the bit hoping that happens sometime in the near future. The CBR600RR and CBR1000RR are both running on extended generation runs without any major changes to the frame / engine etc. The 2015 CBR600RR is essentially the same as a 2007 CBR600RR but with updated plastics, wheels, suspension which happened in 2013. Same goes for the 2015 CBR1000RR – It's last major overhaul was back in 2008. Then for 2012 they updated the plastics slightly, wheels, suspension and gauges. They are still very potent machines though and are bikes that 95% of us could not even coke close to pushing to their full potential. With the competition doing some major changes lately, customers would like to see Honda throw some new "bells and whistles" at their bread and butter supersport model lineup.
It could also be 2016 CRF450R & 2016 CRF250R information. It could be 2016 scooter info. There's a lot of things it could be so all we can really do is speculate at the moment and all hope for the best. Hope that Honda has some really cool model news / updates coming for us enthusiasts.
Personally, I'm hoping Honda will officially release a sport side by side to compete against the 110+ horsepower naturally aspirated and turbo SxS / UTV animals from Polaris, Arctic Cat, Can Am etc. I've got my fingers crossed haha.
Check back right here or on my Facebook / Twitter feed for the Updated and Official Information as it is released on June 11, 2015. 
What are your thoughts? What do YOU want to see?
Please "Like" or share by clicking below if you enjoy checking out any of my pictures, information updates, etc. Thanks.