– OutKast FabWorx Honda Pioneer 700 & 700-4 Lift Kit –
Want to have the baddest, biggest, tallest lifted Honda Pioneer SxS / UTV / Side by Side ATV out there on the trails? Well, maybe mud pit instead of trails as throwing some of these larger tires and adding width to your Pioneer 700 / 700-4 can decrease its trail capabilities.
---
Pioneer 700-4 Tires – 31″ STI Outback Max Tires
Pioneer 700-4 Wheels – STI HD4 Wheels
---
All of the major names you've probably heard of in the lift kit business like High Lifter, Super ATV, Strong Made, etc went head first when Honda released the Pioneer. Why? They cornered the market on all Polaris, Yamaha, Kawasaki, Arctic Cat SxS models when they released them so it was only a matter of time before a slew of lift kit options were available for the Pioneer 700 UTV model lineup. The current kits on the market range anywhere from 2-3 inches.
Now, OutKast FabWorx is bringing something bigger to the game… How big? How does a 5 to 7 inch lift kit for your Honda Pioneer 700 or 700-4 sound? Judging by reviews on Polaris RZR forums, quality is spot on for all of the parts OutKast FabWorx puts out so I'd bet their parts for the Honda Pioneer model lineup will be the same. If they are going this big on the Pioneer 700 – I can't wait to see the lift kit they design for the Pioneer 1000 SxS!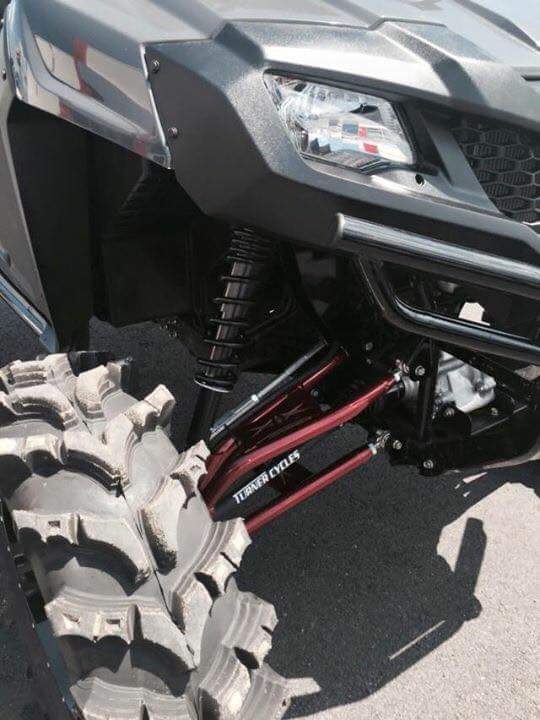 Want to run larger tires on your Pioneer 700 & 700-4? The lift kit pictured on the Pioneer 700-4 here is running 31″ tall [avantlink_ad merchant="Motorcycle Superstore" title="STI Outback Max"][/avantlink_ad] tires. Information on exact wheel model and tires in the pictures here are detailed below.
Thanks to HondaSxS for stumbling across these pictures and posting them up. "Like" HondaSxS on Facebook and show the Pioneer forum some love.
Don't want to go quite this big? Looking for other lift kit options for your Pioneer 700 or 700-4? Check out UTV Lift Kits at High Lifter or here is the Super ATV Lift Kit for the Pioneer 700 & 700-4. Needless to say, you have many options and that's the awesome thing about the Side by Side industry being so huge – you have more aftermarket parts & accessories to choose from for your Honda Pioneer 500, Pioneer 700 and Pioneer 1000 than you could imagine. It's going to get real interesting once the lift kits start to roll out for the 2016 Pioneer 1000… Can't wait to see how large of tires guys squeeze on their Pioneer 1000 & 1000-5 too!
What do you think? Does the Pioneer 700 now sit up higher than you'd like? Or do you want to see a 10″ lift kit and a Pioneer SxS / UTV sitting on 38″ tires haha?
Please click "Like" and or Share below if you enjoyed checking out any of my content, pictures, videos, etc. Thanks guys.
---

---