– Possible 2017 Model? | New Concept Honda Motorcycles / Scooters @ EICMA –
Technically, the 2015 EICMA show doesn't start until November 19-22 but for the two days prior to that they have the press release event going on. With that being said – some of the cool new motorcycles and concept bikes etc are already on display from Honda, Suzuki, Kawasaki, Yamaha, Ducati, Triumph, Husqvarna and pretty much any other manufacturer you can think of with some you've probably never heard of before too.
Check out this wild-looking little gem of a concept motorcycle / scooter that Honda has dubbed the City Adventure Concept. You can see it has some of Honda's scooter style mixed in with a few styling points from the new Africa Twin too. It definitely looks the part with its wire-spoke wheels and off-road style tires as well as a fair amount of ground clearance for what it is. It looks like it has enough brakes to stop a freight train too with its Nissin dual-disc setup up front.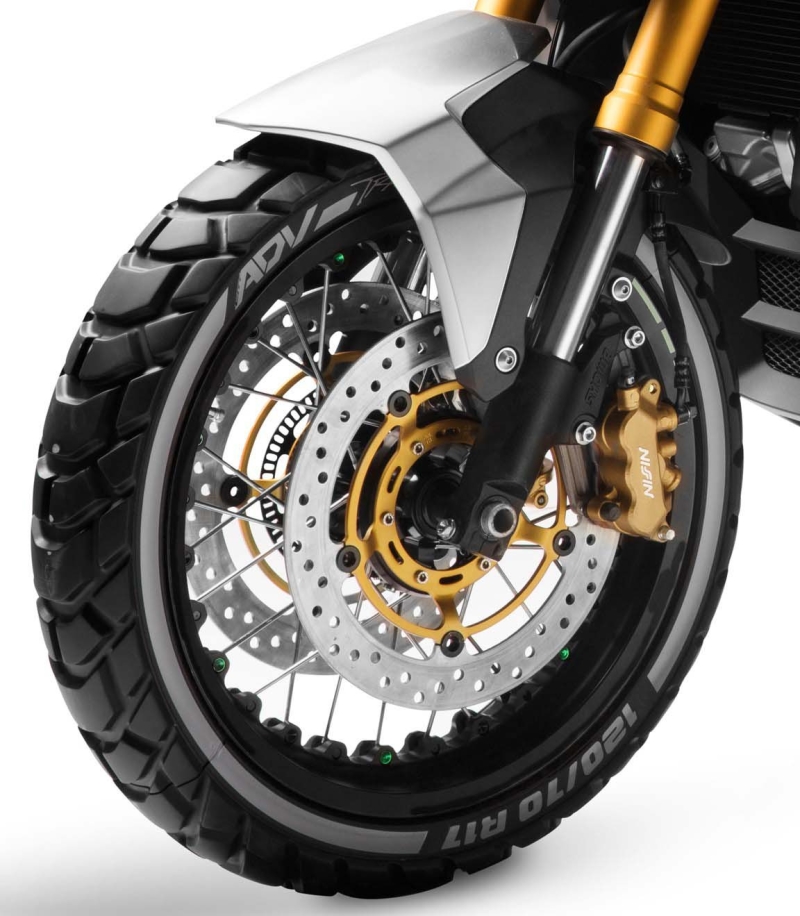 Check out the suspension on this lil guy! Not only does it have inverted forks but it's also packing quite a punch in the ground clearance section. Pair up the front suspension with a "real" swingarm and you have a bike that could potentially have some fun and be rather capable when the pavement ends. You also have a set of hand-guards thrown in there too for a little added protection.
It reminds me of the Honda Ruckus with a little bit of Africa Twin mixed in there. The Ruckus was the first of its kind with an aggressive tire that could be used both on and off-road with small trail duty. The Ruckus is a budget scooter though with budget parts all the way around whereas the City Adventure is shown with premium parts front to back. Naturally, if the City Adventure ever made it into production as a 2017 Honda scooter or further on – it'll be stripped of some of those high-end bells and whistles. That's just my thought though.
Will the City Adventure Concept make it into production as a 2017 or 2018 Honda Motorcycle / Scooter adventure mix-breed? What do you guys think? 
This is the information that Honda provided with the press release on the City Adventure Concept:
"Complementing Honda's returning icon, the City Adventure concept offers a totally new interpretation of the idea of motorcycling adventure. It brings that spirit of adventure to the heart of the city and underlines Honda's commitment to researching new ways of creating unique technology to enhances and enrich its customers' lifestyles."