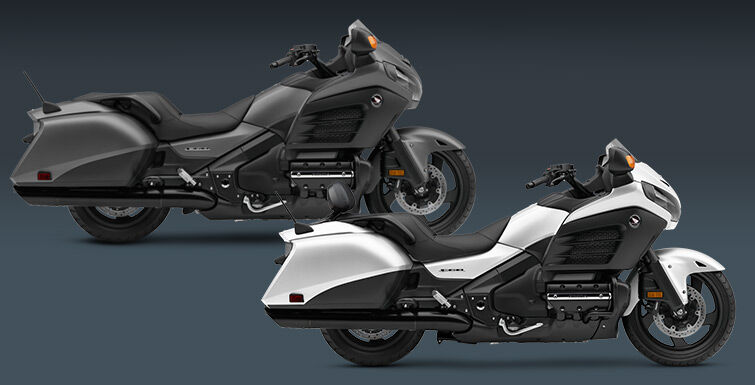 – 2016 Honda F6B Deluxe Pricing / HP & TQ / MPG + Development Info –
Stripped out and low, the new Gold Wing F6B mates the Gold Wing's awesome 1800cc flat-six cylinder torque and a nimble handling chassis to Bagger style, creating a unique custom-touring motorcycle that's big on excitement and flair. Maybe you want a touring bike that's like nothing else out there. Maybe you want a cruiser that's not a cookie–cutter clone. Maybe you just want a bike that's big enough to take you wherever you want to go, and do it in comfort and style, with plenty of class and independence.
If that's what you're after, Honda's Gold Wing F6B is your kind of bike. Big, smooth, powerful. The Gold Wing F6B uses technology gathered from our own Honda Gold Wing, a bike that's set the standards in Luxury Touring for the last 40 years. But the F6B is lighter, trimmer and leaner. You're going to find that it's perfect for around-town rides, shorter trips or weekend getaways. You're also going to find that it will blow away just about any conventional cruiser in terms of looks and commanding presence—not to mention on-road performance.
You asked for it, so here it is. And the F6B is still available in two trim levels—standard and deluxe with a new Matte Pearl White. With plenty of storage capacity and with many of the Gold Wing's comfort and luxury features, the F6B is ready to take you wherever adventure calls. Isn't it about time you answer?
---
Want to check out the "Base" model F6B? F6B Review – Click Here
---
2016 Honda F6B Deluxe Horsepower: 118 HP @ 5,500 RPM (87 kW)
2016 Honda F6B Deluxe Torque: 123 ft/lb TQ @ 4,000 RPM (167 Nm)
2016 Honda F6B Deluxe MPG: 34 Miles Per Gallon*
2016 Honda F6B Model & Color Options:
F6B Deluxe

 (GL1800BDG):

MSRP / Price: $21,499 – Matte Silver, Matte Pearl White

F6B

(GL1800BG)

MSRP / Price: $20,499 – Matte Silver
2016 Honda F6B Deluxe vs F6B model – What is the difference? The Deluxe model gives you a center-stand, self-cancelling turn signals, heated hand-grips and a passenger backrest.
---
Contents:
1. Introduction
2. Model overview

3. Key features

4. Development

5. Accessories

6. Technical specifications
1. Introduction
The Honda Gold Wing has always stood alone. Launched as the GL1000 in 1975, its horizontally opposed four-cylinder engine was not only physically different, it felt very different: jet turbine-like, with a silky torque output perfect for long days in the saddle.
A six-cylinder, 1500cc overhaul in 1987 saw the Gold Wing once again state its intent and purpose as the true King of Motorcycles. The GL1800, debuted in 2000, further cemented the Wing's unique status.
And nothing has changed to this day. But a trend appearing over the course of the last decade, mainly in the USA, has seen fully-dressed touring bikes stripped down; a couple of bags on the back, a cut-down screen and more minimal fairing has injected a custom attitude to what has traditionally been a 'mature' market. This style of bike has become known as a "Bagger". With a combination of cool credibility, useful practicality and exciting style they've been inspired by, and in turn have attracted, a much younger rider.
Honda, responding to customers' needs and desires, has built a new breed of Gold Wing to sit alongside the original. Stripped, stylish and smooth, part custom, part cruiser the Gold Wing F6B is all Bagger: a touring bike distilled to its very essence.
Mr. Teishiro Goto, Large Project Leader Gold Wing F6B:
"The new Gold Wing F6B we are launching is a lightweight and stylish touring bike. It features optimised equipment and specifications to further improve dynamic performance, while retaining great riding comfort so that current owners of the Gold Wing as well as younger riders can casually enjoy the new model's agility. It is a noticeably user-friendly motorcycle on city streets, as well as for touring, and it is my hope that the introduction of this new Gold Wing F6B will lead more people of new generations to enjoy the world of the King of Motorcycles first hand."
2. Model Overview
The 1,832cc six-cylinder engine driving the Gold Wing F6B is one of motorcycling's masterworks. But it's the style of the new bike that initially grabs attention; minus the rear top box and with its stubby screen the long, low Gold Wing F6B flows fluidly from front to rear. Unique seats provide support for rider and pillion and the 4-speaker sound system guarantees listening pleasure, even at speed.
The twin-spar aluminium frame provides strength and delivers a great handling motorcycle, as do 45mm anti-dive telescopic forks and Pro-Link rear suspension. The machine's Dual Combined ABS braking system ensures rapid and secure stopping power on a variety of road surfaces and conditions.
Built to be at home in an urban environment as well as on the open road, the Gold Wing F6B is lighter – 59 lbs less than the Gold Wing GL1800 – yet with the same chassis, power and incredible torque output. It is an attractive proposition to a wider range of riders looking for a stylish, useful and unique motorcycle.
Cruise Control
It's a perfect standard for a bike like the F6B that's designed for some serious distance riding.
Integrated Luggage
Luggage performs better when it's designed in, not added as an afterthought. The F6B sports twin-integrated saddlebags with 22 liters of storage; both are lockable and sealed against the elements.
Six-Cylinder Engine
Based on the Gold Wing's 1832cc powerplant, the Gold Wing F6B's engine features the same smooth power. And since the Gold Wing F6B is lighter, it's going to feel even more powerful.
Two Feature-Package Versions
Gold Wings have always been famous for creature comforts. So the Gold Wing F6B comes loaded with everything from cruise control, surround sound to an adjustable air suspension. The F6B Deluxe goes even further, with self-cancelling turn signals, backrest, heated grips, center-stand and more.
3. Key Features
3.1 Chassis
The aim for the Gold Wing F6B's development team was to produce a nimble-feeling and agile bike. It had to be comfortable to use on a congested city street and fun on a twisty road; and of course had to perform on the open highway.
Constructed from lightweight multi-box aluminium sections the twin-spar frame is aided by the engine's low centre of gravity to create a great-handling chassis at all – and especially slow – speeds (the engine itself also acts as a stressed member). The 45mm telescopic forks feature anti-dive, while the Pro-Link monoshock can be manually adjusted for spring preload. Rake is set at 29.15°, trail 109mm with a wheelbase of 66.5 inches and curb weight of 844 lbs.
The Combined Braking System (CBS) works between the twin 296mm floating front discs and three-piston calipers, plus rear 316mm ventilated disc/three piston caliper and apportions braking forces evenly. A hollow-section 18-inch 5-spoke cast aluminium front wheel wears a 130/70-R18 tire, and the 18-inch hollow-section 5-spoke rear a 180/60 R16.
CFD (Computational Fluid Dynamics) helped sculpt the Gold Wing F6B's upper fairing, while blacked-out (with a combination of matte black and dark metallic coatings) wheels, engine, forks, frame and lower cowls underpin the striking paintwork and complement its low-slung lines. A further finishing touch was added to burnish the bike's appearance by placing a chromium-plated emblem, made exclusively for the Gold Wing F6B, on the side cover.
Key F6B Chassis / Suspension Features:
– Twin-Spar Aluminum Frame.
– Suspension settings front and rear yield excellent compliance for a supple ride and exceptional comfort.
– Unique Pro Arm® Rear Suspension.
– Dual full-floating 296mm front discs with Combined Braking System (CBS) three-piston calipers and a single ventilated 316mm rear disc with one CBS three-piston caliper provide excellent braking power.
– Massive 45mm front fork houses a cartridge damper in the right leg with 4.8 inches of travel for a smooth yet superb ride in all road conditions.
– Anti-dive system helps minimize front fork dive when braking. The system utilizes brake-fluid pressure generated in the secondary CBS master cylinder mounted on the left fork leg and is activated by input from either the front-brake lever or the rear-brake pedal.
– Pro-Link® single shock rear suspension with hydraulic spring preload adjustment.
– Cast-aluminum 18 x 3.5-inch front and 16 x 5.0-inch rear wheels are lightweight, strong and clear-coated to ease cleaning. Radial touring tires are specifically engineered for the Gold Wing F6B.
The short screen has been carefully designed to allow a feeling of freedom yet still give decent weather protection; larger circular meters, with LCD indicators underneath, provide relevant information in an easy-to-read format, with typical Gold Wing style and quality. Storage space is provided by the lockable twin rear bags and a cubbyhole in the center console. Fuel capacity is the same as the Gold Wing at 6.6 gallons.
In creation of the Gold Wing F6B, Honda has taken the Gold Wing GL1800 back to basics. Gone are the options of sat-nav and airbag, as well as the electric reverse gear, cruise control, illuminated switch-gear, turn signal auto-cancel and seat heaters. The seat for rider and passenger delivers a much greater sense of space – almost like riding in a convertible car. The rear passenger now has foot pegs (instead of running boards) and black aluminium grab rails.
No Gold Wing of any persuasion would be complete without music to ride by, and the Gold Wing F6B is no exception. It features a four-speaker stereo system, placed in front of the rider that delivers vivid sound clarity and strong bass performance. It also supports iPod or USB Flash Drive connectivity, and tunes in MP3, WMA or AAC format can be accessed and played on the move.
3.2 Engine
Precisely metered fuel and air mixture by PGM-FI fuel injection the Gold Wing F6B's 1,832cc, horizontally opposed SOHC 2-valve six-cylinder engine has a bore and stroke of 74mm x 71mm, compression ratio of 9.8:1 and produces 123 lb/ft torque @ 4,000rpm, with power output of 118 horsepower @ 5,500rpm. Few riders will forget their first encounter with this particular motor – its smooth power delivery and instant avalanche of torque are rapidly addictive.
The five-speed gearbox includes an overdrive top gear and delivers the engine's torque via shaft drive; in the quest to strip out the Gold Wing F6B, and, contributing to the overall 59 lb weight reduction, the electric reverse has been removed.
Key F6B Engine / Drivetrain Features:
– Powerful, fuel-injected 1832cc six-cylinder engine produces smooth, effortless power.
– Parallel two-valve cylinder-head design utilizes direct shim-under-bucket valve actuation which allows the first valve clearance inspection service to be at 32,000 miles.
– Programmed Fuel Injection (PGM-FI).
– Two 40mm-diameter throttle bodies deliver air to six specially designed Keihin 50-psi high-pressure programmed fuel injectors. Fuel is delivered through four nozzle holes in each injector, producing an atomized fuel mixture that is highly combustible for optimum efficiency and power.
– The ECU provides two digital 3-D fuel-injection maps for each cylinder, creating ideal fuel mixture and spark advance settings for superb rideability. Unique knock-control sensors monitor for knock to improve performance.
– ECU closed-loop emissions system utilizes two oxygen sensors to constantly deliver a precise air/fuel mixture, while two exhaust catalyzers further reduce emissions of carbon monoxide, hydrocarbons and nitrogen oxides.
– Two side-mounted radiators enhance cooling efficiency and use low-air-pressure areas created by side cowls to draw cooling air through the radiators and beyond the rider at highway speeds.
– Efficient stainless-steel 6-into-2 exhaust system produces a pleasing, aggressive sound.
– Precise-shifting five-speed transmission includes Overdrive Fifth.
Misc Honda F6B Features
– Innovative appearance with blacked-out styling plus incredible performance put the Gold Wing F6B in a class of one.
– Blacked-out treatment applied to wheels, engine and frame.
– Shorty windscreen and gunfighter-style seat add to a unique persona.
– Sleek lower cowl adds to the aggressive look.
– Stylish tail section incorporates passenger grabrails.
– Lockable, waterproof saddlebags offer large storage capacity.
– Convenient glovebox.
– Premium audio system features direct MP3/i-Pod connectivity.
– SRS CS Auto™ technology surround-sound system brings the latest in sound system technology to the Gold Wing F6B.
– Sound system includes a pair of front speakers and two tweeters for rich, full surround-sound quality.
– Tuner features auto bass control combined with auto volume control.
– Handy central storage pocket.
– Instrument displays for speedometer, tachometer, coolant temperature and fuel level, plus adjustable backlighting and high-luminescence white pointers. Indicator/warning lights are provided for Neutral, Overdrive, oil pressure, fuel injection, high beam, sidestand, and low fuel. A high-resolution LCD housed in a separate module is visible in all lighting conditions and displays the odometer, A/B tripmeter, ambient temperature, audio modes, saddlebag-open indicator and clock.
– Large, 6.6-gallon fuel tank houses the PGM-FI fuel pump and provides excellent long-distance cruising range.
– 20-amp YTX maintenance-free battery.
– Available in Black or Red on both standard and deluxe models.
– Transferable three-year, unlimited-mileage warranty; extended coverage available with a Honda Protection Plan.
Unique Features – Gold Wing F6B Deluxe
– Deluxe model includes passenger backrest, center-stand, self-canceling turn signals and heated grips.
---
Honda F6B Deluxe Gold Wing Development 
A pronounced market shift is taking place within the realm of big bikes. Recently, the big-bike touring segment has recorded a significant upward trend in sales led by a fashionably new style of motorcycle—a cross between a cruiser bike and touring machine. By expanding buyer options, these machines have lifted the large-displacement touring segment back to pre-recession sales levels and have reinvigorated the riding population. With the introduction of the new Gold Wing F6B, Honda now adds an entirely new option to that mix to reshuffle industry standards once again—in keeping with long-standing company tradition.
Now Honda offers big-bike enthusiasts a newly elevated level of all-around performance with a large-displacement machine that takes advantages from the GL1800 Gold Wing and mixes in unique touches. The F6B also delivers a bold look and impressive levels of performance, qualities that make it the perfect choice for leisurely short rides, backroad forays, day trips or weekend journeys and more—it's primed and ready to take on whatever opportunities arise. This is a new breed of machine that slots into a comfortable niche as part power cruiser, part long-haul tourer and 100-percent Honda innovation. The F6B offers a whole new take on what a bike in this category can deliver—a much higher level of performance, sophistication, smoothness, visual impact, fit, finish and reliability. In short, it delivers big-time performance with a heavy dose of attitude; it's ready for anything, any time, whenever the mood strikes.
Better yet, the F6B can be had in standard trim or as a deluxe model that includes a passenger backrest, centerstand, self-canceling turn-signals and heated grips. And a wealth of Honda Genuine Accessories are available to make further customization of the F6B a cinch; just the ticket for personalizing your ride.
Origin of the species
Taking a historical perspective, we can see that the Gold Wing F6B is really a natural extension of the original Gold Wing concept, one that benefits from equal measures of innovation and refinement in its basic DNA. Back in 1972, race bike-engineering giant Soichiro Irimajiri headed up design of the exquisitely sophisticated and ultra-high-performance prototype M1 motorcycle, specifically to explore the outer limits of the Grand Touring concept. The final result was truly a breakthrough machine, one that set new standards of design and performance thanks to its liquid-cooled horizontally opposed six-cylinder engine with shaft drive—key features that appear in today's F6B.
In production form that M1 prototype became the original GL1000 Gold Wing, introduced in 1975. This was a machine that was much, much more than just a new motorcycle—it was well and truly a revolution on two wheels. Powered by an incredibly sophisticated 999cc liquid-cooled horizontally opposed four-cylinder engine—this in a time when 750s were considered big bikes and all-out Superbikes displaced 900cc—that first Gold Wing set standards for all-around performance that surpassed every other bike in that era. As a result, consumers and journalists alike were initially at a loss as what to make of this open-class machine with world-class power and cross-country capabilities. But later that year the GL1000 earned the top-rank position in a Cycle comparison of touring bikes and riders quickly embraced this amazing machine. The legend of the Gold Wing was now off to a fast start, ultimately leading to the Gold Wing F6B we see today.
GL1800 Gold Wing roots
The path to the Gold Wing F6B winds through more than three decades and through many progressive iterations as the Gold Wing advanced in function and reputation to firmly establish itself as the leader in a class of one. (See the Gold Wing Timeline for more details.) In 2001 the apex GL1800 Gold Wing appeared, designed by Masanori Aoki, a sportbike guy who was determined to give the 1800cc Gold Wing a pronounced sport feeling and superior handling traits while also enhancing its touring capability. The goal was to add more fun factor to the machine by providing the kind of acceleration, engine feel and handling people normally associate with sporting machines. The 1832cc engine was designed to have tons of power, a lot more character in terms of an exciting power hit and a more free-revving design, for more of a high-performance feel. The chassis incorporated an aluminum frame, one that very much paralleled the design of those used in sport bikes, because aluminum is easier to manipulate in tuning the chassis for rigidity and light weight, with specific strength and rigidity qualities readily applied to the frame where they are most needed. All this and more was achieved, creating features and benefits that live on in the Gold Wing today.
The Gold Wing F6B incorporates all of these basic engine and chassis advantages found in the GL1800, plus a number of benefits all its own. Weighing in a full 62 pounds lighter than the full-dress Gold Wing, the F6B delivers a new level of nimbleness and maneuverability for superior handling and agile manners. The stout twin-spar aluminum frame remains remarkably advanced and sophisticated for bikes in this class, and it features a beefy 45mm fork with a cartridge damper plus a sophisticated anti-dive system to yield 4.8 inches of plush yet well-controlled travel. In back there's a single-sided Pro-Arm swingarm setup, and the rear Pro-Link single-shock suspension system has a new shock with valving specifically tuned to the F6B. A dial-type remote adjuster offers easy access for quick adjustments to rear shock spring preload. Dual full-floating 296mm rotors and three-piston calipers up front plus the rear 316mm disc deliver stellar braking power and terrific feel; Honda's Combined Braking System links the front and rear brakes.
The 1832cc liquid-cooled six-cylinder engine is literally in a class of its own, having firmly established a well-deserved reputation for exhilarating acceleration, super-strong roll-on power, smooth operation and utmost reliability. The unique, horizontally opposed six-cylinder layout also contributes to an exceptionally low center of gravity to foster improved handling. The Programmed Fuel Injection (PGM-FI) system carries over from the Gold Wing, and this system too is a model of refined performance under just about every street-riding situation imaginable via its two 40mm throttle bodies and six high-pressure fuel injectors. Likewise, the five-speed gearbox, clutch and shaft final drive have all been thoroughly proven over more than a decade and millions of miles of real-world GL1800 use.
In terms of styling and looks, however, the Gold Wing F6B definitely goes its own way. This is a bike that demands attention thanks to lines that are clean, long and low, plus a blacked-out treatment for the wheels, engine and frame. The absence of a rear trunk, plus the shorty windscreen and gunfighter-style seat add greatly to the unique look of the F6B, as do the sleek lower cowl and stylish tail section that now incorporates passenger grabrails.
That all-new seat not only gives the F6B a unique look, it also gives the rider and passenger a different, more open feel from the saddle along with plenty of comfort. A premium-quality audio system comes standard on the F6B, and it offers direct MP3/iPod connectivity. The lockable and waterproof large-capacity saddlebags provide over 150 liters of storage providing flexibility for whatever the day's ride calls for, and a large, centrally located glovebox is both handy and easy to use for storage of smaller items.
The end result is a muscle-bound machine with aggressive looks, premium performance and premium quality, one that is different from and superior to any bagger on the market thanks to an obviously elevated level of performance, sophistication, fit, finish and reliability. Its terrific versatility allows it to fulfill a wide variety of riding pursuits from short hops to long rides. In truth, the Gold Wing F6B reaches back to the original roots and spirit of the GL1000—the "King of Motorcycles" with a high-performance engine, unmatched sophistication and premium-bike status.
---
2016 Honda F6B Accessories
F6B Honda Genuine Accessories
Heated Grips††, Centerstand††, Passenger Backrest with Pad††, Rear Carrier, Backrest/Rear Carrier Mounting Brackets††, 12V Accessory Socket, Tall Windscreen, LED Foglight Kit, Deluxe Helmet Headset (Full and Open), Passenger Headset Junction, Saddlebag Cooler, Chrome Front Fender Rail, Chrome Front Fender Extension, Chrome Sidestand, Chrome Front Disc Cover, Chrome Bar Ends, License Plate Frame ("V" Design, Fluted, Neo-Retro), Coin Holder
F6B Honda Signature Accessories†
Saddlebag Liner, Saddlebag Lid Organizer, Saddlebag Mat Set, i-Phone Holder, Cycle Cover, Short Windscreen
†† Standard on deluxe model.
2016 Honda F6B Specifications
Model:
GL1800B / GL1800BD
Engine Type:
1832cc liquid-cooled horizontally opposed six-cylinder
Bore and Stroke:
74.0mm x 71.0mm
Compression ratio:
9.8:1
Valve Train:
SOHC; two valves per cylinder
Induction:
PGM-FI
Ignition:
Computer-controlled digital with 3-D mapping
Transmission:
Five-speed including Overdrive
Final Drive:
Shaft
Suspension
Front: 45mm cartridge fork with anti-dive system; 4.8 inches travel
Rear: Pro Arm single-side swingarm with Pro-Link single shock with hydraulic spring preload adjustment; 4.1 inches travel
Brakes
Front: Dual full-floating 296mm discs with CBS three-piston calipers
Rear: Single ventilated 316mm disc with CBS three-piston caliper
Tires
Front: 130/70R-18
Rear: 180/60R-16
Wheelbase:
66.5 inches
Rake (Caster angle):
29.15°
Trail:
109mm (4.3 inches)
Seat Height:
28.5 inches
Fuel Capacity:
6.6 gallons
Fuel Economy Estimate**:
34 MPG
Curb Weight:
842 pounds (GL1800B) / 849 pounds (GL1800BD)
*Miles per gallon values are calculated estimates of fuel consumed during laboratory exhaust emissions tests specified by the EPA, not during on road riding. Use for comparison purposes only. Your actual mileage will vary depending on how you ride and maintain your vehicle, weather, road conditions, tire pressure, cargo and accessories, rider and passenger weight, and other factors.
---