– NEW 2020 / 2019 Honda TALON 1000 Turbo Kit For Sale (Update Jan. 2020) : HP, Price, Release Date, Specs + More… –
Wait, what? We just got the new on the TALON 1000 4-seater yesterday and now we're diving into a turbo kit from Honda for the TALON 1000 model lineup? Oh yes! TALON 1000 turbo – sign me up!
Special thanks to the guys at SxSBlog.com for hooking us up with this info. Sadly, I wasn't able to make it to this event but the boys were there and they have definitely delivered when it comes to information that was given at this event put on by Honda. Here's the information relayed currently.
TALON 1000 Turbo Kit Highlights:

GT17 sized Garrett Turbo delivers approximately 165 hp at 8 psi on 91 Octane
NO engine modifications necessary
NO welding / fabrication necessary, direct bolt-on
Uses stock fuel pump
Jackson Racing ECU tuner is used to flash ECU. Shifting changes are available for various tire sizes up to 32″
TIG welded 0.120″ wall stainless turbo manifold for durability
CAD designed cast aluminum intercooler tanks (air-to-air w/ electric fan) and intake
50-state emissions compliant

Expected MSRP: $5,799
Release Date: Fall of 2019

New Release Date: January 2020
---
Honda Talon 1000 Turbo Kit Updates:

January 24, 2020 Update on Talon 1000 Turbo Kit by Jackson Racing: Per Honda, Jackson Racing will be ready for dealer and customer orders by the end of January 2020.
January 30, 2020 Update on Talon 1000 Turbo Kit by Jackson Racing: You can now place your orders for the Talon 1000 Jackson Racing Turbo Kit! Check out more info by Clicking Here.
---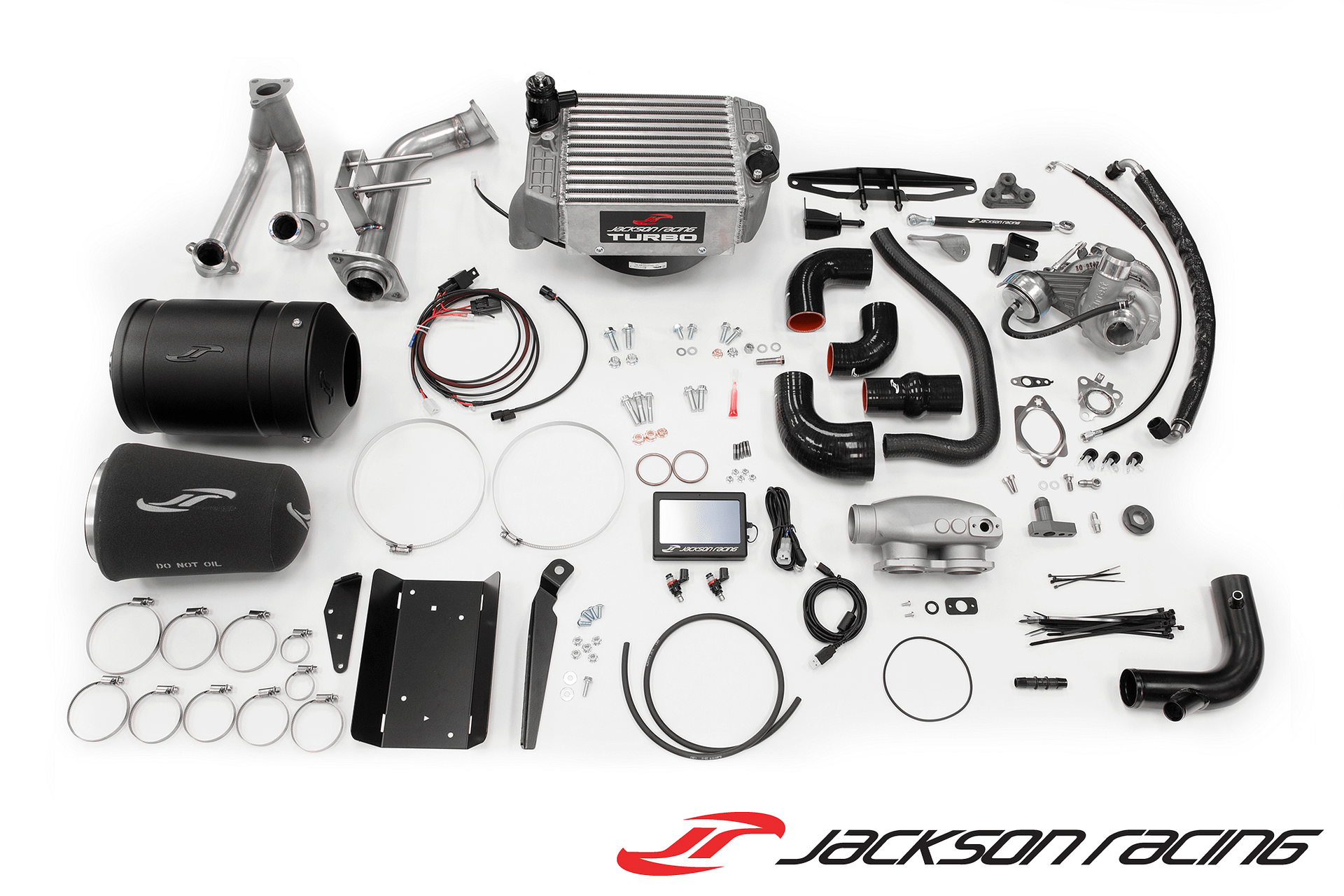 This kit is designed to maintain the OEM level dependability and drive-ability you expect from a company like Honda. This is a Honda Accessory developed by the guys at Jackson Racing. If you've been in the Honda car world for some time now then you're definitely as familiar with that name as I am. They have a long-time relation with Honda and have a reputation long enough to make this joint venture a promising move in my eyes. It's going to be real interesting though once all of the "official" details are out and how this TALON 1000 turbo kit will alter your warranty etc.
Honda hasn't released any concrete numbers on install time but a Honda rep has stated that it would take dealerships approximately 4 hours to install the TALON 1000 turbo kit and the average DIY guy could knock it out in a day. If that's true and it's a turnkey setup without any hiccups, that's awesome! I was worried that labor costs would eat the average consumer alive that doesn't have the mechanical know-how to tackle a project like installing a turbo kit on their own. If they can keep the flat-rate mark around 4 hours for this job, and the average shop labor rate is $90 / hour then you're looking at around $360. If you've never had experience with installing turbo kits on cars or any other toy in the past, that's a smoking deal. I've thrown on a few turbo "kit" setups over the years and also done some "homemade" turbo setups in the past and… If you offered to knock that out for me for about $400 on my Honda TALON, I'd say "yes please" go ahead and install that turbo kit haha. I'll keep you guys posted though once Honda does release official numbers like that on install time so you can gauge what the overall costs would be if your'e cross-shopping a TALON 1000 Turbo versus Polaris RZR Turbo, Can Am X3 Turbo etc.

Update: Here's the official press release from Jackson Racing…
World leading forced induction experts Jackson Racing are proud to announce their entry into the side-by-side (SXS) vehicle market with a new turbocharger system for the Honda Talon® SXS shipping Fall 2019.
The Honda Talon® SXS has changed the game in the SXS world, offering premium performance not previously available in the sport SXS market. From the chassis design to Honda's Dual Clutch Transmission (DCT), this vehicle is designed for fun, performance and dependability. The naturally aspirated 999cc Unicam® parallel-twin engine matches well with the DCT, with a rev happy feel making the Talon an exciting drive.

Even with the Talon being so capable, a boost in horsepower was desired. Enter Jackson Racing, with over 40 years of forced induction experience and the right knowledge base to bring the Talon to the next level. Jackson Racing took advantage of the Honda Talon's capabilities and designed a turbocharger system from the ground up for both peak performance and long-term dependability.
The Jackson Racing Talon SXS Turbocharger system delivers an impressive 60+% increase in HP over stock, all through a completely stock Honda drivetrain. At the heart of the Jackson Racing system is a Garrett® turbocharger. Jackson Racing approached Garrett Motion® to build a turbocharger to the specifications required in the performance SXS market and they delivered. The turbocharger unit is designed with robust OEM technologies and has been engineered for the abuse of a performance SXS.
A key feature to the Jackson Racing turbocharger system is the seamless performance. The turbo power doesn't overpower the chassis, it works with the vehicle effortlessly. "We didn't want to take away the great riding experience already built into the Talon, we wanted to enhance it," says Oscar Jackson Sr., President and Chief Engineer. "The Jackson Racing turbocharger system delivers a factory feel that fits the Talon perfectly." To do this, Jackson Racing worked tirelessly to develop the factory ECU and DCT to support the turbo system. The result is an ECU reflash that takes care of all tuning parameters via an included Jackson Racing ECU tuning tool. For the engine, precise tuning is done for proper boosted performance and reliability using minimum 91 octane fuel. With the DCT, shift schedules have been optimized to match turbo feel and performance, giving the Jackson Racing turbocharged Talon a real advantage on trails and the race course. This DCT drivability is unmatched, with no hiccups or hesitations, allowing the turbo and DCT to work in unison together.
The entire system is designed to work in harmony. Installation, maintenance, and durability are all elements built directly into each system. Installation is painless, with no fabrication, no welding, no engine internals required. This is a true bolt-on solution with an easy installation. Thousands of miles of durability testing have been clocked in extreme conditions to ensure longevity and performance. "Drivability and durability are both critically important, and we got it right here," says Oscar Jackson Jr., COO and multi-time national road racing champion. "This is the turbo Talon you dreamed about."
I can't wait to see the new 2021 Talon 1000R FOX Live Valve paired up with the turbo kit. Pair all of that horsepower up with launch control, ohhhh man that's going to be fun! Same goes for the new 2021 Talon Talon 1000X FOX Live Valve. I'm so glad Honda finally jumped into the sport side by side market and I can't wait to see what 2021 and 2022 have in store for the Talon model lineup…