– Honda CBR Sport Bike Review | Detailed CBR650F Specs & Features –

What is the 2015 Honda CBR650F? I get asked that quite frequently. Most are confused by the "F" being added to the end of the model whereas every other CBR in the current sport bike model lineup for 2015 ends with either an "R" or "RR". The vast majority of those inquiring minds weren't around back in the day when almost all CBR models had an "F" at the end of their model ID: CBR600F1, CBR600F2, CBR600F3, CBR600F4 and followed by the CBR600F4i when Honda decided to throw EFI (Electronic Fuel Injection) in the mix.
The list goes on and on with those models including an "F" but I won't bore you anymore with history on the letters Honda used 10+ years ago. On a side note, geez that makes me feel old knowing the famous F4i was introduced over a decade ago.
The main reason I brought up those old models is because Honda had F models available and RR models in the past. At first they didn't really transcribe that one was a race model compared to the other. Eventually, Honda did end up working it our though to where if it had the RR nameplate it was their baddest of the baddest. Example, CBR600F4i vs CBR600RR in 2003 when it was first introduced. The F was the el' cheapo model and the RR was "Race Ready / RR". Sure, displacement was the same at 599 cc but it ended there… Everything and I do mean everything else was different from top to bottom. The RR was just a step above in every department. Not every single person wanted that back-breaking seating position and power delivery that was only present at 11,000+ RPMs. Nor did everyone need fully adjustable suspension or the lightest of the lightest components available to assist the bike in shedding every last ounce possible. That is why Honda kept the F series around. Those that didn't need all of those "bells and whistles" loved the F4i. With sales shrinking year after year for the F4i after the introduction of the CBR600RR in 2003 – Honda decided it was time to discounting the CBR600F4i in 2006.

Fast forward to 20012 and MSRP on the CBR600RR had risen from $9,499 all the way up to $11,490. Keep in mind that this was with absolutely no model changes or upgrades so the price increase didn't go over well. Add that in with the motorcycle market still suffering due to the economy crashing in 2008 / 2009 and things were bleak to put it nicely. Honda decided to throw a few changes at the CBR600RR in 2013 to bring it back into the 21st century but the frame and engine were still unchanged. Another year goes by of less than stellar sport bike sales while other segments of the market are finally turning around and booming again. At this time though people aren't spending their money like it was water before the economy crashed. The average buyer wanted to spend noticeably less $$.
Now… We are at current day and Honda is releasing new model after new model while filling in holes in their current model lineup. We had a big hole to fill but Honda made it smaller with the introduction of the CBR250R and backed by the CBR500R in 2013. It was still a big price jump to go from the then current MSRP of $5,999 on the CBR500R to the $11,540 MSRP on the CBR600RR. Not only was the price jump rather large but the power difference was huge. The CBR500R came in at a respectable 49 horsepower but it was a far cry from the 114 horsepower that the CBR600RR was throwing to the rear wheel.
What does Honda do? Introduce the CBR650F. It's the perfect bike to slide in between the CBR500R and the CBR600RR. Not only does the price point split the middle but its power does too. That way you still have an upgrade from the CBR500R but nothing too wild or extreme. Not everyone wants a true supersport bike like the CBR600RR, the aggressive seating position, suspension that is 1,000 times better than any street rider will ever "need" and the list goes on. The front forks / suspension is not adjustable like the CBR600RR but you can adjust the pre-load to your liking on the rear shock / suspension. A lot of people want that power that only a 4 cylinder 600 class machine can deliver but don't want the typical drawbacks that have been the commonplace for so many years now.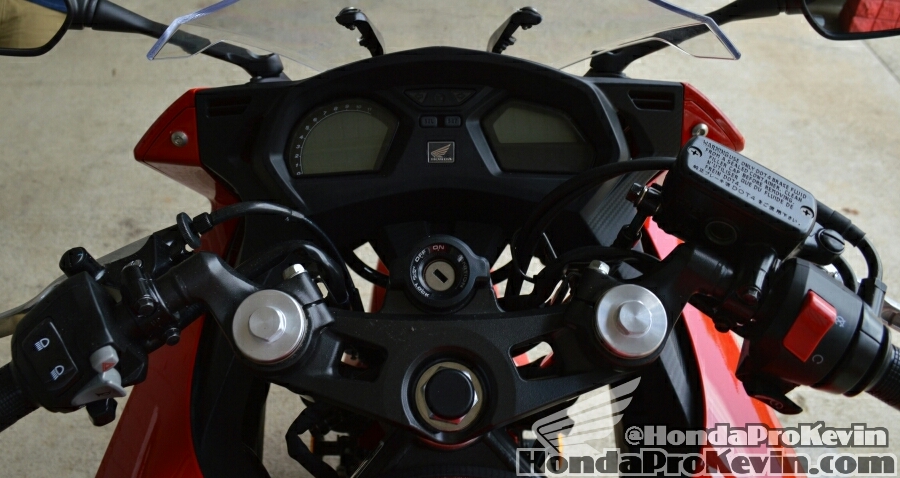 What's it like to ride the CBR650F? It's a blast! This is coming from someone who has owned both a street and track CBR600RR. Recently I sold my street model due to not being able to have fun "legally" and safely on the mountains. I grew tired of the gamble on whether or not I would return home safely to my family. Couldn't get rid of my tracked out model though as the power and adrenaline rush is kind of like crack so-to-say. For the street I have my Grom and have more fun on it than anything I've ever owned – it's brought back the fun of riding that slowly trickled away after getting faster and faster bikes over the years. That's another story though so let's get back to the CBR650F as I'm already long-winded once I get started rambling and I need to be bringing this novel to a close.
2015 Honda CBR650F Video Walk Around (Below)
The CBR650F is a lot more street friendly when it comes to the typical red light to red light riding. The normal daily routine is easier on your back since you're clip-on bars aren't as low as the aggressively stanced CBR600RR. They aren't raised up enough though to where you lose any of the typical feel that you do want when it comes time to make that run up the mountain. The seat, if I'm honest, is the typical Honda 2×4 piece of wood that they like to place on their CBR models. The upside to that though is it still easy for you to slide your butt off from side to side when you do want to really put her through the paces. The transmission on the CBR650F is butter like usual. Honda has a nack for making some of the smoothest transmissions you'll ever have the pleasure of being able to shift with your left foot. Pair up the extremely easy clutch pull with that transmission and it only takes a slight tap to smoothly engage the next gear. The best part is you don't have to ring each gear out to 12,000 RPM and shift every half-second to feel like you're going getting up to the speed limit or beyond.
If you're looking for the best of the best 600 cc supersport bike. Something to hit the mountains on or do track days etc then you may want to spend the extra money for Honda's bread and butter CBR600RR. If you want something fast and something that 80% of us couldn't even push to the max and all the while still be comfortable without breaking the bank. The CBR650F is the ticket and definitely a bike you should crunch the numbers on and consider. As always Honda has rebates (Bonus Bucks) and pair those up with dealer discounts and you can purchase a CBR650F for quite a bit lower than the MSRP Honda placed at $8,499. If you want the added safety of Anti-Lock Brakes you can also add the ABS option for a very small bump of $500 bringing the MSRP on the 2015 CBR650F ABS model to $8,999.
Here's some information from Honda on the CBR650F. The CBR650F was an all-new model introduced in 2014 making a return for 2015. It's a remarkably affordable middleweight sport bike that's built to cover the full range of street riding. The CBR650F strikes a terrific balance between full-on sport bike styling, nimble handling, overall performance, comfort and plenty of versatility – all at a great price. With easily accessible power, the real-world advantages of excellent fuel efficiency and comfortable seating accommodations, the CBR650F is fun to ride anywhere. With stylish looks, a large array of available Honda Genuine Accessories and the option of ABS, the CBR650F will be an instant favorite for a variety of riders.
2015 CBR650F Features & Benefits
Key Features
Sport-oriented ergonomics are also comfortable enough for longer rides.
649cc liquid-cooled inline four-cylinder engine features a muscular torque spread through the low- to midrange portions of the powerband, especially below 4000 rpm.
Tuned especially for strong acceleration from a standing start and strong midrange roll-on throttle response for real-world street-riding performance.
Low center of gravity (CG), light curb weight, slim cross-section and high-set clip-on handlebars work together to provide lightweight steering feel and responsive handling.
Full sport bike-style bodywork places the CBR650F squarely in the company of Honda's flagship CBR600RR and CBR1000RR supersport models.
Available in Red, Candy Blue or Matte Black Metallic.
Transferable one-year, unlimited-mileage limited warranty; extended coverage available with a Honda Protection Plan.
CBR650F Engine / Drivetrain
Liquid-cooled inline four-cylinder engine features Honda's Programmed Fuel Injection (PGM-FI) system.
Dual overhead camshafts actuate four valves per cylinder. This layout allows a high degree of freedom in cylinder head design for optimum performance.
The camshafts are driven by a silent-type cam chain for reduced engine friction, and the surfaces of the cam-chain pins are treated with vanadium for lower friction and increased toughness.
The piston pins and connecting rods are treated with a special friction-reducing protective coating for greater durability and efficiency.
Cylinders are inclined at a 30-degree angle to help lower the center of gravity (CG) for more agile handling.
CBR650F Chassis / Suspension
The frame incorporates elliptically shaped twin 64mm x 30mm steel spars for tuned flex to deliver excellent sport riding characteristics.
The engine is incorporated as a stressed member of the frame, an efficient layout for enhanced handling.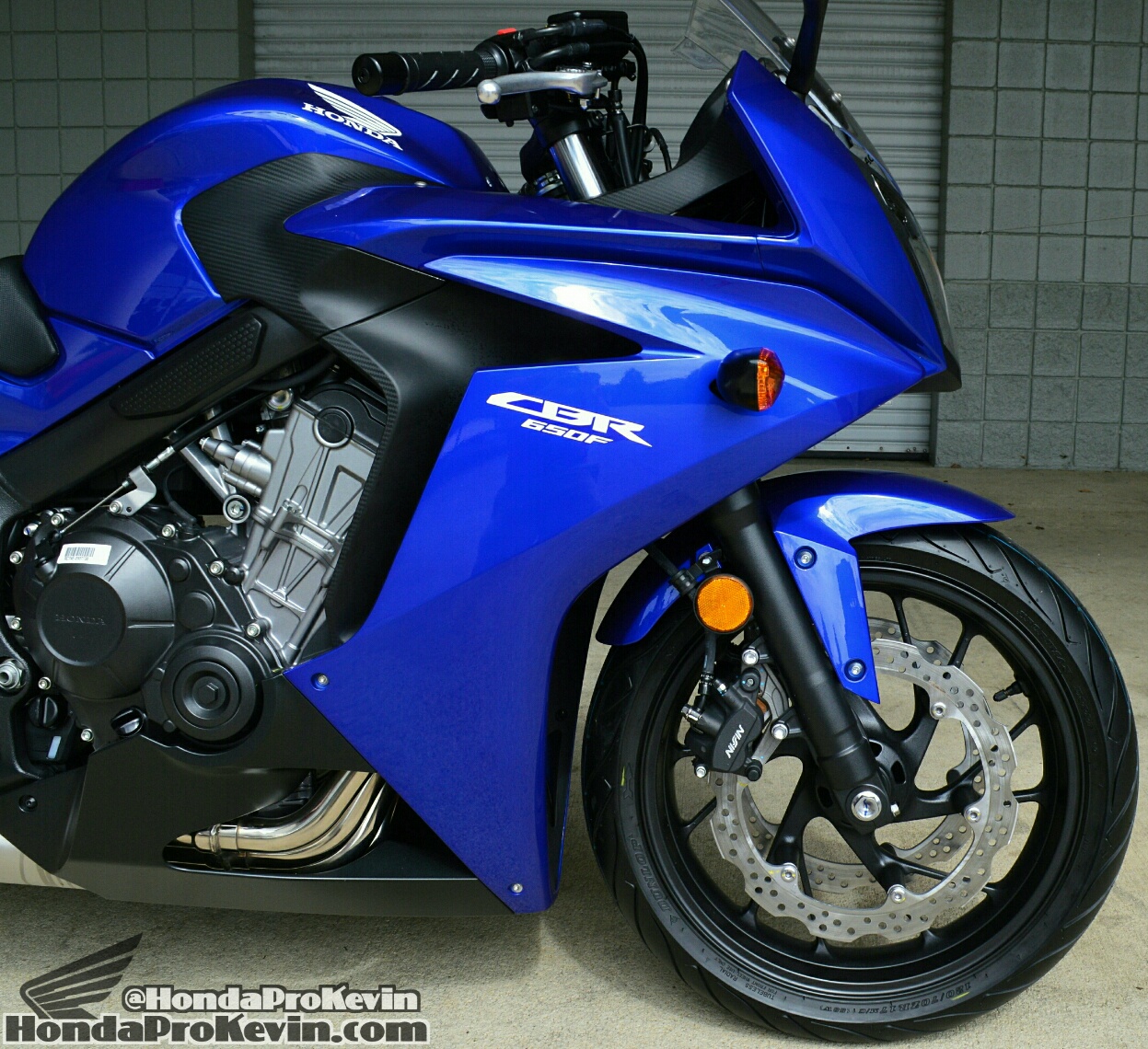 Single-shock rear suspension is actuated directly by the strong yet lightweight aluminum swingarm for 5.0 inches of rear-wheel travel.
Shock spring preload is adjustable in seven steps to accommodate variations in load and riding conditions.
Large, 41mm fork with 4.3 inches of travel for a well-controlled yet comfortable ride.
Lightweight cast-aluminum wheels with 120/70ZR-17 tire in front and 180/55ZR-17 rear for full sport bike capabilities.
Wave-type dual front 320mm disc brakes and 240mm rear give strong stopping power and lend a stylish touch while also saving unsprung weight.
Honda's ABS system is available for more confident stopping in challenging conditions.
Sweeping right-side four-into-one exhaust system is both stylish and functional.
LCD multi-function digital meter package includes speedometer, tachometer, odometer/A&B tripmeters, fuel gauge and clock. Meter can also display average and instantaneous fuel consumption.
Underseat utility area adds modest but convenient storage space.
Advanced LED taillight for brilliant illumination.
CBR650F Exhaust
Power, style, and an unmistakable growl – you get all three with the four-into-two-into-one exhaust system on the new CBR650F.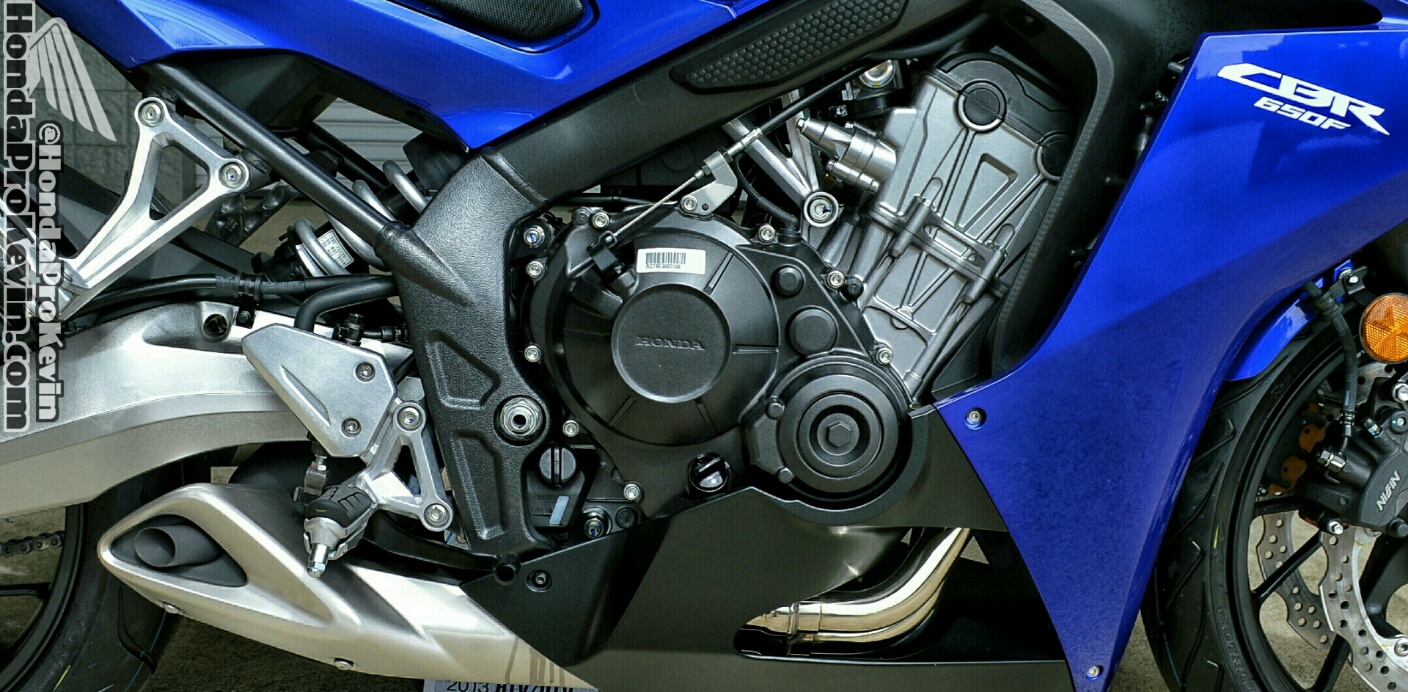 Six-Speed Transmission
Smooth, nearly seamless shifts and more gear ratios to match the way you want to ride: those are two of the characteristics that make this Honda so much fun to ride.
Twin-Spar Steel Frame
A steel frame is strong, but not too rigid for the needs of the everyday rider. With a 57-inch wheelbase, the CBR650F is also quick and responsive—just what a machine in this class should be.
649cc DOHC Engine
Engines like this are what Honda does best. The four-cylinder design makes it smoother and faster revving than most twins, and offers ample low to midrange torque, and plenty of power through the entire rev range.
Rear Disc Brake
A 240mm hydraulic disc at the rear complements the twin front discs for plenty of stopping power.
4.5-Gallon Fuel Tank
You asked; we listened. A bike as versatile as the CBR650F needs plenty of range, and the 4.5-gallon fuel tank provides just that.
Clip-On Handlebars
Clip-on bars are an integral part of supersport bikes and for the CBR650F, they put you in a riding position that's both sporty and comfortable enough for longer trips.
LCD Multi Meter
In addition to the speedometer and digital tachometer, the CBR650F's instrumentation also includes clock, trip meter, and fuel gauge.
41mm Front Suspension
Our 41mm front suspension offers excellent suspension action, a comfortable ride, along with precise steering and front-end feedback.
Dual Disc Brakes / Optional ABS
Here's an area where plenty of other bikes would scrimp, but not the CBR650F. Dual 320mm front discs offer excellent stopping power under a wide range of operations. Honda's ABS system is available for more confident stopping in challenging conditions.
Supersport-Style Front Cowl
The new CBR650F may be a terrific value, but it still offers plenty of style. Check out its CBR600RR-inspired front cowl – just enough bodywork to cut the wind blast and give it a cool look. This information and more available at PowerSports.Honda.com.
Want to see how the 2015 CBR650F horsepower rating compares to other models in Honda motorcycle model lineup for 2015? The 2015 Honda CBR Sport Bike / Motorcycle Horsepower Chart is here.
2015 Honda CBR650F Colors:
Candy Blue
Red
Matte Black Metallic
2015 Honda CBR650F MSRP / Price: 
2015 Honda CBR650F ABS MSRP / Price: 
* Please keep in mind the 2015 CBR650F prices I mentioned above are the current MSRP prices from Honda. MSRP = Manufacturers Suggested Retail Price.
What's your opinion on the 2015 Honda CBR650F? Any features you think Honda should have thrown on it? 
What's your favorite color on the 2015 CBR650F? Candy Blue? Red? or Matte Black Metallic?
2016 CBR650F Information Release will be here in November as well as 2016 CBR1000RR & CBR600RR Info so keep an eye on here and Facebook, Twitter etc for instant updates.
Please "Like" and share by clicking below if you enjoyed any of this post, pictures, videos, etc. Thanks guys!

---