– 2019 CRF50 Kids Dirt Bike Buyer's Guide: Price, Seat Height, Weight + More! –
The CRF50F is Honda's longest-running off-road model and the choice of first-time riders the world over. If you rode a small dirt bike when you were younger, odds are that it was a Honda 50cc dirt bike whether it be the old-school Mini Trail 50, Z50, XR50, CRF50 etc. Many things have changed over the years but one thing that hasn't changed is the fact that these bikes are still as bullet-proof and reliable as they were decades prior. Just put gas in it and ride, don't worry about mixing any gas and oil or any of that mess since Honda has done away with two-strokes all-together.
Why is the CRF50F still around? Why is it still more popular than ever? The CRF50F offers up an ideal combination of features: Its tough, reliable four-stroke engine develops smooth, easy-to-use power. Its three-speed transmission uses an automatic clutch, so a rider learns to shift, but never has to worry about stalling. Its tough suspension stands up to youthful enthusiasm. And for adults, the CRF50F makes sense too: an adjustable throttle limiter lets you tailor the power to the appropriate skill level, and the proven reliability means more time riding and less time taken up by maintenance and repairs. Plus, us adults can have a blast with them too… Whether it be as a pit bike or just something to mess around with when the kids aren't riding it. You've got an insane amount of aftermarket parts for these things to turn them into stunt bikes, mini road-race bikes and the list goes on! So it doesn't matter if you're 5 years old or 35 years old, you can have fun with one of these. I've got one myself and actually have more fun on it than I do my big bikes as crazy as that sounds, especially when you can get a few of your buddies together for a little-bit of mini bike racing and you're in for an afternoon of fun but be careful as you can hurt yourself with the quickness. Since you're not that far from the ground, you have a false sense of security haha.
Quick 2019 CRF50F Detail Overview:
2019 CRF50F Price / MSRP – $1,499
2019 CRF50F VS 2018 CRF230F Price Increase – $0
2019 CRF50F Colors – Red
2019 CRF50F Release Date – June 2018
2019 CRF50F Horsepower – 3.1 HP
2019 CRF50F Torque – 2.53 ft/lb TQ
2019 CRF50F Seat Height – 21.6 inches
2019 CRF50F Weight – 111 lbs (curb weight = full of fluids, ready to ride)
2019 CRF50F VS 2018 CRF50F Changes: None
For decades, Honda has offered a full line of off-road bikes stair-cased in size and displacement to meet the specific needs of riders just entering the sport. Here's how Honda's CRF-F trail bike model lineup stair-steps up: CRF50F, CRF110F, CRF125F, CRF125F Big Wheel, CRF150F and then you have the CRF230F. The renowned CRF50F has long served as an incredibly suitable and efficient first step for beginning riders thanks to a strong and tough 49cc four-stroke engine, automatic clutch and three-speed gearbox, plus an inverted fork, and its small overall size and light weight simplify transport. With credentials like these, it's no wonder the dependable CRF50F has been the bike of choice for beginners for more than 40 years.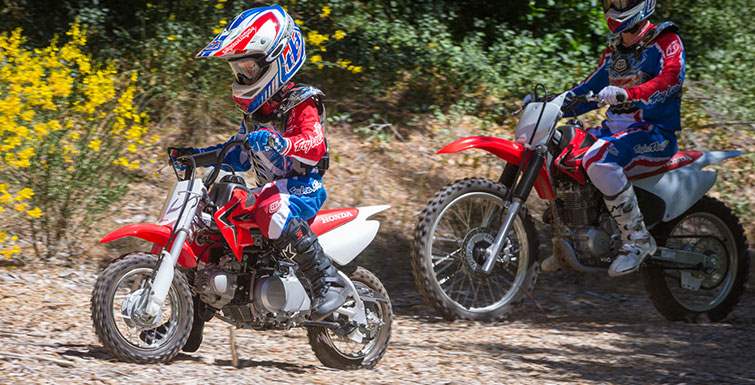 What does the "automatic clutch" on the CRF50F mean exactly? The automatic clutch means you don't have to worry about using a clutch to ride the machine. You do still have to change gears though and that's where it confuses some people but thanks to the auto clutch you don't have to worry about stalling the engine when coming to a complete stop nor do you have to use the clutch to change gears. They do make training wheels for the CRF50 too that are very popular if your little-one isn't tall enough just yet or isn't balanced enough to hold the CRF50 upright without a little assistance.

Here's a few links to the other CRF dirt bike models from Honda if you want to do some more research on a certain model:

A few key highlights of the 2019 CRF50:
Adjustable Throttle Limiter

Set the top speed by turning a screw. That helps keep new riders from going too fast, too soon, and lets you match the CRF50F's power output to the rider's skill level.

Keyed Ignition

A removable key helps ensure younger riders can't ride without an adult's supervision. Got their homework done early? Let's go riding!

Durable, Low-Maintenance Engine

If there's one thing you can count on with a Honda, it's the engine. The CRF50F's Honda four-stroke is famously reliable. That cuts down on frustration and hassles.

Automatic Clutch

Because there's no clutch lever to master, new riders don't have to worry about stalling. That makes the CRF50F the perfect tool for learning to shift. In addition, the smooth transmission offers three gear ratios.

Rugged Steel Frame

New riders are hard on equipment, especially when they're just starting out. That's why the CRF50F uses a strong steel frame that's built to handle the bumps and dings of off-road riding.
CRF50F Engine / Drivetrain
Dependable 49cc SOHC four-stroke engine develops smooth, easy-to-use power.
10.0:1 compression ratio for good performance.
Maintenance-free CD ignition and automatic cam-chain tensioner.
13mm piston-valve carburetor offers excellent fuel mileage and throttle response throughout the rpm range.
Smooth-shifting three-speed transmission and automatic clutch offer simple operation and easy takeoffs.
Durable #420 drive chain offers dependable operation and low maintenance.
USDA-qualified muffler/spark arrester is efficient and quiet.
Closed crankcase ventilation system safeguards against engine oil contamination.
Easy-access washable foam air filter simplifies maintenance.
Engine design produces low emissions and meets California Air Resources Board (CARB) off-road emissions standards.
How does the 2019 CRF50F stack up against the other 2019 CRF dirt bike models in the engine performance department? Here's horsepower numbers on each of the CRF models:
2019 CRF50F HP – 3.1
2019 CRF110F HP – TBA
2019 CRF125F / B HP – TBA
2019 CRF150R HP – 23.5
2019 CRF230F HP – 19.0
2019 CRF250F HP – 22.8
2019 CRF250RX HP – 43.5
2019 CRF250R HP – 43
2019 CRF450X HP – 44.3
2019 CRF450R HP – 60.8
2019 CRF450RX HP – 60.8
2019 CRF450L HP – 41.7

* The rest of the 2019 CRF model lineup list will be updated with official numbers on they are released.
CRF50F Frame / Chassis & Suspension
High-tensile steel frame and swingarm offer excellent balance of strength and compliance.
Inverted telescopic fork offers a plush 3.5 inches of suspension travel.
Single-shock rear suspension provides 2.8 inches of well-damped travel and is mounted to a reinforced swingarm.
28-spoke, 10-inch-diameter wheels with die-cast- aluminum hubs look great, provide excellent maneuverability and offer smooth ride quality.
Narrow 4.3-inch-wide seat, slim fuel tank and extra-low 21.6-inch seat height provide excellent comfort and mobility for a broad range of young riders.
Powerful, lightweight front and rear drum brakes.
Wide, long-wearing off-road tires offer excellent traction.
Front suspension spring and damping rates for optimum rider comfort and bump absorption.
Polyethylene fuel tank is tough and lightweight, just like that of the bigger CRFs.
Folding, cleated footpegs offer secure footing even in muddy conditions.
Additional Features
CRF-R inspired bodywork.
Adjustable throttle limiter.
Keyed ignition switch prevents unauthorized use.
Motocross-style handlebar with padded protector.
Small-size control levers enhance young rider comfort and confidence.
High-quality, comfortable grips.
Small overall size and light weight simplify transport.
Handlebar-mounted number plate.
Durable plastic fenders are nearly indestructible.
Honda Racing inspired colors and graphics.
Transferable six-month limited warranty. You can add up to another 54 more months with Honda's extended warranty, the HondaCare Protection Plan.
2019 CRF50F Pictures / Photo Gallery
2019 CRF50 Specifications

| | |
| --- | --- |
| Model | CRF50F (model ID: CRF50FK) |
| ENGINE | |
| Type | 49cc air-cooled single-cylinder four-stroke |
| Valve Train | SOHC; two-valve |
| Bore x Stroke | 39.0mm x 41.4mm |
| Compression Ratio | 10.0:1 |
| Induction | 11mm piston-valve carburetor |
| Ignition | CD |
| Starter | Kick |
| Driveline | #420 chain; 14T/37T |
| Transmission | Manual 3-speed |
| Clutch | Automatic |
| SUSPENSION | |
| Front | Inverted telescopic fork; 3.7 in. travel |
| Rear | Single shock; 2.7 in. travel |
| BRAKES | |
| Front | Drum |
| Rear | Drum |
| TIRES | |
| Front | 2.50-10 |
| Rear | 2.50-10 |
| MEASUREMENTS | |
| Rake (castor angle) | 25° |
| Trail | 32mm (1.3 in.) |
| Length | 51.3 in. |
| Width | 22.9 in. |
| Height | 30.5 in. |
| Seat Height | 21.6 in. |
| Ground Clearance | 6.0 in. |
| Wheelbase | 35.9 |
| Fuel Capacity | 0.7 gal. incl. 0.2-gal. reserve |
| Curb Weight* | 111 lbs. |
| OTHER | |
| Colors | Red |
* Includes all standard equipment, required fluids and full tank of fuel—ready to ride. Meets current CARB and EPA off-road emissions standards.
Weight Capacity:
Specification
50 State, meets CA:

40 kg (88 lbs)

Publication Order Numbers:
Specification
Service Manual:

61GEL60

Owner's Manual:

33GEL740

Engine:
Specification, Units:

mm (in)

Cylinder arrangement:

Single cylinder, inclined 80° from vertical

Bore and stroke:

39.0 x 41.4 mm (1.54 x 1.63 in)

Displacement:

49 cm³ (3.0 cu-in)

Cylinder compression at rpm:

981 – 1,177 kPa (10.0 – 12.0 kgf/cm², 142 – 171 psi) at 1,000 rpm

Standard:

0.010 – 0.040 (0.0004 – 0.0016)

Service Limit:

0.15 (0.006)

Intake:

0.05 ± 0.02 (0.002 ± 0.001)

Exhaust:

0.05 ± 0.02 (0.002 ± 0.001)

Recommended engine oil/classification/viscosity:

Honda GN4 4-stroke oil/API SF or SG/SAE 10W-30

Oil capacity after draining/engine oil filter change:

0.6 liter (0.6 US qt, 0.5 Imp qt)

Final Drive:
Specification
Recommended oil viscocity
10W30
C/S sprocket:

14

Rear sprocket:

37

Drive chain size (x) links:

420 x 78

Drive chain slack:

15 – 25 mm (9/16 – 1 in)

Fuel System:
Specification
Type/throttle bore:

Piston valve/13 mm (0.5 in)

Carburtetor/throttle body ID #:

PA42G

Float level:

12.7 mm (0.50 in)

Main jet:

# 58

Slow jet:

# 35 x # 35

Jet needle/clip position:

2nd groove from top

Idle speed (+/- 100 rpm):

1,700 ± 100 rpm

Throttle grip/lever free play:

2 – 4 mm (1/16 – 3/16 in)

Tires:
Specification
Front Size:

2.50-10 33J

Cold tire pressure:

100 kPa (1.0 kgf/cm², 15 psi)

Rear Size:

2.50-10 33J

Cold tire pressure:

125 kPa (1.25 kgf/cm², 18 psi)

Ignition System:
Specification
Ignition system type:

Capacitive Discharge Ignition (CDI)

Ignition timing (F mark):

27° BTDC at idle

Standard – NGK:

CR6HSA

DENSO:

U20FSR-U

Spark plug gap:

0.60 – 0.70 mm (0.024 – 0.028 in)

Ignition coil peak voltage:

100 V minimum

Ignition pulse generator peak voltage:

0.7 V minimum

Alternator exciter coil peak voltage:

100 V minimum

Torque value:
Specification, Unit: N.

m (kgf.m, lbf.ft)

Front axle bolt/nut:

47 (4.8, 35)

Rear axle nut:

47 (4.8, 35)

Crankcase:

25 (2.5, 18)