– New 2017 Honda CBR Rumors of CBR350RR / CBR250RR Supersport Bike Motorcycle –
Honda has created quite the buzz with their new "Light Weight Super Sports Concept" CBR sportbike they announced a couple of weeks ago. This new small cc CBR has got everyone excited thinking that Honda will once again dominate this market across the world, like they used to. The CBR250R & CBR300R are great bikes but they have been neutered in the power and suspension department to better help them meet a price point that attracts new and entry-level riders. This Light Weight Super Sports Concept bike is scheduled to be on display with many other concept motorcycles at the 2015 Tokyo Motor Show at the end of this month.
---
UPDATE Part 2 | July, 2016
---
UPDATE | July, 2016
–

2017 CBR250RR Engine / Exhaust Sound Clip Video

–
The first video below has a little bit of text that floats across the screen and then BAM you hear the CBR250RR engine fire up and come to life. At first, I was slightly disappointed by the sound of the parallel-twin 250 class engine… BUT! That was until they really start to twist it up and the lil engine-that-could comes to life at what sounds like it is exceeding 12,000+ RPM.
What do you guys think? Will the 2017 CBR250RR have enough horsepower to compete in 2017 against the KTM RC390? R3 / R25? GSX-R250?
– 2017 CBR250RR Promotional Video –
The next 2017 CBR250RR doesn't really have anything special to note like the first video with the exhaust / engine sound-clip from the 1/4 liter CBR for 2017 but it doesn't have some quick beauty-shots of the bike. They purposely cut away really quickly so you can't see too much detail.
---
UPDATE | June, 2016 – The first leaked picture of the 2017 Honda CBR250RR in what looks to be production form.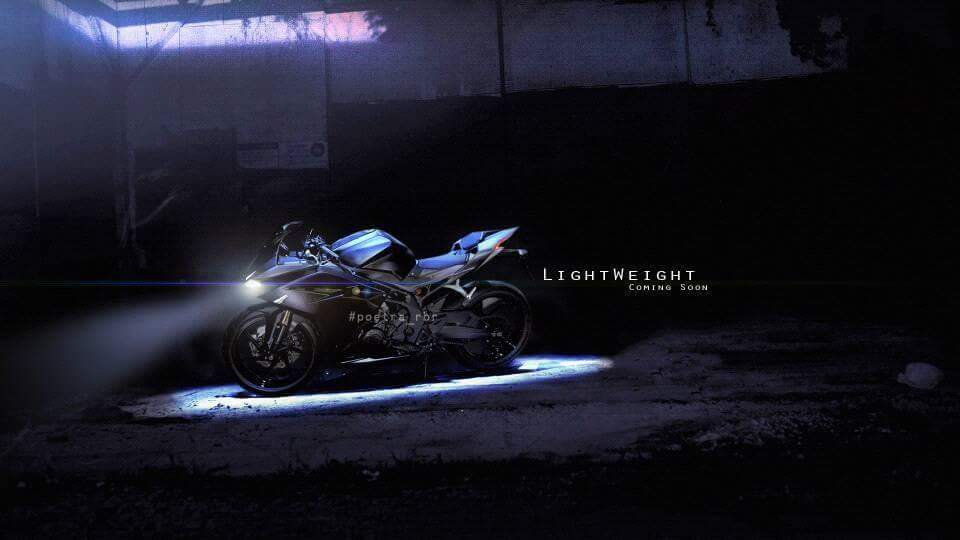 ---
UPDATE | May, 2016 – The June 2016 cover of Young Machine showing off the possible All-New 2017 CBR250RR…
---
UPDATE | March, 2016 – Cover of Young Machine showing a 2017 CBR1000RR rendering as well as the possible new 2017 CBR250RR again.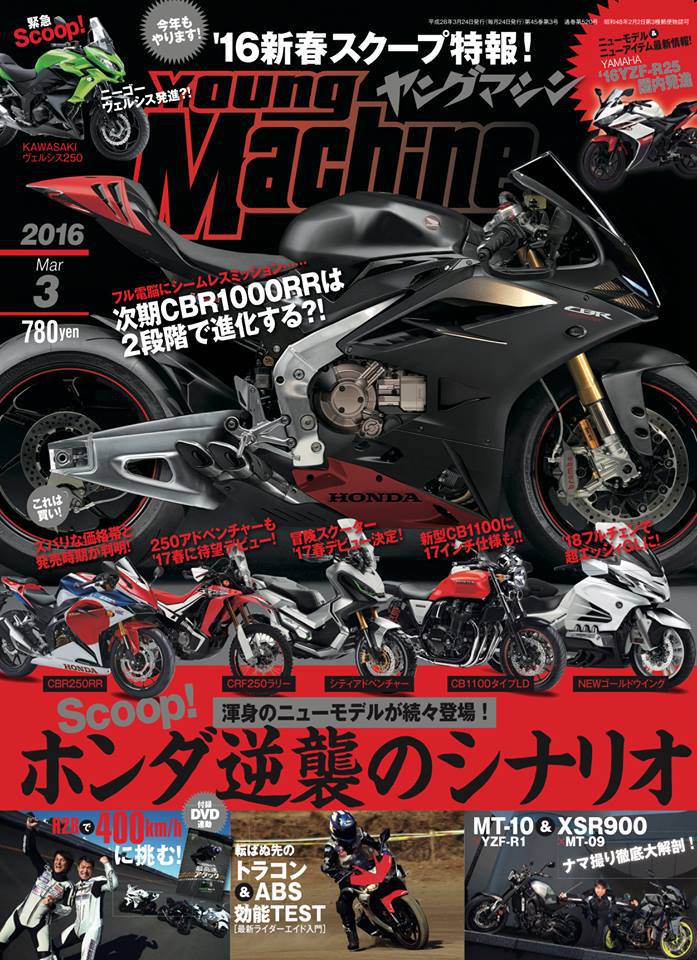 ---
UPDATE | February, 2016 – Check out the cover of Young Machine magazine with the possible all new 2017 Honda CB250R, R25R, GSXR250 and Ninja 250 gracing the cover as well as the talks of a Supercharged 2017 Suzuki Hayabusa GSXR.
---
UPDATE | Video with Honda designer going over specs / details on the possible 2017 CBR250RR known as the "Light Weight Super Sports Concept"
2017 CBR250RR Walk-Around Video 
Official Honda Light Weight Super Sports Concept Promotional Video / Commercial (CBR250RR)
---
UPDATE – October 28, 2015. The Honda CBR "Lightweight Super Sports Concept" had its official unveiling. Here are some pictures from the 2015 Tokyo Motor Show…
---
With Yamaha's new R25 / R3, Kawasaki's new Ninja 300, KTM RC390 and Duke have stepped it up in the power department and proven customers will still spend big bucks for a true performance bike even with its engine size in the quarter liter range.
Young Machine magazine overseas has once again got some information they believe to be true that Honda will in fact be releasing a CBR350RR for the USA & European markets while the Asian markets etc will receive a smaller engine variant dubbed the CBR250RR.
When is Honda supposed to be releasing the information on this possible new 2016 / 2017 CBR250RR & CBR300RR? Supposedly, we will know more as Honda rolls these new CBR models across the stage at the 2015 Tokyo Motor Show. If not there, I'd bet money it'll be in November for the EICMA show.
There's rumors floating around that the 2017 CBR1000RR & 2017 CBR600RR will also get some of these aesthetic changes among other tweaks.
How will Honda work this out to where the new CBR350R doesn't affect the CBR500R sales? The CBR350RR is rumored to come in around the 40 horsepower mark so it would only be a few shy of its larger 500 cc brother. If Honda does indeed plan on releasing something to out them back up front and ahead of the KTM RC390, Yamaha R3, Ninja 300 etc then it's going to have to click off somewhere around that 40 HP mark.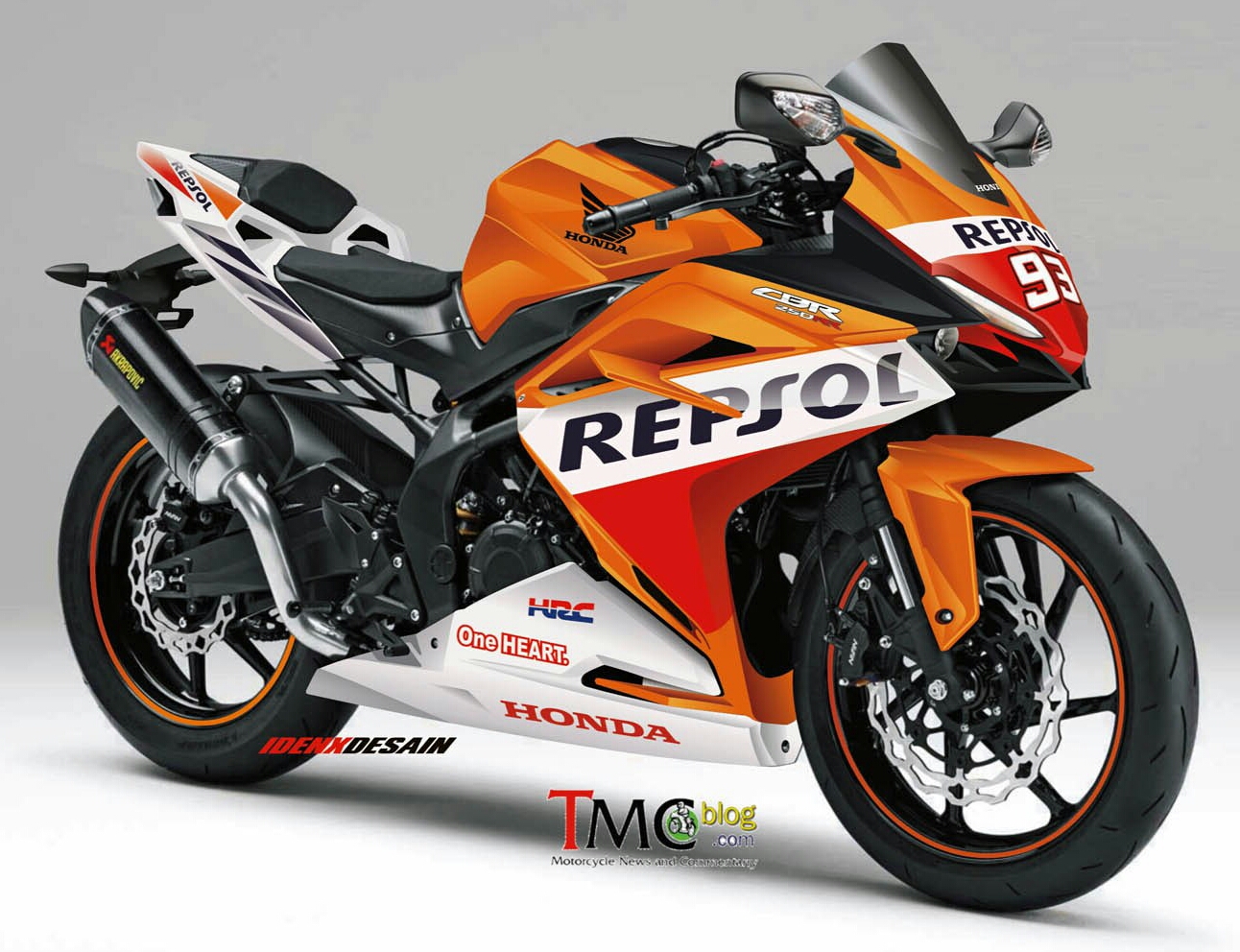 You can read more on my previous 2016 / 2017 CBR250RR or CBR300RR blog post here from about a week ago. The small gallery of pictures above are an example of what that previous post covered as far as information goes on this new CBR model that may be in the works.
Whichever route Honda goes whether it be a CBR250RR / CBR300RR or CBR350RR it looks like things are fixing to get extremely interesting in the small cc true supersport bike class…
What do you want to see out of Honda for this new small cc CBR sport bike from Honda? 40+ horsepower? What weight would you like to see it come in under?